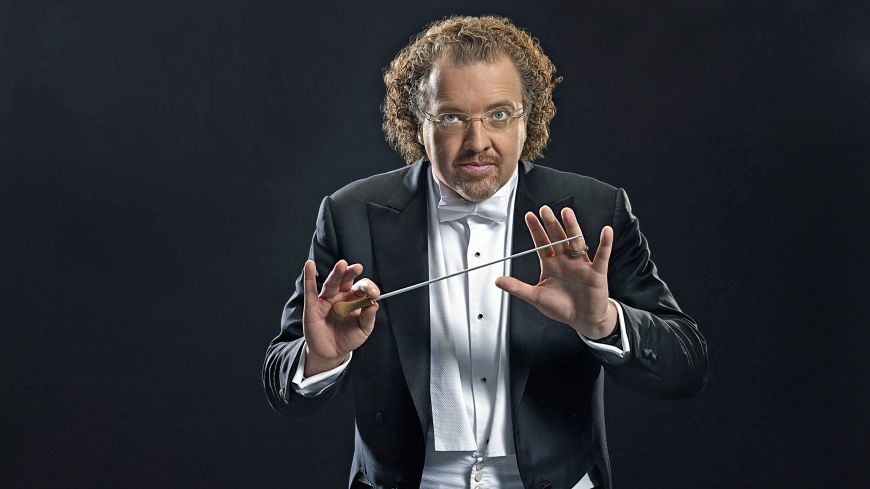 Company
Royal Scottish National Orchestra
Production
Debussy, Marche écossaise; MacMillan, The Death of Oscar (Scottish Premiere); Ravel, Piano Concerto for the Left Hand; R Strauss, Death and Transfiguration; Ravel, La Valse
Performers
Stéphane Denève (conductor), Steven Osborne (piano), Royal Scottish National Orchestra
Three and a half years after laying down his baton as Music Director of the Royal Scottish National Orchestra Stéphane Denève was back in charge for a night.
The Frenchman had clearly enjoyed his seven year tenure as he gave his traditional 'good evening' to the audience with its traditional response. Slightly longer than his usual he gave us a synopsis of the concert filled with humour and insight.
He apologised for not wearing the kilt, but standing where a conductor stands, wearing the kilt had not been a good idea as he had discovered on a previous occasion.
A lone bagpiper stood high and behind the Orchestra to play the tune that Debussy used for his Marche écossaise and without a gap the Orchestra took over.
Stéphane Denève had told us of a trip to see sculptor Alexander Stoddart accompanied by Sir James MacMillan where they discussed Celtic legend, the warrior Oscar. We heard the first performance in the United Kingdom of James MacMillan's The Death of Oscar. Given its name the work proved to be moving but also powerful and evocative with the drums and trumpets enjoying themselves. Sir James took a well deserved bow.
The pianist Paul Wittgenstein lost his right arm during the Great War and as a steel magnate's son was able to commission Maurice Ravel to write him a Piano Concerto for the Left Arm. Stéphane Denève had earlier mused on what a pianist does when he has a right arm. He told us of a chain smoker for whom he had put an ashtray and unlit cigarette within reach to occupy the right arm, whilst a member of the Orchestra had proposed a boxing glove. But Scotland's much loved Steven Osborne was above all that but it was fascinating for all that to watch.
It's a work that gave Stephen some lovely cadenza opportunities. However, the Orchestra's Director of Finance, Kenneth Osborne, was said to be much troubled and keen to pay the soloist only half the normal fee having used the one arm. To justify his full fee and appease his brother, he told us, Stephen played a two handed Debussy encore.
After the interval we heard a sombre composition about death written when he was 25 by Richard Strauss, Death and Transfiguration. Stéphane Denève had told us that, after a long life and close to death, Richard Strauss agreed with what he had written all those years earlier. The concert ended with Ravel's La Valse and its four final bullet shots.
In some ways, the best of the evening had come in the pre-concert talk held unusually in the stalls. On to the stage came Aleksei Kiseliov, whom we had not heard before, to give the briefest introduction to Stéphane Denève who then appeared.
Aleksei had well thought through questions to ask, and did so in an erudite and lively way. Russian in origin he certainly held his own and whilst allowing Stéphane full flow wasn't frightened to interrupt.
Along the way we heard how Aleksei's audition to be the Orchestra's principal cellist five years ago had Stéphane allowing it to take twice the time allocated - as he wanted to conduct the cellist to really prove his worth. Their interaction was great fun, and a tribute to them both.
Performance: Friday 8th April 2016 at 7.30pm