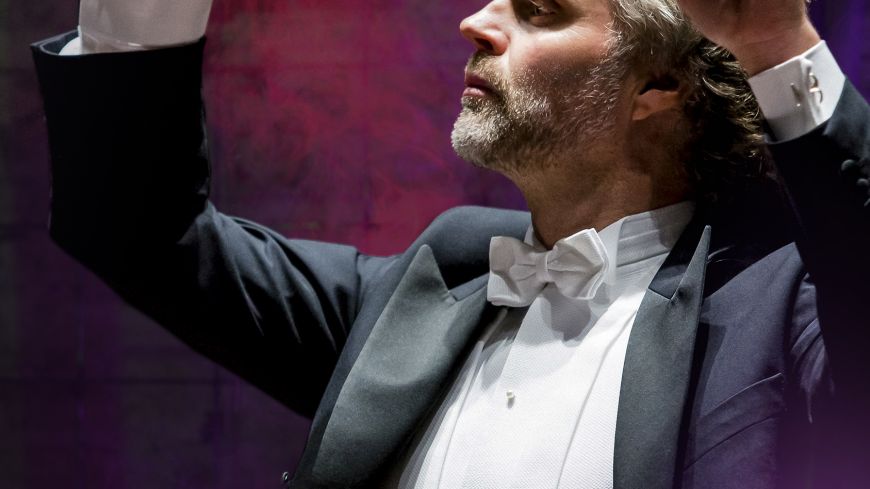 Company
Royal Scottish National Orchestra
Production
Wennäkoski, Flounce (Scottish premiere); Beethoven, Piano Concerto No 2; Mahler, Symphony No 5.

Performers
Thomas Søndergård (conductor), Francesco Piemontesi (piano)

If you think the word flounce means a strip of material gathered and sewn into a skirt or dress, you might be surprised that it also means an exaggerated action that expresses annoyance or impatience. It was those two meanings of the word flounce which composer Lotta Wennäkoski used for her five minute work, first performed at the Last Night of the Proms in 2017, and which opened the RSNO's 2018:19 Season. Katherine Wren, towards the end of her pre-concert talk, had demonstrated two of the innovative bowing actions on her viola that we need to look out for.
There followed Player Director Lisa Rourke's very appropriate formal welcome to Thomas Søndergård as he begins his reign as the Orchestra's Music Director. There was a shaky start to his introductory words but he was soon in full flow reminding us that he has been around since 2009 but now he's in charge - and giving us his insight to the design of the evening's concert.
Beethoven's Piano Concerto No 2 was played for us by Francesco Piemontesi. Born in Locarno, back in October 2010 his talent had been spotted when he won the Swiss Ambassador's Award and was playing in Edinburgh's St Cecilia's Hall to an invited audience. Since then his career has made him an international star. It was obvious that the audience wanted an encore from him.
The great work of the evening was the seventy-minute long Mahler Fifth Symphony. Both Katherine Wren and Thomas Søndergård had described it as all-embracing a very large world and very carefully orchestrated by the composer's instructions. The first two of its five movements were funereal, opening up for the Scherzo before the intimate Adagietto. Søndergård's control of his players is entirely comfortable to watch. The finale sent us home well satisfied that we had heard an epic work, the horn and trumpet memorable.
Performance: Friday 5th October 2018 at 7.30pm.