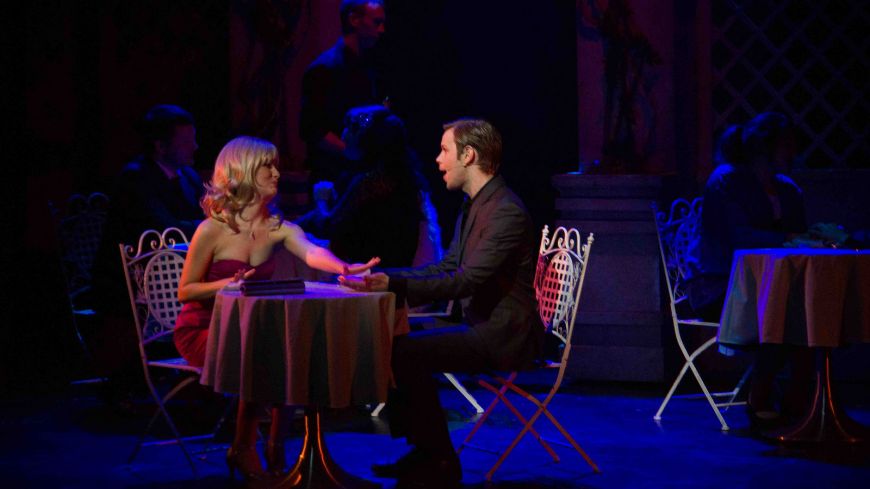 Company
The Bohemians Lyric Opera Company
Production
Laurence O'Keefe, Nell Benjamin (music and lyrics), Heather Hach (Book), Jon Cuthbertson (director), Jon-Luke Kirton (musical director), Dominic Lewis (choreographer).
Performers
Lydia Carrington (Elle), David Doherty (Emmett), Thomas McFarlane (Warner), Jo Heinemeier (Vivienne), Colin Cairncross (Professor Callahan), Alison Wood (Brooker), Lyndsey McGhee (Paulette), Felicity Thomas (Margot), Esmee Cook (Serena), Giselle Yonace (Pilar), Caroline Hood (Enid), Ross Stewart (Kyle), plus ensemble of singers, dancers, Greek chorus. Vinnie the Chihuahua (Bruiser), Kym the Staffordshire Bull Terrier (Rufus). The Orchestra.
"Legally Blonde The Musical" is based on the 2001 movie starring Reese Witherspoon, the delightful chick flick described by one critic as " an agreeable trifle, a fairy-tale piece of fluff that is nevertheless fun and funny."
Imaginatively and wittily adapted for the stage by Laurence O'Keefe and Nell Benjamin, the show received seven Tony nominations on Broadway and won the Olivier Award for best new Musical. The Bohemians Lyric Opera Company, founded in 1909, stage high quality musicals each year such as Oklahoma, Carousel and Grease.
With a 12 piece orchestra in the pit, Act 1 kicks off with a lively rendition of "Omigod You Guys", introducing us to Elle Woods, a smart and sassy fashionista and her party-loving Sorority sisters at UCLA. With girlish glee, she swaps her pink track suit for a sexy pink frock, all glammed up for a dinner date with her boyfriend, Warner.
The stage instantly transforms into a Restaurant, with half a dozen white linen draped tables. With a mass of long blonde curls, Lydia Carrington steps into Reese's killer heels as a stunningly slim and elegant Elle. Sitting opposite is her beau, Warner Huntington III, portrayed by Thomas McFarlane as a typical Preppie, Waspish young man.
Taking Elle's hand, he says, "you're perfect," endearingly calling her Pooh Bear,
Baby, my future's all planned.
I've got some dreams to make true.
I thought that you'd understand:
It's time to get serious..."
Instead of a proposal of marriage, it's break up time. He is heading to Harvard to pursue a law and political career, perhaps becoming a senator by the age of 30. He therefore requires a lady, "less of a Marilyn, more of a Jackie."
Elle is left hurt and humiliated but with the support of her college girlfriends, she's determined to prove that she has beauty and brains. Yes, it's time to get serious. With blood, sweat and tears, she studies hard to reinvent herself from Malibu Barbie to Ally McBeal. With her beloved companion Bruiser – starring cute wee Vinnie the Chihuahua – she sets off in pursuit of Warner at Harvard Law School.
The narrative is told through dramatic vignettes linking neatly into comic and catchy numbers, ("What You Want" and "Positive"), with slick dance routines: Elle presents her "personal essay" to the Harvard professors accompanied by a dazzling ensemble of uniformed cheer-leaders. And a Greek chorus appears by magic to help our heartbroken heroine fight for revenge in her tragic situation.
The principal players are all talented actors with authentic American accents and characters, such as David Doherty as Emmett, the academic high flyer in his shabby corduroy jacket, Jo Heinemeier as the cool, calculating Vivienne, dressed in sombre-suited black and Colin Caircross as Professor Callahan, who is also a bit of a charmer.
With the same sparky personality as Jennifer Coolidge in the movie, Lyndsey McGhee shines as Paulette, the hard done by manicurist. Her passion for hunky Irish men, whiskey and heritage is beautifully captured in the poetic ballad, Ireland.
Fast moving scenes move the action swiftly along from Elle's bedroom to the Criminal Courthouse, from Beauty salon to a fully furnished department store. The design, décor and attention to detail is simply outstanding.
The jury might still be out with regard to some aspects of staging (fragile props and awkward set changes) and occasional less then pitch perfect vocals and music. However, with stylish choreography, superb costumes and talented cast, this is an ambitious, highly polished production. Case closed.
Frothy and fizzing like a flute of champagne, the show brings the bittersweet romance and murder mystery of the movie to life, performed with true professionalism, energetic pace and (colourfully pink) pizzazz.
Showtimes
16 - 19 March, 2016