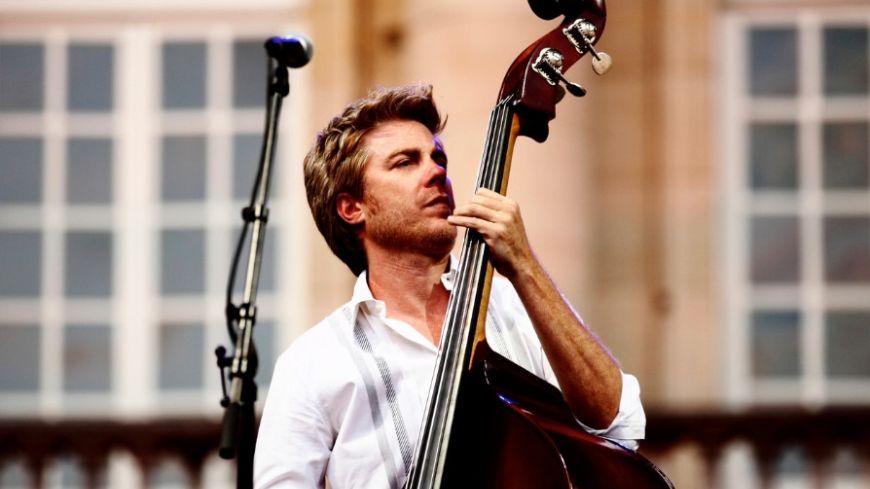 Production
Edinburgh Jazz Festival
Performers
Kyle Eastwood (bass), Quentin Collins (trumpet, flugelhorn) Brandon Allen (saxophone, clarinet ), Chris Higginbottom (drums) Andrew McCormack ( piano).


Edinburgh audiences were treated to a programme of world class contemporary jazz. The quintet tours extensively and a trip to northern Africa inspired Marrakech. Eastwood's double-bass set the shimmering background to an exotically atmospheric piece punctuated by bells evoking the call to prayer - a call deepened by Allen's clarinet.
John Williams' score of the 1975 The Eiger Sanction starring Kyle's father Clint Eastwood would have thrilled film buffs. Bass and saxophone provided the sense of a journey and a task to be completed at all costs, with the wind instruments heightening the pace culminating with saxophone and piano dominated sections.
Staging was excellent with mesmerically coloured spotlighting on guitarist, pianist and drummers who remained in situ while the two wind instrumentalists Quentin Collins and Brandon Allen entered and existed the stage through narrow shafts of white light.
With playing of concert pianist standard Andrew McCormack was as good to watch as to listen to. His fingers moved rapidly and fluidly across the keyboard as his body swung about in complementary motion.
Film and TV score based pieces included the gorgeous Love Theme from Cinema Paradiso by Ennio Morricone and the famous saxophone led score for Maigret - the series about the fictional french detective .