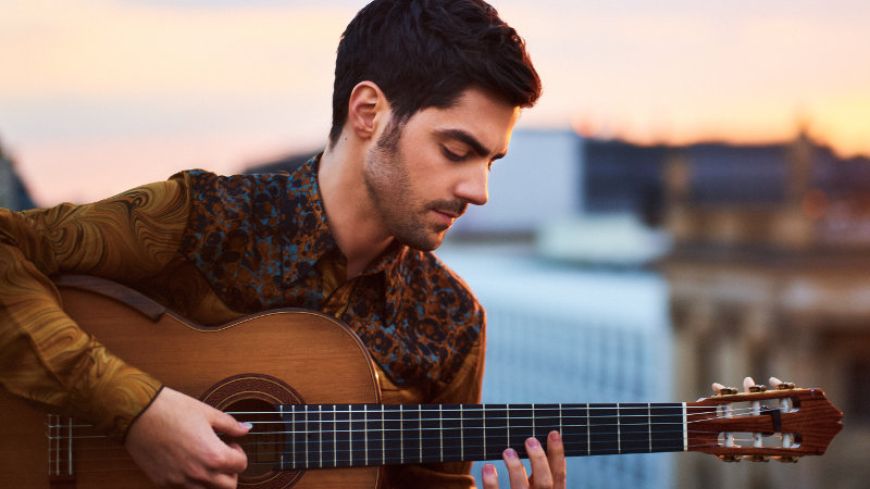 Company
Flanders Symphony Orchestra
Production
Flanders Symphony Orchestra with Jose Luis Gomez
Performers
Milos Karadaglic and musicians of the Flanders Symphony Orchestra.
The 'Sunday Classics' concert at the Usher Hall was with the Flanders Symphony Orchestra from Ghent.  Conducted by the flamboyant Spanish conductor Jose Luis Gomez, they performed a varied, entertaining programme which provided a perfect showcase to illustrate the talents of the musicians in all the sections – string, woodwind, brass, timpani. 
The programme began with Rossini's uplifting Barber of Seville overture.  The strings created a delightful lightness of touch and under Gomez baton the orchestra produced a dramatic crescendo at the finale.  
The next item on the programme featured the immensely talented Montenegro guitarist Milos Karalaglic who was playing Rodrigo's famous guitar Concerto de Aranjuez.  A very challenging concerto for any guitarist to play and Milos successfully displayed his extraordinary versatile talent mastering the difficult runs effortlessly.  And in the slow, beautiful, haunting middle movement, he successfully elicited exquisite tenderness, enhanced by the expert playing of the woodwind section and sumptuous strings.  
After the interval Milos played two Brazilian compositions for solo guitar.  The first composition was from Villa-Lobos Preludes number 1 in E minor and number 4 in E minor.  This prelude displayed not only his virtuosity but also his ability to sensitively interpret this beautiful piece.  He then concluded his solo performance with Savio's 'Batucada from Cenas brasilleirus, a delightful work with samba rhythms.
Manuel de Falla's 'El Amor brujo' – 'spellbound love' – a Ballet in one act was the next orchestral piece on the programme.  In thirteen movements it is the story of a widow who cannot exorcise the image of her dead husband.  Again, the composition perfectly illustrated the talents of the musicians.
The programme concluded with Georges Bizet's 'Carmen – Suite for orchestra.  Gomez wholeheartedly engaged with the musicians and together they created a wonderful, spirited rendition of this popular work.