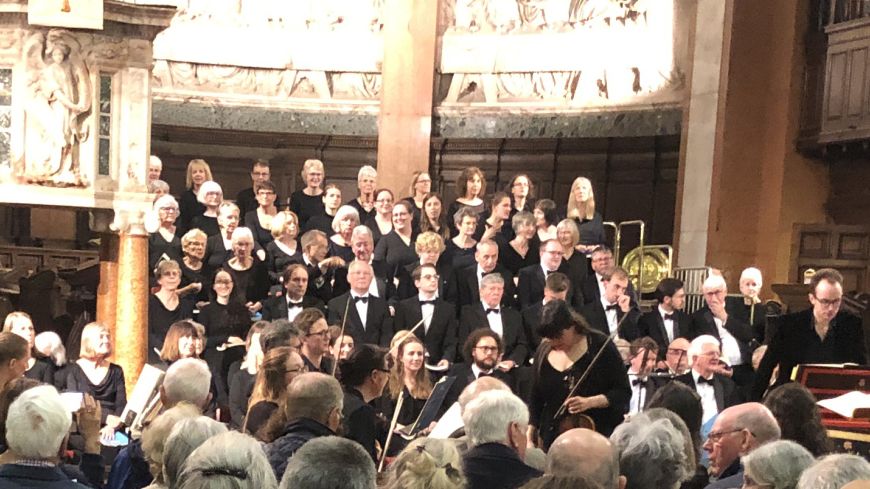 Company
Edinburgh Royal Choral Union
Production
Bach, Mass In B minor

Performers
Edinburgh Pro Musica Orchestra, Michael Bawtree (conductor), Emma Morwood (soprano), Katherine Crompton (soprano), Alex Chance (countertenor), Nathan Vale (tenor), Edward Grint (baritone).

The advertising was correct for the Bach Mass in B minor. We were promised an exceptional quintet of young Bach specialists for this special concert, and this is what we got. With the Choir and Pro Musica Orchestra under Michael Bawtree's careful control, it was all five soloists who particularly excelled.
The Edinburgh Royal Choral Union has a long association with the Mass in B minor, having given the Scottish premiere in 1907. The most recent performance was in 1982, as part of its 125th season. This concert brought their 160th season to a close.
Hitherto Bach had written mass settings for his own Lutheran understanding of Christianity, but this Mass was expanded to include the Roman Catholic liturgy. For some time it was known as the Great Catholic Mass. The first half praises God and, after a slightly shaky start, we heard the choruses interspersed with, first, a glorious duet from both soprano soloists. Later arias gave us the very fine countertenor, tenor and baritone voices, often accompanied by a single instrument, flute, oboe or horn.
The second half began with the Creed, developed by the Chorus and taken on by a duet. Although this was a concert performance, allbeit in a very fine church, it was a shame there wasn't slightly more of a gap between the horror of crucifixion and the joy of the resurrection. The Catholic specialities continued in fine form under Michael Bawtree to the sublime final Dona nobis pacem.
Spotted in the large audience were clergy who had been attending the opening day of the General Assembly of the Church of Scotland. They. like me, will have really appreciated and enjoyed the concert.
Performance: Saturday 18th May 2019 at 7.30pm.