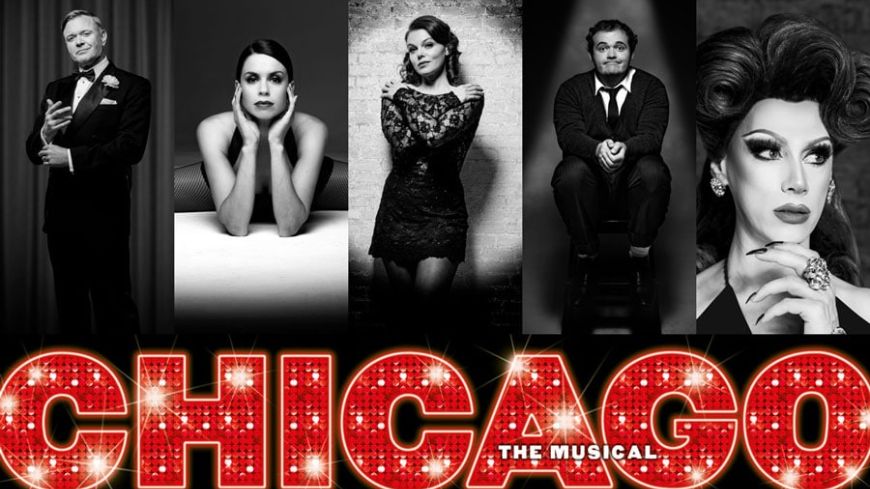 Company
David Ian for Crossroads Live in association with Barry & Fran Weissler
Production
Fred Ebb (lyrics), John Kander (music), Bob Fosse (orginal production, direction and choreography), Ann Reinking (original choreography in the style of Bob Fosse), Andrew Hilton (musical director), John Lee Beatty (scenic design), William Ivey Long (costume design), Ken Billington (lighting design)
Performers
Faye Brookes (Roxie Hart), Djalenga Scott (Velma Kelly), Darren Day, (Billy Flynn), Joel Montague (Amos Hart), Sinitta Malone (Matron Mama Malone), Divina de Campo (Mary Sunshine), Delycia Belgrave (Liz), Michelle Andrews (Annie), Billie Hardy (June), Hollie Jane Stephens (Hunyak), Emily Goodenough (Mona). Other characters, dancers and swings played by members of the Ensemble. The Orchestra: Musical Director, Andrew Hilton
'Come on babe
Why don't we paint the town?
And all that Jazz
I know a whoopee spot
Where the gin is cold
But the piano's hot,
And all That Jazz'
From the opening blast of trombone and trumpet from the Band, this revival of the original 1996 Broadway smash hit show, kicks off with glitz, glamour and foot-tapping tempo.
Set during the Prohibition era of the 1920s, Roxie Hart, a nightclub dancer has murdered her lover after he threatens to leave and to save herself from the hangman, hires Billy Flynn, the best defence lawyer in town. The story is based on fact: in 1924 Beulah Annan shot her lover dead and with dramatic skill and a top attorney, raises public sympathy for her defence. "The prettiest woman ever charged with murder in Chicago," wrote the journalist, Maurine Watkins, who fictionalised the case for a stage play, later adapted into this musical.
Nearly one hundred years on, it's a topical narrative given recent events and the MeToo campaign. In June 2021, Valérie Bacot was found guilty of killing her husband with his own gun but having suffered his physical and sexual abuse led to a suspended sentence, free to leave the court.
The masterly Musical trio of Kander, Ebb and Fosse (from 'Cabaret' fame) provide all the essential ingredients: realistic characters, a raunchy jazz-blues score, fabulous songs, cool choreography and emotional drama.
An innovative concept is the 10-piece band centre stage with the musical director also introducing characters, songs and snippets of storyline for crisp clarity on the plot. Leading the ensemble is, of course, Roxie Hart, who with five other bad girls are locked up in prison awaiting trial. Dressed in black lace lingerie, they sit astride a row of bentwood chairs for a smooth, sassy performance of Cell Block Tango. As we hear about their offences through the witty lyrics of They Had it Coming, these tough cookies had no choice but to murder their misbehaving men.
Petite and girlish with long wavy hair, Faye Brookes captures Roxie's sweet vulnerability and cunning feminine guile. Her vocal range is superb, matched by a sensitive dramatic performance, reminiscent of a young Judy Garland.  As Velma Kelly, the tall, slender Djalenga Scott shows of her high kicking dance routine (up, over and around a chair) with gymnastic flair.  Together they create a superb double act with polished precision. 
The recording artist Sinitta (who once wore a daring banana leaf as a judge in the X factor) is the prison Mama helping the inmates with a smile and devious financial intent.  Roxie's husband Amos is a lost and lonely soul and his solo number 'Mister Cellophane', sung with such quiet poignancy receives a riotous applause.
The flamboyantly dapper Billy Flynn is portrayed with charming pomposity who demands his own exit music, Busby Berkley style: with a flurry of feather boas, Darren Day relishes the role as the hotshot lawyer giving a star turn as a song and dance man.  
All the familiar songs are here, All that Jazz, Razzle Dazzle, When You're Good to Mama, Me and My Baby, and the slick choreography from tap routines to chorus line ensembles flow in perfect unison.  The Band is simply terrific.
Celebrate the welcome return of live theatre with this sizzling hot, exuberant revival of 'Chicago' – a juicy real-crime drama jazzed up with Broadway pizzazz.  
Showtimes:
Monday 27 September to Saturday 2 October, 2021
Times: 7.30pm nightly + Matinee @ 2.30pm, Wednesday and Saturday.
Ticket prices: from £29.50
http://www.atgtickets.com/venues/edinburgh-playhouse
UK Tour dates:
https://chicagothemusical.com/