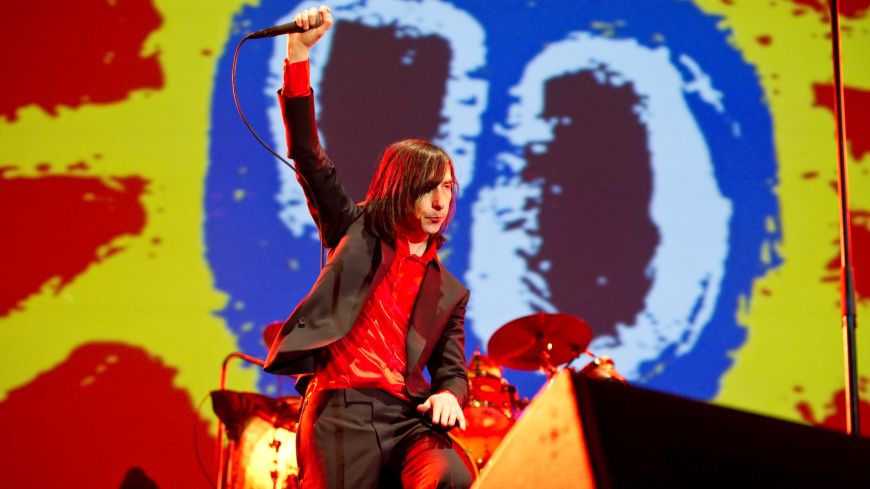 Performers
Primal Scream, Bombay Bicycle Club, Sons & Daughters,
Matt Norris & the Moon
Glasgow cancelled.  Other Scottish cities such as Stirling and Aberdeen held low-key events with a few free firework displays thrown in.  Edinburgh, of course, would rather announce a systematic programme of library closures than lose Hogmanay.  So, in a direct snub to austerity, Edinburgh proceeded to stage its biggest ever New Year bash in Princes Street.
As ever, fleets of revellers were happy to pay £15 for the privilege of being allowed to mingle on public roads.  Princes Street was bookended by None More Indie bands of the likes of Friendly Fires and The Vaccines, while somewhere in there Mark Ronson was getting his old Duran Duran LPs out for a DJ session.
And slap bang in the middle, on the Princes Street Gardens stage, was the somewhat incongruous presence of Primal Scream.  Bobby Gillespie and his mob have always talked themselves up as some last bastion of rebel rock 'n' roll.  Yet here they are at the ultimate corporate rock event about to take to a stage emblazoned with the words "Edinburgh's Hogmanay Let's Play".  Is this how The MC5 and The Stooges would have wanted it, Bobby?
The Scream are billed under their current Screamadelica Live Tour, which presents their seminal 1991 breakthrough album in its entirety.  That's not exactly what the eager audience get.  While an opening salvo of "Movin' On Up", "Slip Inside This House" and "Don't Fight It Feel It" effectively recreate the 20-year old rave mood, following this The Scream suddenly decide to go off-piste with an excursion into the nihilistic fury of 2000's "Exterminator" album.  As Bobby bellows "Into the Future!  Into the Future!" over the screaming guitars of "Accelerator", it feels like a far more fitting end to the decidedly non-ravey year that most people seem to have had.
And then it stops.  So a man in a kilt can come onstage and detonate the biggest fireworks display Edinburgh has ever seen.  Eight solid minutes of explosions which turn Edinburgh Castle's surrounds into a facsimile of the Do Jung Bridge sequence from Apocalypse Now.  That's 2012's schools budget blown, then.
Primal Scream return after this, but their impetus has been lost.  A predictable trundle through "Loaded" and "Come Together" before abandoning Screamadelica entirely and going for the ramshackle Rolling Stones pastiches which seem to be their most popular material.  A ragged "Jailbird" and a somewhat not-arsed version of "Rocks" before Bobby leads his troupe offstage.  And that's it.  At just gone 12.45am, Edinburgh's Hogmanay is officially over.  Signs appear on the screens telling us all to get lost.  Frankly, I'm only too glad.
More on Edinburgh's Hogmanay