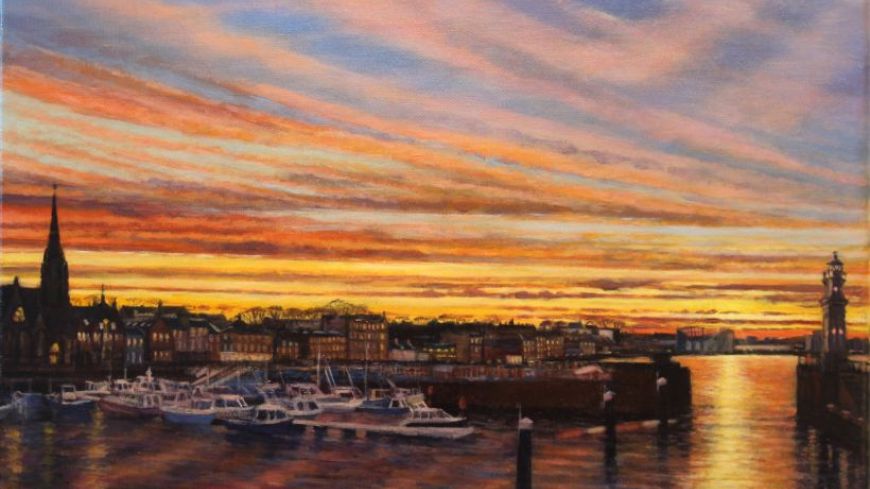 "The richness I achieve comes from nature, the source of my inspiration. Seascape … it changes at every instant, the weather varies several times in the same day.  It's on the strength of observation and reflection that one finds a way".  Claude Monet
As well as depicting the wild natural beauty of the Hebridean islands and the lush, languid Mediterranean coastline, Jamie Primrose is renowned for his paintings around Edinburgh.  Each of his biannual exhibitions takes us on a different journey of discovery from city streets to the seashore, where the artist is "continually obsessed with investigating ephemeral light. "
This new collection of over 50 original oil paintings, 'Shimmering Light' was completed over the past year, focussing on favourite places from childhood from parks to the beach across North Edinburgh.
A popular place to visit at the Botanic garden is the pond, a small nature reserve with its family of ducks and occasional kingfisher; this tranquil oasis with its grassy reeds and tall trees is captured through the seasons. Shimmering Light on the Botanic Pond depicts the glorious golden, lime-green and amber shades of the leaves and scattering of Monet waterlilies floating like flowering boats, against a backdrop of a baby blue sky.
Across the road from the RBGE is Inverleith Park with its real Swan Lake - there are three cygnets this year.  This large pond is painted from different views to study the reflection of the avenue of trees on the still water, as well as south over the city to Castle Rock.  A flurry of white wispy Spring Afternoon clouds over Inverleith Pond scurry across the azur sky with such delicate luminosity.
Very much a trademark of Primrose's painterly style is a range of sunsets following the shifting hues of dusky light, shade and shadow.   Amongst other boating scenes of the old fishing harbour, Winter Sunset over Newhaven is a majestic panorama which simply sizzles in a palette of coral, ochre, peach with a splash of molten gold dripping across the horizon. (see image above).  The criss-cross pattern of rose-tinted clouds and the streak of the dying sunlight glinting on the sea, like a beam from the lighthouse, has such a dramatic effect. 
In quieter mood, Last Light at Cramond, shows the row of waterfront white-washed houses and bare winter trees under a chilly, dark sky suggesting the threat of rain. The glimmer of soft pink rays on the water is a painterly snapshot of this specific moment in time, akin to the click of a camera shutter for a photograph.
Moving away from this finely crafted realism, Twilight Skies over Cramond, is a mesmerising burst of indigo and orange with a sharp shaft of yellow casting a white pool of light on the waves. This semi abstract seascape, blending layered blocks of rainbow colours, offers a fresh experimental style with Rothko-esque vivacity and verve.
Take an artistic trip too in the early morning and the end of the day along the Water of Leith from the Colonies to Dean Village, the Shore in Leith, Portobello beach and along to Queensferry to view the three iconic rail and road bridges, in many other evocative, colourful compositions.
In this charming exhibition, Primrose clearly follows in the brushstrokes of Monet, Cezanne, Pissarro et al, to capture the natural world through the shifting, shimmering quality of light from dawn to dusk with a tangible sense of place through his masterly, Impressionistic style.
There is an accompanying Video which has been edited and crafted brilliantly, moving seamlessly from film footage of these locations to images of the associated paintings.  The soundtrack piano music and lapping waves all create a delightful, dreamlike atmosphere. 
Shimmering Light:  4th June to 12th June:
No appointment necessary – just walk in (restricted numbers).
The Dundas Street Gallery
6a Dundas Street, Edinburgh
EH3 6HZ
Thursday 10th June, 11am - 6pm
Friday 11th June, 11am - 6pm
Saturday 12th June, 11am - 5pm
View images on line.
https://www.jamieprimrose.com/latest/index.html
Video of locations and paintings.