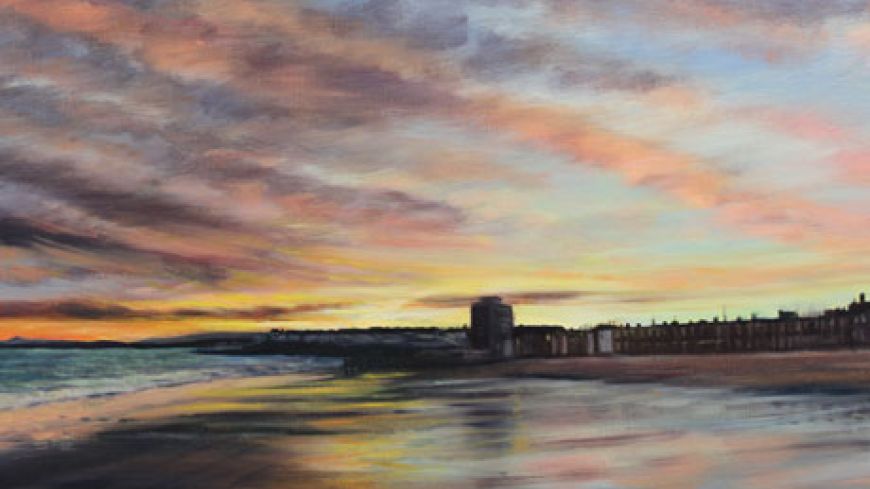 Artists, composers and writers often return time and again to a particular subject, experience or character, their variations on a theme, to create, recreate and develop ideas afresh.
"Attempts to capture the spirit of a place in a definition are rarely fortunate; it is best to point to its literature as the embodiment of a thousand subtle and vagrant conditions." John Buchan.
I would like to paraphrase Buchan to suggest it is also best to point to Art as a way to illuminate an atmospheric sense of place.
For over 12 years, Jamie Primrose has been painting the cityscape around his native Edinburgh, and the East Lothian coastline, observing streets, skies, parks and beaches through changing seasons and from dawn to dusk. Each exhibition takes us on a different journey of discovery, capturing a moment in time while interpreting a scene from a new perspective.
"Fleeting Impressions" offers a masterly, moody collection of over fifty landscapes around the Capital from the Water of Leith, Stockbridge to the Union Canal at Polwarth.
Primrose has many favourite places he frequently returns to paint: here are interpretations of Inverleith Park featuring the shadows along the avenue of trees and the city skyline from the Pond, as seen from Spring to Winter. Also dramatic views along Inverleith Place and the Park towards Fettes College.
In this show, there are half a dozen oil paintings of Portobello which brings an inspirational change of scene. "Sunrise Reflections on Portobello Beach," for instance, is a richly composed panorama, with pale morning light shimmering in the pools of water on the sand. You can almost smell the salt-sea air.
Stand back in the gallery and observe this painting at a distance for the full effect of soft sunlight, cloud, sea and beach, to appreciate its tranquil Turner-esque luminous quality.
Others images which caught my eye include "Twilight Skies over Cramond" with its more abstract layers of blended, bold colours of amber, orange, gold. Also take a walk, as it were, around the Royal Botanic Garden - colourful flower borders, Beech Hedge, the Palm Houses. A stunning series of lush landscapes feature the Duck Pond with its Monet waterlilies and a glistening reflection of the surrounding tall trees on the water.
In addition to these "Fleeting Impressions" portraying the beauty of Edinburgh, there's a great deal more to see at the Dundas Street Gallery. In recent years, Primrose has travelled to Costa Rica, Mexico, South America, Italy, France and Scotland's West Coast. Browse through a well presented Portfolio of colour images to see a diverse selection of other landscapes at home and abroad.
There's also the opportunity to buy Limited Edition Prints and also monochrome Ink Drawings. Visit the Gallery this week to see an inspiring range of art in one exhibition!
Friday 12th – Saturday 20th June, 2015.
Mon-Fri, 11am-6pm. Sat-Sun, 11am-5pm.
For more information and to contact the artist www.jamieprimrose.com.