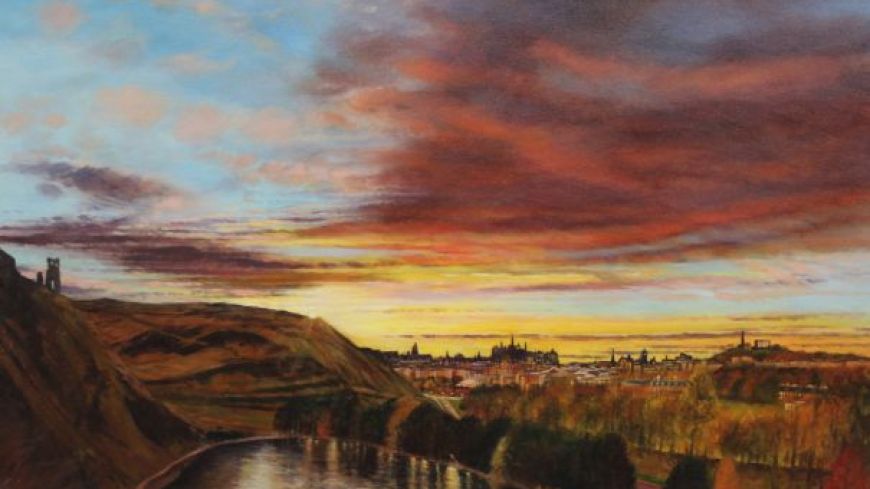 "This is a city of shifting light, of changing skies, of sudden vistas. A city so beautiful it breaks the heart again and again."  Alexander McCall Smith
Jamie Primrose is certainly a prolific artist who presents two very different exhibitions at the Dundas Street Gallery each year, usually in early summer and late Autumn.  City, land and seascapes have taken us over the past fifteen years or so on a journey to South America, Highlands and Islands of Scotland,  Italian and French Rivieras and Venice. But most of all his artistic heart remains firmly in his home town of Edinburgh.
This showcase of paintings and drawings, Enchanting Vistas, presents fifty five of his favourite scenes from distinctive viewpoints – Calton Hill, Arthur's Seat, Grassmarket and the Mound. The theme reflects the sheer beauty of Edinburgh's unchanging sense of history and architectural heritage.
"The Scottish capital represents a strong element … and it is firmly ingrained in my psyche. I am continually drawn to capturing a timeless view of the majestic city .." Jamie Primrose
Here you can experience the shifting times of day from dawn to dusk with a series of Turner-esque sunsets – wild streaks of salmon-pink tinted skies with a rosy glow bursting on the horizon: "Winter skyline over Edinburgh"  and "Twilight skies from Calton Hill" are majestic views to portray the shimmering, shapely silhouette of the Castle and tall slender church spires.  
With an impressionistic sweep of the paintbrush and grey-blue colour palette, "Ephemeral Skies" is a spectacular panorama, the streaks of white light creating a surreal picture of mesmerising, heavenly beauty.
While the Meadows and Inverleith Park have been recurring subject, this is the first time Primrose has painted Princes Street Gardens with the Ross Fountain, Scott Monument and the avenue of trees.  This tranquil green space is captured in a series of paintings such as "Early morning Light" with shafts of pale sun glistening on the autumn leaves, dominated by the towering Castle Rock.
The craggy mound of Arthur's Seat is seen here in the signature work of the exhibition, "Enchanting Vista - Last Light over St. Margaret's Loch", (illustrated), where the water dapples under the fading light and feathery clouds flitting over the rich, golden-hued night sky.
From the University's Old College to the Pentland Hills, Grassmarket to the Royal Mile, there is a tangible atmospheric sense of place – both in the oil paintings in soft subtle colours as well as black and white sketches in Indian ink on paper.  "Late Afternoon on the Mound"  depicts the turrets of the Assembly Hall and gracious design of Ramsay Garden. The draughtsmanship of the architecture is composed with such fine line and painterly precision.
Timeless views around the city and the World Heritage grandeur of the Old and New Towns – iconic, classical landmarks portrayed with fresh, contemporary vision.
Enchanting Vistas by Jamie Primrose
Dundas Street Gallery, 6a Dundas Street, Edinburgh EH3 6HZ
Friday 8th November to Saturday 18th November, 2019
Monday to Friday, 11am-6pm. Saturday, 11am-5pm.
For more information and contact details:
http://www.jamieprimrose.com/latest/index.html
Private Commissions are also welcome - perhaps a favourite landscape or your own street. (expect a waiting list they are so popular)  Limited Edition Prints and Black Indian Ink original drawings are available too  - the ideal Christmas present for family, friends or your home.