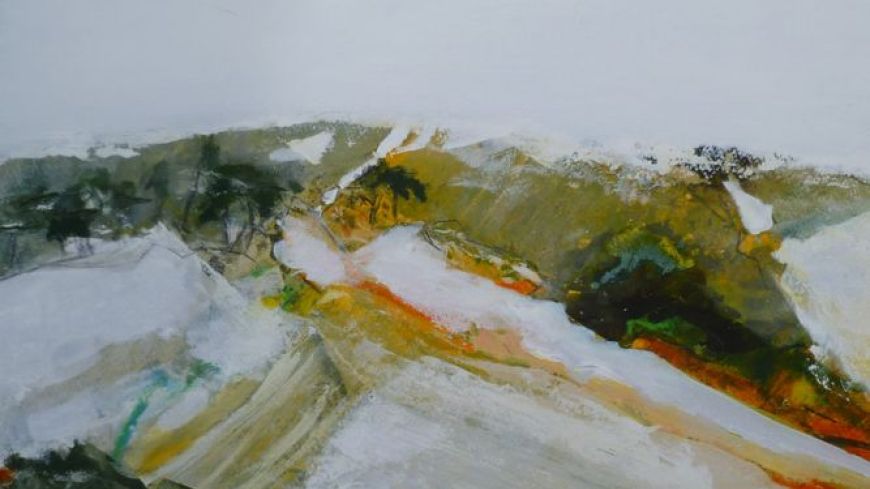 Douglas Davies studied Ceramics and Glass design at Edinburgh College of Art, gaining Postgraduate and Travelling Scholarships.  He previously lectured in ceramics at Glasgow School of Art and is a member of the Royal Scottish Society of Painters in Watercolour. 
This exhibition of New Paintings is a celebration of fifty years as a professional potter and artist, and in the foreword to the well illustrated catalogue, he writes:
"My work starts with on-the-spot sketches which are then translated into a painting in the studio – allowing the colour, line, texture, trial and error to develop the emerging composition. Not so different to a composer or writer." 
Walking around the Dundas Street Gallery, that fine sense of craft and creativity is immediately apparent in expressive landscapes of the Scottish Borders, a flurry of brush strokes to depict a rain-drenched sky and realism of soft flower petals.
"Winter Sun" has such a serene mood in its purity of light, the sun reflecting on a field of snow. Apart from a line of bare trees, it's a whiteout from pale sky to icy ground. This contrasts beautifully with "Winter Sunset," an abstract vision of the dark evening, where final golden embers glint in the starless sky –moody and melancholic in its stillness.  "Melting Snows" has a cool, crisp feel in the air with a glimpse of grass, trees and bare rock under the dripping ice on the hill.
Land and seascapes from Scotland to the south of France are seen through the seasons, such as "From Matisse Hill," shimmering blue sky and sea looking out to the horizon, perhaps a tranquil spot near Nice on the  Cote d'Azur.
The colourful palette used for "Tweed Valley" is brilliantly evocative of the rich shades of chestnut, bracken, blues and gold as a bold impression of this unspoilt rural landscape.  A touch of Joan Eardley's style in "Thicket," - a most evocative beach scene, with what looks like a few strands of grass within the paint for naturalistic texture.   
A dramatic scene is evoked in "Eye of the Storm" with its threatening sky and flash of lightening against distant hills and sandy seashore.  "Borderlands" is painterly tapestry in gold, green and yellow - stand back to appreciate the full perspective of this panoramic viewpoint.
A lovely selection of still life flower paintings – Anemones de Provence, Blue Poppies, The Glass Vase – (and many more), beautiful arrangements of flowers and leaves in soft pale shades of pink, mauve, white and ochre.
This is an inspiring exhibition to showcase how Douglas Davies captures our changing natural world from the calm beauty of the countryside and wild windy seashore to a vase of simple flowers with meticulous, masterly precision.
Douglas Davies RSW  - New Paintings 
Dundas Street Gallery, 6a Dundas Street, Edinburgh EH3 6HZ
Saturday 14 – Saturday 28 September, 2019
Mon – Sat: 10am – 5pm. (closed Sundays).