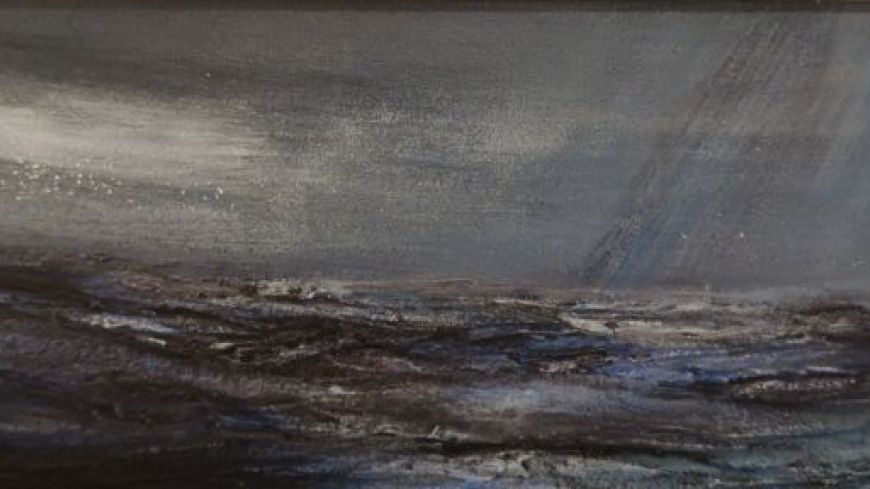 Production
Kirstin Heggie (artist) and Wayne Galloway (ceramist, sculptor)
Kirstin Heggie is a jewellery maker and artist based in South Queensferry. She specialises in non-representational land and seascapes and this new work entitled Beyond, "focuses on memories of places I've been, or imaginings of places I would like to visit.  I enjoy using colour, texture and line to create my own version of what I see in a landscape."
The iconic historic town of South Queensferry with views of the three Forth Bridges, is a constant source of inspiration.  She often goes down to the seashore to sketch as in Harbour Mist, with its line of round bouys bobbing on the water and vague shapes of boats under a hazy sky. 
Kirstin has a great affinity with the West Coast of Scotland, captivated by the vast seas off the mainland and around the islands.  Capturing the stormy weather in the panoramic scene, Light on the Water, you can just see the sharp, shaft of rain is a stunning, dark, dramatic composition. ( see image above).
Likewise in Winter Seas, the expanse of rough, rolling waves makes you feel that you are on a boat, far out in the midst of the ocean.  The thick brush strokes of layered acrylic paint is most effective to create the fierce foam of white horses.
With more of an abstract structure, the navy blue, turquoise and white blocks in Navigate presents more of an imaginary vision of seascape, where the eye is drawn to the streak of light on the horizon.  Rather like the rugged shape of Staffa, there's a dreamlike quality to  Island, as if both a distant place and long lost memory.
The swirling colours in diffused shades of lime, Tiffany blue and salmon pink in Stormy Skies, create a soft golden twilight glow, with Monet-esque shimmer.
Over the Yellow Fields is simply structured in two blocks to denote the grey sky and mustard-coloured corn or rape field, yet evokes the rural tranquillity with subtle detail.  The chill of winter snow in Strata, a richly textured landscape of river, hills and trees, is most atmospheric.  
There are also mini landscapes on square blocks, suitable for hanging on a wall or standing on a shelf – delightful, decorative and very reasonably priced.   
Complementing Kirstin's impressive, impressionistic view of the natural world is a collection of ceramics by Wayne Galloway. Based in Fife, he is also inspired by the coastline, experimenting with glazed, pit and smoke fired surfaces using locally collected materials such as charming polished birds' eggs in wooden nests. 
If you are unable to visit the Dundas Street Gallery this week, Kirstin Heggie's paintings and jewellery will be on show at her gallery, Allium, 4A Hopetoun Rd, South Queensferry EH30 9RA.
Beyond
18 - 23 September, 2020
11am – 6pm  
Note:  Please wear a face covering  - masks and sanitiser available at the door – with a limit of six people in the gallery at one time.