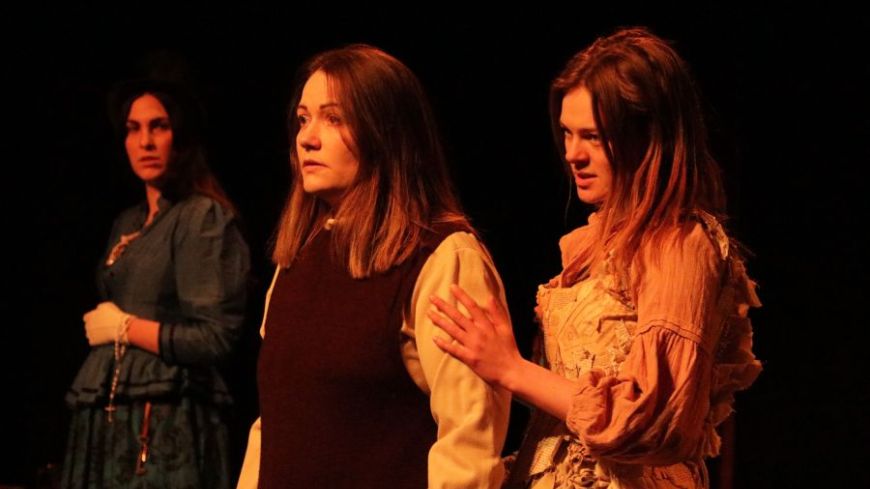 Production
Noelle Harrison (Writer/Director), Becky Sweeney (Film/Assistant Director), Thomas Gotz (Choreographer), Meaghan Goode Dalton (Animator), Alex Delaney (costume designer).
Performers
Andrea Kvalvaag (Anna Rhodius), Callie Stylianou (Maren Olufsdatter), Alex Delaney (Ingeborg Iversdatter), Jodie Baptie (Kirsten Iversdatter), Sonny Ruggerio (Solve Nilsdatter), Charley Drover (The Dark Lord), Hannah Sweeney (Kim Seeberg), Shelley Middler (Shelley), Lizzie McGhee (Musician).
With a theme of witches and the backdrop of The Audacious Women's Festival, this production was bound for a sold-out run. The Witches' Gets promises to be based on real women living in 1662 Norway during the witch trials - a fascinating subject matter, especially to a historic city such as Edinburgh which has seen its fair share of ghastly witch hunts.
This production is full of beautiful poetic language, rustic yet stunning costumes and some truly powerful moments; however the structure and direction needs work. The play opens as a book talk by the writer; suddenly an interesting figure rises from the audience to interrupt her. This setting is never referenced again, and we are launched backwards abruptly to mid-1600's Norway. The first 10 minutes are spent in complete confusion as seven actors circle the stage, changing character to character, event to event, all speaking at break neck speed. This can be forgiven for first performance nerves as the tempo does slow and each actor has moments of true connection.
Their load is heavy as the script demands the actors to snap out of their emotive circumstances to voice opposite opinions and motions, changing from daughter to mother and victim to interrogator at the drop of a hat. They also wade through copious amounts of similar dialogue, going 'round and 'round the same subject to be interrupted at various points by a series of video blogs projected on the back wall. A girl, we assume from modern times, documents her obsession with the witches, going as far as hearing their voices in her head. This is delivered like Kim Seeberg has taken up knitting, not showing signs of a severe mental illness. The piece is jarring but not in a good way, even ending the show with a musician, who we have never seen before, setting up and singing a song - a very beautiful song performed with an incredible voice but awkwardly placed within the narrative.
This is an exhausting process for even the most experienced actor. Despite the drawbacks, Alex Delaney specifically stands out, not only for her emotive role as Ingeborg but also as the productions costume designer. From fine wears to rags and newspaper corsets decorated with feathers, the costumes were an absolute triumph. The use of coloured lights also adds a subtle yet effective aspect. At one point, a still yet defiant Sonny Ruggerio glows red as she burns at the stake. The Witches' Gets has so much potential, with a strong cast and great writing, but needs to be stripped back to the heart of the story. There's no need for projections or tacky movement and music pieces; the focus must be on the girls, on their story from start to finish without the convoluted timeline and on how their heart-breaking struggle, pain and vulnerability can ignite a fire in all modern women's chests so that we can understand these brave women's choices and cherish their memory. Instead the audience sits in a constant state of confusion trying to hold onto the ever-changing narrative.
In association with The Audacious Women's festival
Photo Credit: Thomas Goetz
Dates: Ran Thurs 20th February 16:00 and 20:00
#Onceawitch