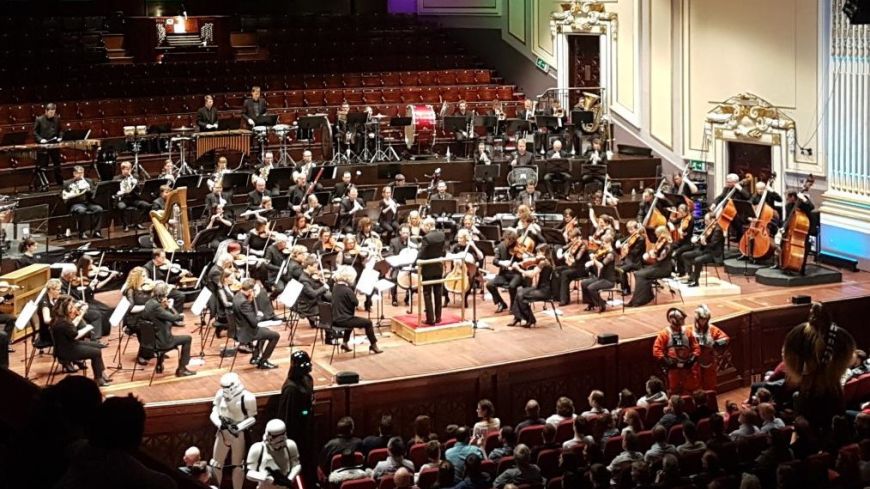 Company
Royal Scottish National Orchestra
Production
RSNO at the Movies Sci-Fi Spectacular!
Performers
Anthony Weeden (conductor), Tom Redmond (presenter), The Royal Scottish National Orchestra
This was an electrifying celebration of movie music that left us entirely enthralled. Inspired by science fiction, the programme took us on an exhilarating tour of all the well-known classics, the first half being given over to the soundtracks from Star Wars. Spielberg once remarked of John Williams, that the composer had the inimitable ability to breathe belief into film, and to make real the impossible dreams of billions; that arresting quality was equally captured through the RSNO's performance in the Usher Hall tonight.
The performance of the Star Wars main theme was received with excited applause, before we were taken on a journey through all of the eight episodes so far released. Presented by Tom Redmond, there was fascinating and also humorous commentary between every couple of items, in a concert that strived – and indeed succeeded – in making orchestral music accessible to the many. The arrival of some characters from the films near the beginning of the concert was a fine example of how the evening sought to engage the various younger members of the audience who came, though this was simultaneously a little distracting from the music being performed. The juxtaposition of all Williams' titanic themes from the various Star Wars films was nonetheless thrilling; a real treasure trove that showcased the very best of the composer's unparalleled gift at communicating the magic of these movies through the medium of music.
The second half left Star Wars behind, though not John Williams. We heard the 'Suite' from 'Close Encounters', and 'Adventures on Earth' from 'ET'. But we also had works from other composers, corresponding to films such as Avatar, Alien, and Star Trek. This was clearly a concert appreciated by all, but not least the substantial number of sci-fi devotees in attendance, who could frequently be seen craning their necks to spot which item of percussion made that all familiar effect!
Tom Redmond promised us "a sound even greater than digital surround" – and, of course, this was. A thoroughly enjoyable concert, the performance finished at 9.50pm.
Performance: Friday 25th January 2019 at 7.30pm