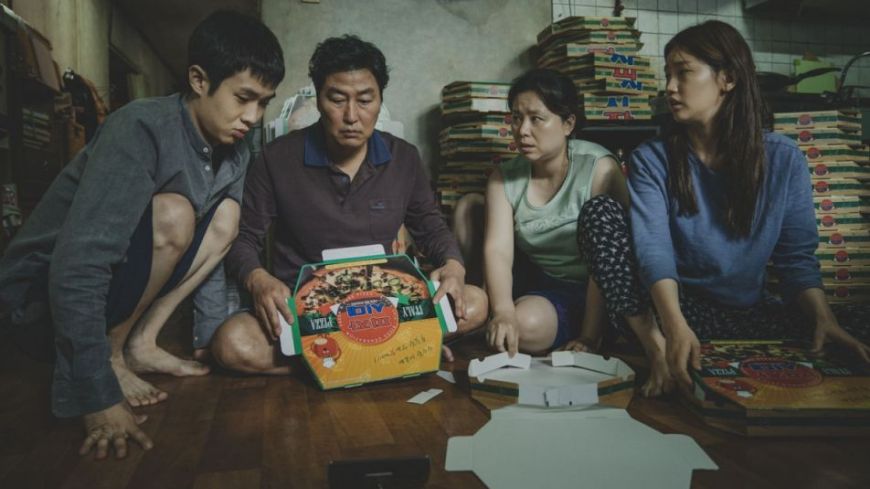 Production
Bong Joon Ho (director, co-writer), Jin Won Han (co-writer), Jaeil Jung (music), Kyung-pyo Hong (cinematography), Jinmo Yang (editing), Heidi Levitt (casting), Kwak Sin Ae, Moon Yang Kwon, Jang Young Hwan, Bong Joon Ho (producers)
Performers
Song Kang Ho (Kim Ki-Haek), Choi Woo Shik (Kim Ki-Woo), Park So Dam (Kim Ki-Jung), Chang Hyae Jim (Kim Chung-Sook), Lee Sun Kyun (Park Dong-Ik), Cho Yeo Jeong (Park Yeon-kyo)
With the globally lauded Parasite, writer-director Bong Joon-Ho has proven himself the master of mixing rich social themes with bracing genre entertainment. The South Korean thriller sees the impoverished but shrewd Kim family infiltrate one-by-one the pristine, wealthy Parks by taking on subservient jobs around the house. Just when the Kims become arrogant enough to believe that they have hoodwinked the Parks, everything is turned completely on its head, throwing them all into uncertain depths.
Returning to Korea after his two English-language efforts, the environmentally conscious Snowpiercer (2013) and Okja (2017), Bong teams with Jin Won Han to pen the brilliantly paced script, as well as his long-time acting collaborator Kang-Ho Song, playing the Kim patriarch. But the whole cast deserves commendation - each of the ensemble mix energetic performances with deadpan comic timing.
Parasite is gripping throughout, and at the heart of this tension is the power play between the two families. While the Kims exploit the Parks' desire for convenience, the Parks enforce a degree of superiority over them. In their treatment of the less affluent Kims, the Park parents (Lee Sun Kyun and Cho Yeo Jeong) unpredictably flit between casual entitlement and severe reprimanding. The Kims may have tricked their way into someone else's home, but they still must serve the Parks.
The camera movements and cuts are severe and dramatic, building a terrific energy as the story barrels along, but Bong always keeps the narrative focus on the characters, grounding the increasingly bizarre developments. There are terrifying images that stick in your head, sweeping shots that defy everything you've seen before in the film, and horrible moments of tension that make you curl up in your seat. It's a wonderfully crafted, anxiety-inducing watch.
And yet it still gives a piercing look at class structure and the vast imbalance of suffering. In the film's climax, a storm rages that barely inconveniences the Parks in their modern, protected house, but it utterly devastates the Kims. While the Kims struggle to keep themselves afloat, the Parks have the luxury of not worrying about their position in the world, secure that nothing will harm them. Parasite shines a light on the structures that give them this security. And when they inevitably collapses, some are hurt more than others.
Parasite is playing at Filmhouse, Cameo Cinema, and Cineworld Fountainpark from Friday 7th February.