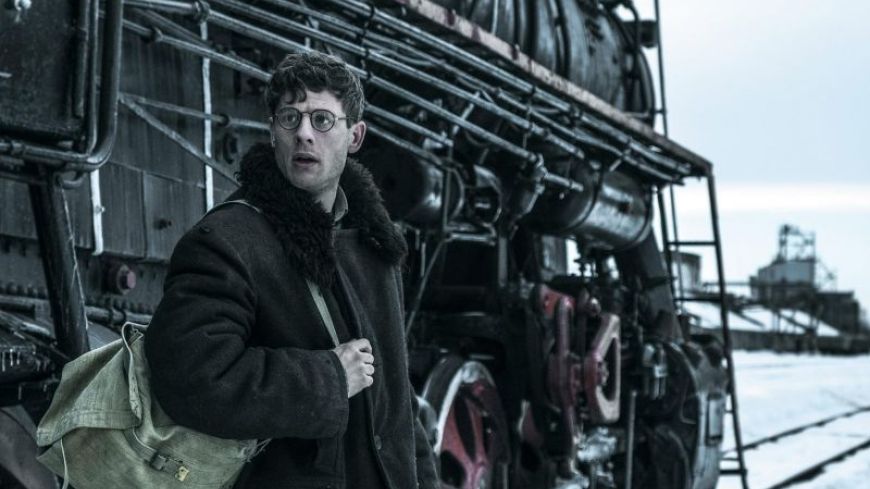 Production
Agnieszka Holland (director), Andrea Chalupa (writer), Tomasz Naumiuk (director of photography), Michal Czarnecki (editor), Antoni Lazarkiewicz (music), Colin Jones (casting),
Grzegorz Piatkowski (production design), Andrea Chalupa, Stanislaw Dziedzic, Klaudia Smieja (producers)
Performers
James Norton (Gareth Jones), Vanessa Kirby (Ada Brooks), Peter Sarsgaard (Walter Duranty), Joseph Mawle (George Orwell), Kenneth Craham (Lloyd George), Celyn Jones (Matthew), Krzysztof Pieczynski (Maxim Litvinov)
Thankfully more creative than its title, Mr Jones finds Polish director Agnieszka Holland returning with genuine artistic flair to her well-established theme of individuals speaking out against oppressive regimes. James Norton (Happy Valley, War & Peace) stars as Welsh reporter Gareth Jones who uncovers first-hand the Soviet Union famine of the 1930s. Holland's directorial skills are undeniable, leading to some beautifully shot, haunting sequences, but an underwhelming script and awkward pacing results in a film that somewhat lacks the emotional resonance worthy of its subject matter.
A foreign advisor on a lone mission to personally challenge Stalin on the financial irregularities in the Soviet Union, Jones is bristling with earnest energy. He is reluctant to get involved with debauchery that is offered to him once he reaches Moscow by resident propagandising reporter Walter Duranty (Peter Sarsgaard). Norton paints a character that is both unassuming and resolute, committed to the idea that unveiling the truth is an indisputable sanctity, to the point of naivety. When Jones decries Duranty's devotion to the Soviet regime over the unreported deaths in the famine, Duranty snidely retorts, "It is not the job of a journalist to say 'How dare you, sir?'"
Holland is adept at intensifying scenes, utilising shaky close-ups and impossible, jarring angles. One such shot follows a telephone call being patched through an infinite mesh of wires, another shoves us up-close to the churning mechanisms of a Soviet locomotive. Both director of photography Tomasz Naumiuk and editor Michal Czarnecki get ample opportunity to flaunt their skills in punchy, showy sequences that add a welcome energy to wordy scenes. Attention to visual detail is abundant – when Jones is told by a hotel clerk his stay has been unexplainably cut short, a suspicious figure lingers out of focus in the background, staring at the unwitting Jones. It's not subtle, but it is effective – scrutiny is lurking everywhere.
Where the film truly flies is in the second act, where Mr Jones slips out from under his Soviet attendant's eye and boards a train heading into the Ukrainian countryside. Evidence of the famine unfolds in front of his eyes in one unbroken, silent shot – peasants scramble for orange peel and stare at Jones like the 'other' he is. He is framed as a dark speck against the stark white wilderness, and when violence breaks out he flees deeper into the unknown, straying further from the intellectual society he is used to. What was once an entitled devotion to the truth turns to a humbling exposure to human suffering, and he returns home a more empathetic but fragile man.
Unfortunately, what becomes clear is how much this sequence stands out compared to the rest of the film. His struggle to publish his findings is without tension and the filmmaking style that once felt crackling and captivating now feels clumsy and truncated. Holland's commitment to telling the story of a horrendous point in history is admirable, but it's told nearly entirely from an outsider point of view. The one voice we hear from the victims is too fleeting and on-the-nose, when Jones asks what is happening to them, a woman replies, "What do you think happened? They're killing us."
While rarely boring (eagle-eyed audience members will enjoy spotting Edinburgh's old town streets masquerading as London), Mr Jones is often messy – a framing device of George Orwell writing Animal Farm is a bizarre addition that only distracts from the narrative. It's unfortunate how the glances of a superior film shine through – the Ukrainian famine sections are striking, both in their aesthetic beauty and unfiltered portrayal of destitution. A thoroughly mixed bag, Mr Jones may falter but convincingly enough demands our attention for an often unreported and ugly period of history.
Mr Jones is playing at the Filmhouse until Thursday 13th February.