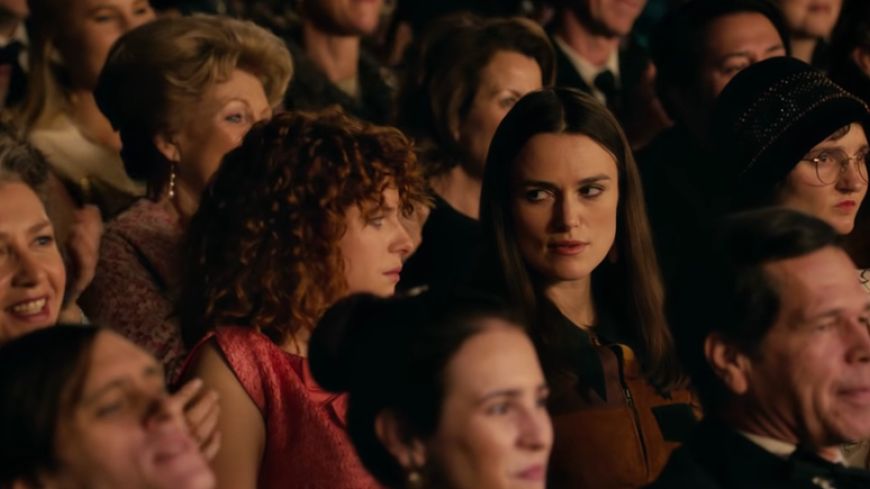 Production
Philippa Lowthorpe (Director), Rebecca Frayn, Gaby Chiappe (Writers), Suzanne Mackie, Sarah Wheale (Producer), Jenny Borgars, Cameron McCracken, Andrea Scarso (Executive Producer), Zac Nicholson, (Director of Photography), Dickon Hinchliffe (Music by), Úna Ní Dhonghaíle (Editor), Nina Gold (Casting by), Cristina Casali (Production Design by), Sion Clarke (Supervising Art Director), Charlotte Walter (Costume Design by)
Performers
Keira Knightley (Sally Alexander), Jessie Buckley (Jo Robinson), Gugu Mbatha-Raw (Jennifer Hosten), Greg Kinnear (Bob Hope), Rhys Ifans (Eric Morley), Lesley Manville (Dolores Hope), Keeley Hawes (Julia Morley)
Directed by Phillipa Lowthorpe with stylistic flair and an infectious admiration for its heroes, Misbehaviour transcends the usual tepid BBC Films standard thanks to an ensemble of vibrant performances. The film charts the birth of the Women's Liberation Movement and their disruption of Miss World 1970 from the perspective of both the feminist protesters and the marginalised models within the pageant. The film shines when it focuses on the complex intersectional issues that connect the women on both sides, but the screenplay penned by Rebecca Frayn and Gaby Chiappe struggles to fully unify these threads. While the final product is an energetic, enjoyable watch, it only hints at more profound attacks of the layered, institutional sexism its characters are fighting against.
When mature university student Sally Alexander (Keira Knightley) meets rambunctious anarchist Jo Robinson (Jessie Buckley), the former's academic approach to sexism versus the latter's bohemian sensibilities clash before merging in a plan to infiltrate the annual Miss World event, which they compare to a "cattle market." Knightley's intense severity is captivating, she has complete control over any scene where she's arguing her case. Sally's feminism is confronted with variables of social class with Jo and generational differences with her mother, "Of course I didn't want to be you," she strikes at her. "No-one should have to be you!" There are different shades that affect how people experience sexism that Sally has never personally dealt with.
These intersectional issues are made clear in the other focus of the film, which follows the first Miss Grenada, Jennifer Hosten (Gugu Mbatha-Raw) and Pearl Jansen (Loreece Harrison), one of two contestants from apartheid-era South Africa. These characters are both confronted with the international politics that govern the global event, and while they are excited about the attention that is thrust upon them, compared to the other contestants they are thoroughly unprepared.  Gugu shines brilliantly throughout the film, bringing a tenderness and wit to Jennifer that is instantly likeable, and there is a constant tension between wanting the protesters to overthrow the sexist competition and wanting Jennifer to be lauded and loved. But while the objectification in the contest is clearly disgusting (the televised line-up of the contestants' backsides was greeted with a particularly stony silence from my audience), simply displaying Miss World's degrading parading just for the audience to think "This is awful" is not as thorough a lambasting of institutional sexism as the filmmakers thought.
What the film lacks in subtlety it makes up for in bristling enthusiasm. A makeover and protest preparation montage cuts between dynamic angles and colourful framing with energy and charm. Lowthroppe effectively brings the sparkling characters to life, frantically chasing Jo through streets and alleys, matched by Dickon Hinchcliffe's sentimental score. This directorial energy does what it can to make up for the absence of narrative drive in the screenplay, characters fill up the screen only to repeat their stance on the film's social themes. While there is plenty of internal conflict between the characters, with no-one taking exactly the same perspective and beliefs, rarely does the script flesh them out to anything more than stating their ideologies at each other.  The film is too crowded for a conventional protagonist-driven narrative and not sprawling enough for a Robert Altman-esque ensemble piece. Rhys Ifans as the Miss World organiser leans too far into Charles Dickens villain territory, and Lesley Manville as Bob Hope's (Greg Kinnear) wife is there in the much-needed role of 'woman sitting down' (this is perhaps unfair, she stands up once).
It's difficult to get too attached to these criticisms, though, because the characters are just so likeable. They may hold onto their ideologies firmly, but they unanimously at some point are confronted on them. Lowthroppe certainly elevates the material with emotionally-charged style – the obligatory "This is what these real people did afterwards" segment before the credits is one of the most moving I've seen. It may err towards conventionality, but Misbehaviour wears its anger proudly, with a winning love for its ensemble of characters.