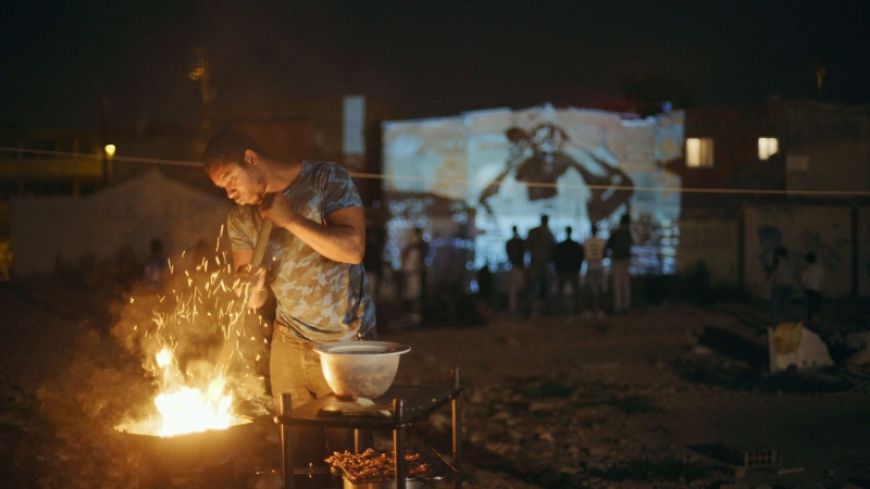 Production
Rita Maia and Vasco Viana (Director), Pedro Pinho, Susana Nobre, Luisa Homem, Leonor Noivo, Tiago Hespanha, João Matos (Producer) Vasco Viana (Cinematography), Rita Maia (Sound Editor), Cláudia Rita Oliveira (Editor), Rita Maia, Vasco Viana (Editing Consultant), Hugo Leitão, Rita Maia (Sound Editor and Mixer), Vasco Viana (Colour Correction)
Performers
DJ Nervoso, DJ Nigga Fox, DJ Famifox
The Ibero-American Documentary Film Festival has returned to Scotland for its 7th iteration and got off with an explosive start with dance music documentary Lisbon Beat, an exploration of Afro-Portuguese artists on the outskirts of Lisbon. While an onslaught of information and an episodic structure occasionally holds the film back, Lisbon Beat is a terrifically energetic exploration of musicians demanding a community for their art.
Directors Rita Maia and Vasco Viana have an expansive knowledge and infectious love for the many varieties of Afro-Portuguese contemporary dance music. The soundtrack entirely consists of tracks from the various artists and traditions featured in the film, and there is scarcely a moment in the brisk 75-minute runtime where they can't be heard. You find yourself drumming your hands and tapping your feet as the momentum of the music pulls you through winding Lisbon streets, amongst looming tenement housing and along lamp-lit highways. Gigs are set up in manic fashion with graffiti promoting them on surrounding walls. While creating a new track on music software, one musician jokes that his state-funded computer equipment certainly isn't being used for its intended purpose. There's a mischievous, madcap energy to the thrill-seekers that populate the film – the band S.A.F. (Somo a Familia – 'We are a Family') argue the order of their set-list in the backseat of the car driving them to their venue. They're intent on sharing their music with as much flair and vitality as possible.
It's always clear that these artists are complete masters of their craft. Coming into the film knowing nothing of the music itself, it's incredibly entertaining to watch people discuss the minutiae of styles of music I never knew existed. They debate the differences between Kuduro and Batinda (the former has vocals and lyrics), argue about 1980s Angolan party tunes, and pinpoint with scientific accuracy the exact Beats per Minute needed to create the appropriate tone for their tracks. There's something captivating about seeing five musicians huddled around computer equipment in a cramped upper-floor bedroom, programming their own slice of their culture.
An overstuffed and unfocused narrative unfortunately hinders you from being completely swept away. Maia has an obvious desire to feature as many artists as possible, but the DJ names and music styles constantly flashing up onscreen can feel overwhelming. The directors use a montage of news articles to prove the widespread success of the music, but what's much more effective is the mobile phone footage of backyard gigs and dancefloors. There are dozens of fun personalities (the middle-aged man tending to his banana crop with an accordion tied to his chest is a highlight) but they can't help but feel distanced from each other.
And yet this is exactly what Maia is trying to strike at. She doesn't shy away from detailing the years of systematic oppression that has splintered Afro-Portuguese communities, denying the communication so dearly needed to help their music grow. There is a real anger at the heart of the thumping beats. At one point a manager complains that he is stuck with a foreign passport in the country he was born in, as his talent lyrically lambasts the same injustice in the recording studio behind him. Later when he takes a selfie by a graffitied wall, Maia and Viana's camera reveals what is omitted by his – the digger tearing down remnants of houses nearby.
It's their determination and high spirits that keep these musicians going. Their music spreads fast, and fans of all ages come bristling with enthusiasm to hear it live. There is great hope for helping this music thrive, but there needs to be greater unity to achieve that. As one artist remarks, "No-one makes history on their own." Balancing an immediate, frantic style with a willingness to mull over how societal hardships affect the creative process, Lisbon Beat and its brilliant soundtrack set IberoDocs 2020 off on the right foot.
Ibero-American Documentary Festival runs at Filmhouse, Cameo Picturehouse, and ECA from 26th February - 11 March. For more information visit https://www.iberodocs.org/