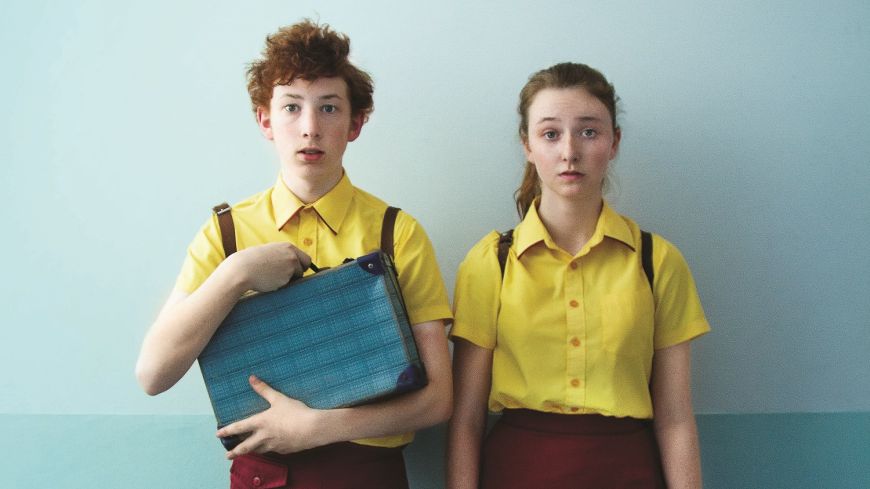 Company
Windmill Theatre and Soft Tread in Association with Adelaide Film Festival, Australian Broadcasting Corporation, Australian Council for the Arts, Scre
Production
Rosemary Myers (director), Luke Smiles (sound design), Harry Covill (music), Jonathon Oxlade (production and costume design), Karryn De Cinque (editor), Andrew Commis (director of photography), Jo Dyer (Acs) Matthew Whittet (screenplay)
Performers
Bethany Whitmore (Greta), Imogen Archer (Genevieve), Tilda Cobham-Hervy (The Huldra), Eamon Farren (Adam, Benoit Tremet), Harrison Feldman (Eliott), Amber Mcmahon (Janet, Frozen Woman), Matthew Whittet, (Conrad, Abject Man) Maiah Stewardson (Jade), Fiona Dawson (Amber) and Grace Dawson (Sapphire)


In a move away from live theatre, this year's Edinburgh International Children's Festival (EICF) brings a screening of the 2015 debut feature film from Adelaide's Windmill Theatre's Artistic Director, Rosemary Myers, Girl Asleep.
In this coming of age movie, 14 -year old freckle faced Greta (Bethany Whitmore) has just moved to a new town and faces the daunting task of making new friends at a new school. She sits alone in the playground, while yellow and red uniformed fellow school pupils, including one dressed in a lion suit, roam around in the background.
She is approached by the gentle, gauche and direct Eliott (Harrison Feldman) who is also not 'in with the in crowd'. Does she accept his offer to 'hang out' or does she fall under the bullying spell of the trio of sisters with faces as hard as the precious stones that give them their names of, Jade (Maiah Stewardson) Amber (Fiona Dawson) and Sapphire (Grace Dawson)?
Based on the novel of the same name by Matther Whittet, who plays Greta's Dad, Conrad Driscoll, Girl Asleep is a stylised, modern -day fairy tale set in the brown and orange glow of '70s but one that ends with a 21st century spin. It channels the wacky heightened humour of Aussie life from comedy classics films like The Castle or Strictly Ballroom and has some fabulous scene change signals worth watching out for. No spoilers!
In this bit of Aussie suburbia, it is all wood panelling and stone clad walls; cork wedges and high waisted trousers. There's some seriously impressive disco dancing to You make me feel mighty real during Greta's unwanted birthday party where she has the nightmare of having to play host to people she barely knows in a girlie dress she hates.
In the chaos and confusion of adolescence, Greta seeks refuge in the security of a childhood box that contains imaginary creatures, her plastic ponies and origami. The muddle of all the light and dark points in her life; of who is and isn't on your side is brought to fantastic reality while Greta falls asleep. Much in the way Dorothy meets with strange yet familiar creatures on her sometimes terrifying journey on the Yellow Brick Road, Greta's loving Dad, Conrad, becomes a creepy, dripping Abject Man and her Mum Janet (Amber Mcmahon) becomes the icy Frozen Woman during her dark forest flight.
Girl Asleep is funny, touching people and more than just a bit bonkers but with a positive message for young folk that there is light at the end of the adolescent tunnel.
A great bit of cinematic wizardry from Oz!
1st June 10.00 and 20.30 age recommend 12 +