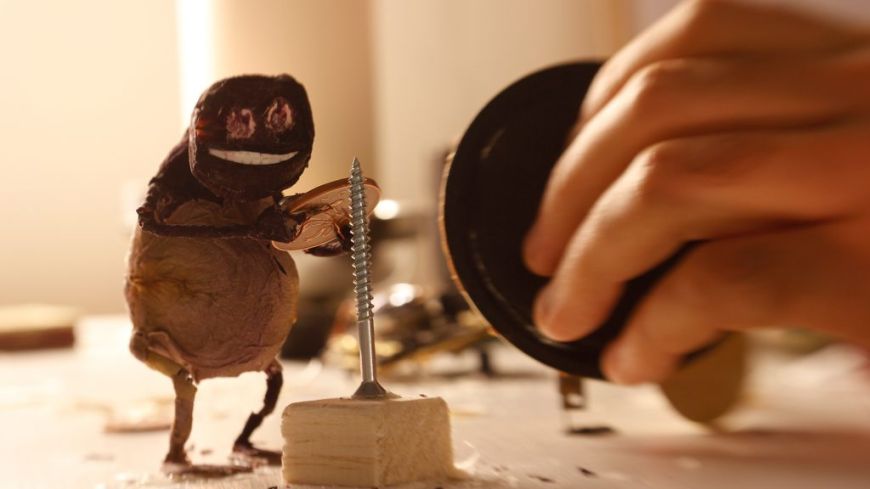 Company
Puppet Animation Scotland
Production
Simon Hart (artistic director), Jen White (festivals & project manager), Melanie Purdie (delegate programme coordinator), Rosie Priest (administrator)
In celebration of manipulate's 10th anniversary, the best animated shorts shown at the Festival over the last decade have been rescreened this week in two separate programmes. On Thursday night we were treated to 10 Years: manipulate Animation Programme 2. The animation programme is always eagerly anticipated, but while this one definitely scored a hit, it nevertheless left a lingering sense of disappointment.
The first gripe is that, with all the animations from manipulate's back catalogue to choose from and with only 70 precious minutes available, it is arguably wasteful to open Programme 2 with the same film that opened Programme 1. However, Ainslie Henderson's 'Stems' (pictured above) still looks truly terrific, even at the second viewing in less than a week (someone on the programming team clearly loves this one a lot).
'Love & Theft' by Andreas Hykade followed. This is a fast-moving piece of morphing animation loops that uses a lot of psychedelic imagery. Blended with appropriately rhythmic, funky music, it references a whole host of other animation and cartoons and is a must-see for animation fans.
'Off Beat' by Will Becher, who has worked on a number of commercially (and critically) successful animations like Shaun the Sheep and the Creature Comforts series, is possibly the highlight of the night. His planet of clay people living in identical one-room homes, each commit the same crime on his neighbour on the day the police force takes a holiday. Great characters, laugh-out-loud funny.
Theodore Ushev's 'Lipsett Diaries' couldn't be more different. With exquisite attention to minute details, this multi-award-winning animation uses hand-painted frames to explore the life of collage filmmaker Arthur Lipsett, who committed suicide in 1986. The use of sepia and muted tones lends a nostalgic air full of poignancy.
David O'Reilly's 'Please Say Something' is a humorous, wry and knowing look at a troubled and troubling relationship between a sensitive cat and a career-focused mouse, set at some point in the next century. Communicating only in squeaks and showing no facial expression, O'Reilly's characters create a strange drama and yet also provoke a tangible emotional connection.
A contribution from Scotland's Claire Lamond was expected this evening and the animation chosen was 'Seams and Embers', made for the National Mining Museum Scotland. Showcasing Lamond's trade-mark puppets, a little bit of mining history is captured as the stories, thoughts and feelings of miners and their families, gathered through interviews, provides the voice-over narrative for this retrospective on a bygone era.
BAFTA winning and Oscar nominated 'The Bigger Picture' by Daisy Jacobs, brings acute sensitivity and humour to the topic of an ageing parent's final days amid increasing sibling tension and rivalry. And then the evening ends with 'Fast Film' by Virgil Widrich, who put together clips from over 300 different films to create a dramatic chase and rescue story featuring Cary Grant, John Wayne, Sean Connery, Bogart and Bacall, among many others.
It's always a good idea to leave the people wanting more and they did: where was Don Hertzfeldt and Priit Pärn and why wasn't Claire Lamond's tear-jerking 'All That Glisters' given another airing, some might wail. All in all, this didn't feel like the very best of manipulate's 10 years of animation but it probably did come quite close.
2nd February 2017