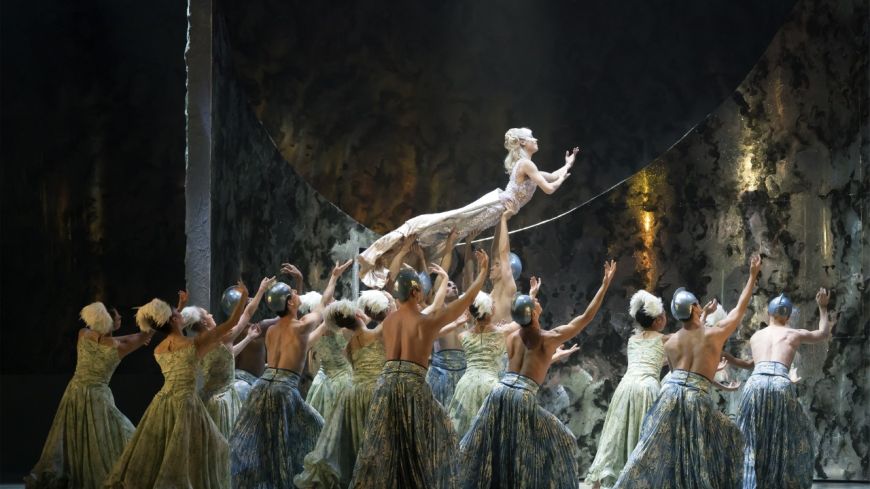 Production
David Nixon OBE (Director/Choreographer/Costume Designer/Scenario), Sally Beamish (Music), Kimie Nakano (Set Designer), Tim Mitchell (Lighting Designer), Julie Anderson (Costume Design Assistant), Hans Christian Anderson (Writer of original fairytale). John Pryce-Jones (Music Director).
Performers
Abigail Prudames (Marilla, a little Mermaid), Ailen Ramos Betancourt & Mika Akuta (Evelina & Erina), Matthew Topliss (Lyr, Lord of the Sea), Kevin Poeung (Dillion, the seahorse), Joseph Taylor (Prince Adair), Dreda Blow (Dana), Pippa Moore (Adair's mother), Dale Rhodes (Priest), Marina Rodridues & Teresa Saavedra Bordes (Priestesses), Matthew Koon, Jonathan Hanks, Lorenzo Trossello, Eneko Amorós Zaragozos, Liam Morris (Sailors), Rachael Gillespie, Abigail Cockrell, Dominique Larose, Harriet Marden, Kiara Flavin (Young Girls). Antoinette Brooks-Daw, Victoria Sibson, Sarah Chun, Domonique Larose, Ayami Miyata, Natalia Kerner, Minju Kang, Marina Rodrigues, Ashley Dixon, Mlindi Kulashe, Sean Bates, Nicola Gervasi, Dale Rhodes, Filippo Di Vilio, Gavin McCraig, Alexander Yap, Archie James, Ommaria Kanga Perez, Jesse Milligan, Andrew Tomlinson, Thomas Holdsworth (Water Men & Women/Members of the Gathering & Wedding Guests)

Third in the Northern Ballet's run of premieres, The Little Mermaid is a production saturated with talent and grace, from conception to execution.
Although both based on Hans Christian Andersen's classic tale, this retelling is not akin to its Disney predecessor. Remaining true to the original story, sans whimsical singing crabs and conventional happy endings, a little mermaid - Marilla - saves the life of a handsome prince and falls head over fin in love with him. Infatuated with this human man she approaches Lyr, the Lord of the Sea, who grants her a chance at human life - at a price. She will lose her voice and every step she takes will cause her physical pain.
David Nixon's story strives for simplicity, allowing his audience to gain perfect comprehension ahead of the wonders his creative team have conceived. Kimie Nakano's stark set design flows in perfect harmony with Tim Mitchell's fluid lighting design, fleeting between the warm-toned, grounded land and the deluged sea. Sally Beamish's specially commissioned score, and her first with Northern Ballet, aids in the delineation of these two worlds. Resonating with scottish folklore, it is no surprise that Beamish chose to incorporate Celtic undertones to her music - sadly no selkies appear, though.
Nixon's choreography submerges itself in aquatic nuances, pulsing with the motion of the sea before becoming more stable and firm on land. The entire ensemble commit to this world and perform with such beauty, however the performance of Abigail Prudames is enchanting. From moments of lithe and tomfoolery to sheer agony and heartbreak, her portrayal of young Marilla is exquisite.
Running until 24th March 2018 at Festival Theatre Edinburgh.
Further tour dates available northern ballet.com