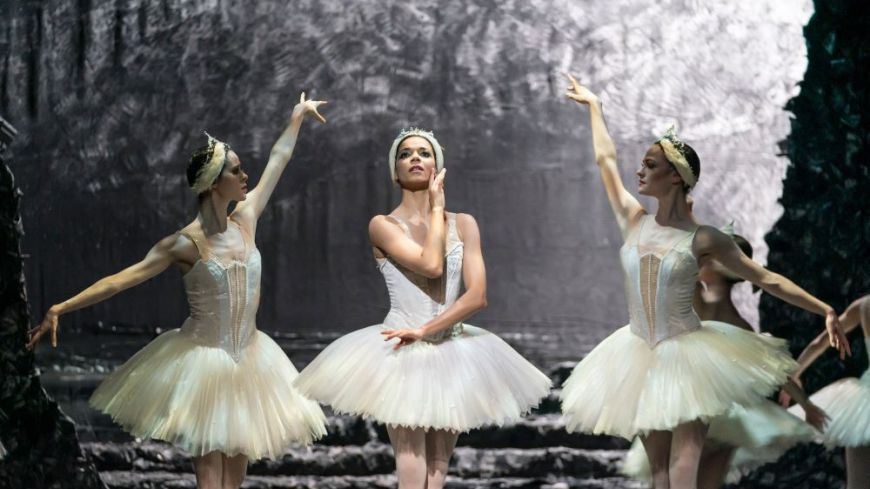 Company
Birmingham Royal Ballet
Production
Lev Ivanov, Marius Petipa, Peter Wright (choreography), Peter Wright, Galina Samsova (production), Pyotr Ilych Tchaikovsky (music), Philip Prowse (design), Peter Teigen (adapted by Johnny Westall-Eyre) (lighting)
Performers
Céline Gittens (Odette/Odile), Brandon Lawrence (Prince Siegfried), Daria Stanciulescu (Queen Mother), Jonathan Payn (Baron von Rothbert), Riku Ito (Benno); Swan Maidens, Courtiers, Dancers, Ambassadors, Guards - Artists of the Birmingham Royal Ballet; Royal Ballet Sinfonia - conductor, Martin Georgiev.
Birmingham Royal Ballet revives its sumptuously theatrical 1981 production by Sir Peter Wright and Galina Samsova of the timeless classic, Swan Lake on this UK tour.   
The Lake of the Swans, choreographed by Julius Reisinger with a score by Tchaikovsky, was first performed by the Bolshoi Ballet, Moscow in March 1877, but it was not well received by either audience or critics who described it as "unimaginative".  Time to bring in the dream team of Marius Petipa and Lev Ivanov to recreate it afresh and Swan Lake premièred in January 1895 at the Mariinsky Theater, St. Petersburg. The cultural partnership of the Frenchman and Russian turned ballet into theatre, dance into action and choreography into drama. 
Based on a German legend this is a dark tale of passion, revenge and tragedy, relating the love story of Prince Siegfried and Odette who, cursed by a cruel spell, is a woman by day and a swan by night. The action begins with a grand funeral procession following the death of the King, and as the 21 year old Prince is now heir to the throne, his mother is keen to arrange his marriage. Courtiers bring large volumes of portraits of suitable brides (the Medieval equivalent of Tinder today), but Siegfried dismisses these, focussing instead on the dancing at his 21st birthday party. He then escapes from the Castle with his friend Benno to go hunting by the lake in the moonlight where he observes a large lamentation of white swans, and in particular the beautiful leader of the flock, Odette. Like an evil pantomime villain, Baron von Rothbart lurks in the shadows to use his supernatural powers over the Prince who at first sight declares his eternal love for Odette.
Céline Gittens portrays Odette with such an extraordinary depth of character and personality, blending graceful elegance with emotional vulnerability.  To observe every turn of the head, each high-kicking arabesque and port de bras flourish is simply mesmerising as she captures the physical nuances of a fragile wild bird from her outstretched fingers to a twitching, raised foot.
In a perfectly synchronised pas de deux, Brandon Lawrence as Siegfried is clearly besotted by the tall, slender Swan, almost fluttering around her, tentatively holding her arms and shoulders in a gentle, protective embrace.  The visual theatricality of the ballet takes centre stage by the ensemble of 18 Swan Maidens with dazzling, dynamic precision; they fly, float, hop and glide across the stage, forming perfect lines and twirling circles.   
It was Ivanov who choreographed the iconic Dance of the Cygnets with their criss-crossed arms and heads tilted to one side just like birds with their wings folded, and here the quartet display such unified control with neat, fast paced steps, en pointe.   
The Royal Ballet Sinfonia is exemplary in their vibrant playing of Tchaikovsky's superlative score.  In the Royal Ballroom, the pace and rhythm switches seamlessly from Spanish and Italian courtly dances to a boot stamping Mazurka. And then the star turn for Rothbart's daughter, Odile, the devious black swan, oozing her feminine charm to seduce the Prince. No wonder he is captivated as she performs an astounding 32 fouettés in a showcase of dizzying, spinning turns.
Philip Prowse's richly textured, black and gold brocade robes, velvet gowns and ornate head-dresses amidst the pillars and vaulted ceiling all brilliantly evoke the majestic grandeur of the Castle.  Lighting and special effects all add to the mysterious and menacing mood of the narrative. As the curtain rises for Act IV,  a thick white 'waterfall' of shimmering mist envelops the stage and the Swan maidens – a gloriously, haunting scene as Odette and Siegfried meet again to prepare for their tragic fate as star-crossed lovers.
First staged forty-two years ago, this epic production continues to capture the thrilling drama, spellbinding magic and fairytale romanticism in this beautifully eloquent, virtuoso performance.    
Showtimes:
 Friday 31st @ 7.30pm.  Saturday 1st April @ 2.30pm
Ticket prices: from £23.50 (discounts available)
https://www.capitaltheatres.com/whats-on/all-shows/birmingham-royal-ballet-swan-lake/63/#tickets