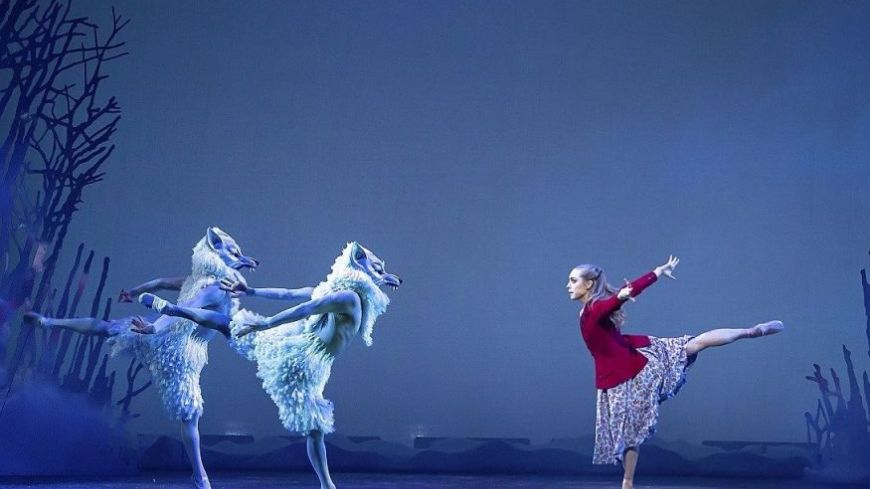 Production
Hans Christian Andersen (writer of original story), Christopher Hampson (choreography), Lez Brotherson (design), Paul Pyant (lighting), Nikolai Rimsky-Korsakov (music), Richard Honner (Music arrangement)
Performers
Constance Deverney (Snow Queen), Bethany Kingsley-Garner (Gerda), Andrew Peasgood (Kai), Kayla-Maree Tarantolo (Lexi, Summer Queen), Bruno Micchiardi (Ringmaster), Evan Loudon (Strong man), Grace Horler (Mazelda), Jerome Barnes (Zac), Constant Vigier, Aaron Venegas (clowns), Madeline Squire, Roseanna Leney (acobats), Gillian Risi (Begona), Alice Kawalek (ballerina). Snowflakes, Snow Wolves, Jack Frosts, Townspeople, Bandits performed by the Artists of Scottish Ballet
Scottish Ballet Orchestra with conductor Jean-Claude Picard.
"The Snow Queen" by Hans Christian Andersen, (1844), is a good and evil morality tale featuring two children, Gerda and Kai.  A devilish Troll has made a mirror which distorts everything it reflects; when Kai gets splinters in his eye, he is enticed by the beautiful Queen of Snow-bees to her Ice Palace.  Gerda's adventures to find Kai begin…
This romantic Christmas-time narrative has been adapted endlessly for film, theatre, musicals, opera, dance and also inspired the Disney animation movie Frozen.  
For this world premiere, Christopher Hampson has edited the story and re-invented the key characters to focus on the three central women and Gerda's journey in search of her beloved, best friend.  
The Prologue, staged like a shadowy silhouette, shows the Snow Queen and her sister, the Summer Princess who sees a futuristic glimpse of herself with a handsome stranger in a magic looking glass. She decides to run away to find him as the mirror shatters into shards of icicles with sparkling, magical illumination. 
Transported to a market place, it's a Christmas Card winter scene – snowflakes, a vendor selling roasted chestnuts, children playing games and  the townsfolk stroll around in tweed coats, flat caps and pillbox hats– (the vintage fashion is more akin to 1950s than early 20th century as given in programme notes). In the crowd is Kai, wrapped up in a Shetland wool jumper is very much in love with his childhood sweetheart, Gerda, curiously dressed in a flowery summer frock - why not festive fur and velvet?.  
Against an artistic backdrop of churches and steeples (reminiscent of Edinburgh's cityscape), the happy couple are in high spirits during a jaunty country dance.  The Rimsky-Korsakov score has been exquisitely, seamlessly crafted by Richard Honner, from an eclectic range of opera music, (The Snow Maiden), Fantasias and Russian folk tunes.
The circus comes to town bringing a troupe of tumbling acrobats, cheeky clowns and a tattooed Strongman entertaining the crowd, the red coated Ringmaster, a star turn with gleeful agility and magic tricks. Hidden in the crowd is the Princess now disguised as Lexi, a shabbily dressed Artful Dodger. She has her eyes on Kai, the man of her dreams.
But the Snow Queen is also here on a mission, freezing Kai's feelings for his fiancée to entice him away with her captivating, icy charm,  as the author described, "dressed in the finest white gauze .. she was beautiful and she was graceful, ice-shining, glittering ice .. her eyes sparkled like two bright stars."
As a secret rival in love, Lexi offers to help Gerda find Kai, taking her to a bandit caravan camp to see a fortune teller. Around the campfire, it's time for partying with gusto, as Begona, the violinist plays lively folk tunes for foot-stamping swirling, gypsy dances.
Gerda sets off through the forest of tall bare trees; like Dorothy facing danger from lions, tiger and bears (oh my), and flying monkeys, she encounters white furry but frightening Snow Wolves, a blizzard of Snowflakes and an ominous army of Jack Frosts barring her way. The choreography is sharp and crisp as ice in this winter wonderland, each en pointe step and free-flowing, flying jump matching every musical note and phrase with rhythm and dramatic pace.
The dazzling white Palace is a frozen world of towering stalagmites, where Kai is trapped under the spell of the glamorous Snow Queen, pirouetting in their dreamlike pas de deux.   The final scene with the arrival of Gerda and Lexi is unfortunately far too rushed to sort out the jealousies of sibling rivalry and romantic love.   
After the rather dark and gloomy settings of Act 1 and the start of Act 2, we are finally taken on an exciting journey to the glistening glow of Lapland to be immersed in the magical heart of this classic, fantastical fairy tale.   
Show times:
Festival Theatre, Edinburgh: 7-29 December 2019
Theatre Royal, Glasgow: 3-18 January 2020
His Majesty's Theatre, Aberdeen: 22-25 January 2020
Eden Court, Inverness: 29 January-1 February 2020
Theatre Royal, Newcastle: 12-15 February 2020