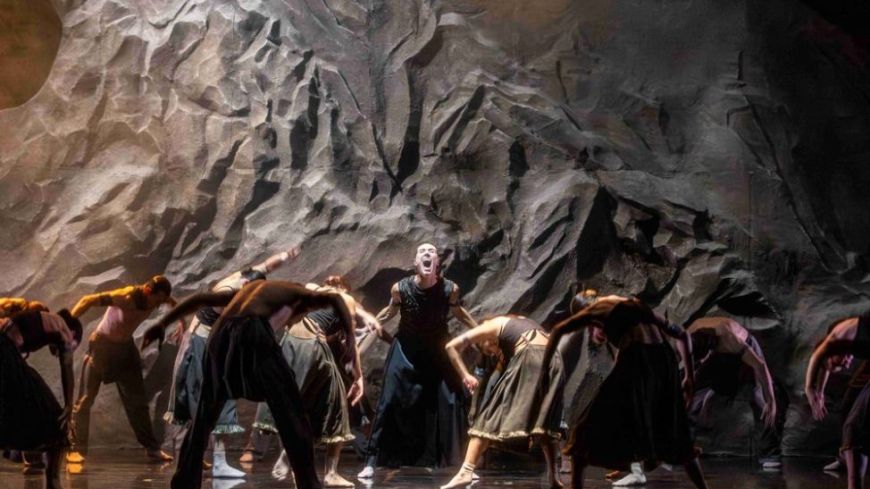 Production
Schachmatt:
Cayetano Soto (choreography, set, costume and lighting design), Rina Ketty, Michel Le Grand, Jack Constanzo, Monna Bell, María Teresa Lara, Toña La Negra, Los Panchos (music).
Twice-Born:
Dickson Mbi (choreography, direction, concept, original music), Ruby Law (set design), Debbie Duru (costume design), Jessica Hung Han Ynn (lighting design).
Performers
Schachmatt: Kayla-Matee Tarantolo, Hannah Cubitt, Claire Souet, Rishan Benjamin, Noa Barry, Andrea Azzari, Aaron Venegas, Benjamin Thomas, Ishan Mahabir-Stokes and Harvey Evans.

Twice-Born: Marge Hendrick, Rishan Benjamin, Xolisweh Richards, Anna Williams, Kayla-Maree Tarantolo, Grace Paulley, Alice Kawalek, Madeline Squire, Roseanna Leney,
Grace Horler, Hannah Cubitt, Evan Loudon, Jerome Anthony Barnes, Thomas Edwards,
Rimbaud Patron, James Garrington, James Hobley, Harvey Evans, Andrea Azzari,
Aarón Venegas, Ishan Mahabir-Stokes.
'Scottish Ballet forged new ground in 1969 and we continue to promote Scotland's pioneering spirit, affirming our commitment to be one of the most daring dance companies in the world'. Christopher Hampson, CEO & Artistic Director
The 2023 Autumn tour presents an imaginatively curated double bill - the world premiere of Twice- Born by the Olivier Award winning dancer, Dickson Mbio, based on ancient mythical parables, and the UK premiere of Schachmatt (Checkmate), by the Spanish choreographer, Cayetano Soto inspired by his three cultural heroes: Joan Rivers, Pedro Almodovar and Bob Fosse. 
The stage design for Schachmatt is a giant black and white chessboard across which the ensemble, in a uniform of shorts, shirts and helmets as horseback riders, prance and bounce with dainty Dressage dance steps. The retro, romantic Latino, French, Cuban, Mexican soundtrack creates the perfect syncopated, jazzy beat for Soto's cool, quirky choreography. The dancers are all loose limbed with high knee kicks, arched backs, twisted wrists, swaying hips, clearly reminiscent of Rich Man's Frug from Sweet Charity as a homage to Fosse's genius vision. 
As the pace develops with exquisite precision of unified lines and smooth moves, a series of amorous couplings involve rather risqué hand gestures yet it's all very camp and joyfully humorous.  In time to the foot tapping, salsa music, the riders trot, gallop and jump across the squares to the finishing line of this enigmatic, energetic game of Steeplechase-Chess.  
Born in the Cameroon, Dickson Mbi trained at the London Contemporary Dance School, specialising in his own improvised street dance, hip hop and popping - a funk style of contracting and relaxing muscles to cause a jerking, robotic movement.  
Twice-Born, begins with an ominous sound reverberating around the theatre, like thunder or a volcanic eruption, and slowly through a murky mist, a mound of rocks crashes down from a jagged peak towering above. A solitary figure stares up at the mountain as if wanting to clamber up to the summit, lost and abandoned in this alien environment.  
Performed with quiet serenity, Marge Hendrick is like a matriarchal Queen Bee, suddenly surrounded by a swarm of dancers, standing tall in the middle of this madding crowd. The strident score intensifies with an electrifying beat from drumming and symphonic chords to choral chants.  The ensemble huddle and crouch tightly together, breathing loudly in an out to represent the shape and sound of a heartbeat: this is quite literally breathtaking.  
A young girl is dragged centre stage in a tribal ceremony of sacrifice, with haunting echoes of 'Rite of Spring,' portrayed with a palpable sense of fear by Rishan Benjamin.  The dramatic scene of her spiritual Rebirth is an impressive and graceful piroutte as Rishan flies high on a wire, but in acrobatic, Peter Pan-style,  lacks real emotional punch. Nonetheless, a surprising and magical moment. 
 In another scene, the dancers parade in a circle, waving their jaunty, jazz hands, - ' tattooed' with UV paint to glow green - more akin to a light-hearted, song and dance musical than this dark, dystopian narrative.
Through a surreal world of dim shadows, haunting music and chilling sound effects, Twice Born is almost cinematic in its bleak atmospheric vision.   With a cutting edge fashion sense, Debbie Duru creates bold, black costumes – tiger print vests, leather maxi skirts, drawstring loose trousers.  The flowing, fluid choreography - formations, duets and solos - is all synchronised with steady rhythmic, ritualistic movement throughout.   
Yes, Scottish Ballet is certainly a most daring, dynamic, multi-award winning dance company, constantly breaking boundaries to work with such inventive, international choreographers as Soto and Mbi, for a thrilling theatrical experience. 
For the Festive season 2023, Scottish Ballet presents Cinders! in which Cinderella will be performed by either a woman or a man, giving a modern, gender fluid twist to the romantic fairy tale. On tour from 9th December to 10th February – Glasgow, Edinburgh, Aberdeen, Inverness, Newcastle. 
 Showtimes:
Friday 20 – Saturday 21 October, 2023 
Evenings, 7.30pm,  Saturday matinee, 2.30pm. 
Ticket prices: from £25 
https://scottishballet.co.uk/whats-on/twice-born/