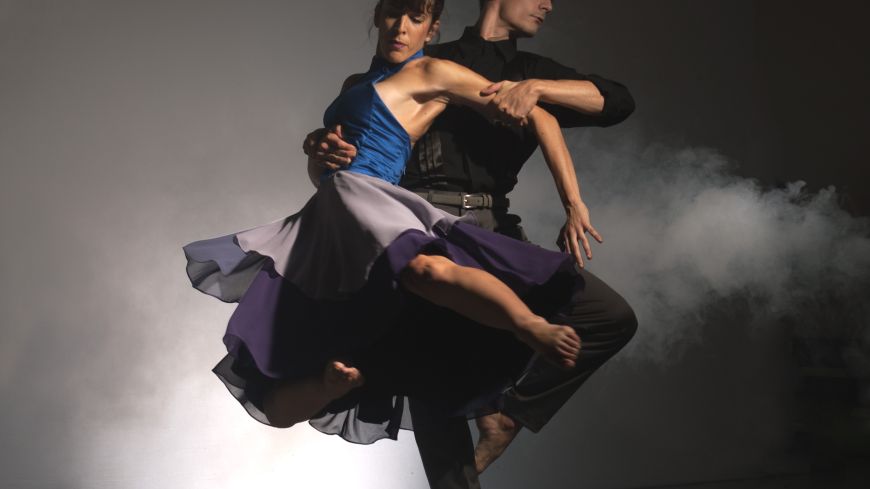 Company
Richard Alston Dance Company
Production
Richard Alston and Martin Lawrance (choreographers). An Italian in Madrid: Karl Oskar Sordal (lighting), Fotini Dimou (costumes); Mazur: Zeynep Kepekli (lighting), Peter Todd (waistcoat design); Stronghold: Inca Jaakson & Martin Lawrance (costumes); Karl Oskar Sordal (lighting); Tangent: Karl Oskar Sordal (lighting), Jeffrey Rogador (costumes).
Performers
Ishaan De Banya, Jennifer Hayes, Nancy Nerantzi, Elly Braund, Oihana Vesga Bugan, Monique Jonas, Vidya Patel, Liam Riddick, Nicholas Bodych, James Muller, Nicholas Shikkis. Pianist, Jason Ridgway.
The Richard Alston Dance company brought a dazzling, diverse quartet of choreographic creativity to Edinburgh last night, featuring exciting new work by Alston and Martin Lawrance. Music through period and place is the dominant theme behind narrative and movement.
"An Italian in Madrid" (Richard Alston, 2016), follows the career of Baroque composer Domenic Scarlatti from his home town of Naples to Lisbon as master of music to King John V to teach his daughter Princess Maria Barbara. He then accompanies the royal family to Madrid, where traditional Andalusian tunes began to influence his style.
A prelude shows a group of Neaopolitan girls dancing with carefree joy, observed by the young Scarlatti. Then to the Royal Court, Lisbon with Jason Ridgway playing the pianoforte centre stage. Vidya Patel, trained in Kathak Indian dance, portrays Princess Maria who with her five Ladies in waiting, (in silky costumes like Kurta tunics and trousers), leap with a gleeful sense of freedom. Prince Fernando and his courtiers appear proudly elegant in their formal dance presentations, parading like peacocks to attract the young women. It's like a magical, mini Fairy Tale ballet about Princess Maria, Scarlatti's beautiful muse, for whom he wrote over 500 sonatas.
Along with the waltz and polonaise, Frederic Chopin composed 69 Mazurkas inspired by the Polish folk dance. "Mazur" by Richard Alston is a gentle pas de deux performed by Liam Riddick and Nicholas Bodych in smart black waistcoats, bow ties and grey trousers. With Ridgway at the piano, this could be a dance lesson, showing each other quick turns and pirouettes. Through touch and gesture, they reflect a close friendship with boyish playfulness.
Receiving its Scottish premiere is "Stronghold" by Martin Lawrance, based on the 25 minute score for eight double basses by Julia Wolfe, the American Pulitzer prize-winning composer; her work has been described as "combining the violent drive of rock music with an aura of minimalist serenity."
On a vast empty stage with exposed bare brick wall ten dancers are lined up in a row at the back, suddenly rushing forward with an urgent burst of energy. The deep, rumbling, rolling tone of the double bass strings creates an atmospheric, haunting, soundtrack: in unison, duets and solos, they jump, run and kick box releasing aggressive tension like two opposing gangs, "West Side Story"-style. This is an electrifying piece with a dramatic sense of fear and the unknown.
The much anticipated highlight of the evening was the world premiere of Lawrance's "Tangent" inspired by the Tango, the gypsy street dance of 19th century immigrants in La Boca, Buenos Aires. A piano arrangement of "Four Seasons of Buenos Aires" by Astor Piazzolla is performed live by Jason Ridgway; with soft lighting and romantic mood, the scene is set for a party at a nightclub.
The men look sultry in black jeans, the women sparkle and glow in crimson, green, purple, and orange dresses, the flowing chiffon caressing their body and movement. The dancing is fast and furious with girls lifted over their partners' shoulders, followed by a slow, sensual embrace, legs entwined. Seamlessly incorporating classical ballet steps with lively Latino moves, this is the Tango brilliantly re-invented by Martin Lawrance with imaginative, artistic vision.
Showtimes:
One performance, Friday 23 September 2016.
On tour: www.richardalstondance.com