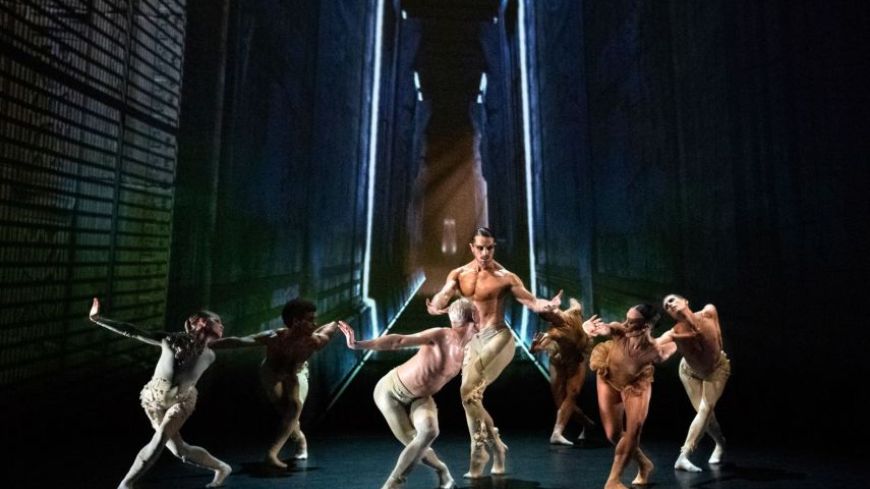 Production
Kibwe Tavares, (writer and director), Sharon Eyal and Gai Behar (choreography), Ori Lichtik (soundtrack design and original music), GAIKA (additional original music), Uldus Bakhtiozina (costume design), Paul Nicholas (animation), Natasha Chivers (lighting design), Fiona Lampley (film producer)
Performers
Aishwarya Raut, Kym Alexander, Guillaume Queau, Juam Gil, Antonello Sangiradi, Daniel Davidson, Cali Holister
This is a most exciting and imaginative collaboration between Rambert, The Royal Ballet, BBC, choreographers Sharon Eyal & Gai Behar, composers Ori Lichtik and Gaika and the writer/director, Kibwe Tavares who specialises in storytelling and 3D animation films.
The tantalising, fantasy tale of Aisha and Abhaya begins in the pitch blackness with just the soothing sounds of lapping waves on the shore. The volume slowly intensifies as a video on screen shows the two teenage girls struggling in a torrent of crashing, splashing surf, almost drowning as one girl almost loses what seems to be her precious jewellery box.  Like stranded baby turtles, the sisters crawl up the sandy beach, incongruously dressed in traditional Armenian Taraz gowns and ornate headdresses draped in numerous strings of pearls. The title of the film is 'Journey', and close up shots illustrate their sense of shock, fear and disorientation as refugees from their war-torn homeland.
The rocky terrain is like a remote Hebridean island as the girls start to trek through a forest in search of shelter and find a small group of people, revelling in a tribal trance dance around a camp fire.  While this could have been a dangerous encounter, Aisha and Abhaya are warmly welcomed, given a fur blanket and treated like Princesses. In the morning, they all set off on a journey of exploration, clambering up grassy hills before facing a towering cliff but there is an entrance to a large cave. As the intrepid travellers step inside and start walking down a long dark tunnel, the film transforms into an animated video game depicting a futuristic urban cityscape akin to Blade Runner or The Minority Report.
Through shimmering shadows on stage, dim lights now focus on an ensemble of dancers, framed on screen by the graphic effect of a whizzing, whirling drive through this never-ending tunnel, like a hair-raising, rollercoaster ride.  The choreography is perfectly synchronised to the pounding, pulsating techno soundscape: DJ and musician Lichtik clashes EDM and groove with classical strings and minimalism which complements Gaika's style of ghetto-futurism and afro- punk-funk for an authentic mood of a freewheeling Club Rave.
The intimate circle of six dancers perform a series of physically challenging body twists, Thai chi-style hand gestures, sweeping arm waves switching from athletic poise to balletic poses and pliés. They crouch, knees bent, shoulders hunched, stretching every sinew of their glistening, sweat-drenched, six-pack toned torsos in robotic, zombie manner. With an android rather than human expression, their movements are echoed on screen by the occasional fiery flash of hologram spiritual figures. 
It's a tightly co-ordinated discipline of dance moves, every tip toe step and shape-shift in perfect time to the strong syncopated beat and quick- quick-slow rollicking, rhythmic score. Interspersed with the live dance performance is another film sequence, 'Before' - a flashback to the sisters' home to reveal the tragic family circumstances which forced them to flee to a distant land.
Against the chill out disco sounds, the ice-cool choreography involves little physical connection where each solo dancer shows extraordinary emotion, pain, despair, seeking to release their anguish through cathartic energy.  As a backdrop, the projection of computer-generated imagery gives the illusion of being fully immersed in an interactive video game, such as 'Cyberpunk' and 'Paradise Lost'. 
This 60 minute, surreal spectacle, a feast for all the senses, is a truly hypnotic theatrical experience in dance and drama, sound and vision with captivating performances throughout on stage and screen.
Show times:
10th - 12th February @ 7.30pm
Tickets from £18.50
https://www.capitaltheatres.com/whats-on/rambert-aisha-and-abhaya
On tour
Teatre Nacional de Catalunya, Barcelona
Fri 18 – Sun 20 March 2022