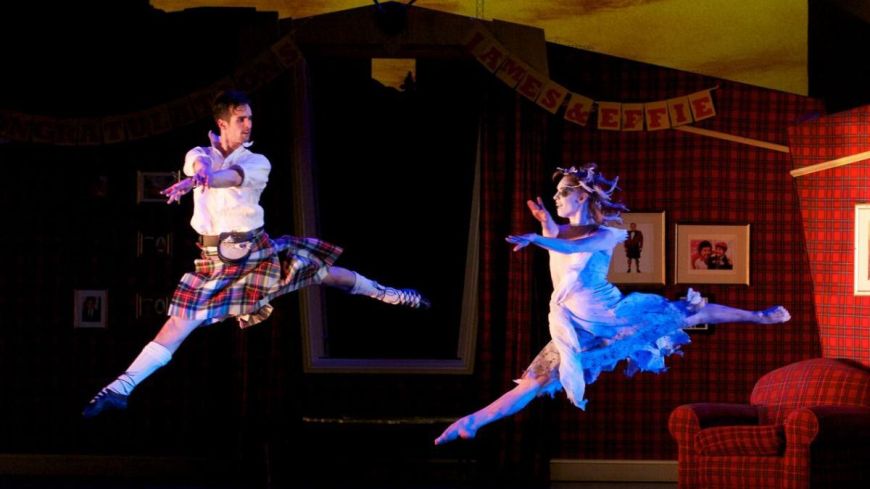 Production
Sir Matthew Bourne (choreographer, director, staging), Etta Murfitt (revival director), Paul Groohuis, (sound design), Lez Brotherston (set and costume design), Herman Severin Lovenskjold (music score)
Performers
Christopher Harrison (James), Sophie Martin (The Sylph), Bethany Kingsley-Garner (Effie), Jamie Reid (Robbie), Marge Hendrick (Dorty), Barnaby Rook Bishop (Gurn), Araminta Wraith (Madge), Thomas Edwards (Angus), Andrew Peasgood (Ewan), Claire Somet (Jeannie), Constance Devernay (Morag). Artists of Scottish Ballet (Les Sylphides). Scottish Ballet Orchestra conducted by Jonathan Lo
La Sylphide, first choreographed by Filippo Taglioni in 1832 for Paris Opera, shocked the ballet world with its revolutionary fantasy tale about a hopeless and fatal love affair between a human being and a supernatural creature. James, a Scottish farming lad, is about to marry a peasant girl named Effie, but a mythical Sylphide seduces him and they elope in search of true happiness, expressing the 'illusion over reality' philosophy of The Romantics. In 1836, a new La Sylphide for Danish Ballet was created by August Bournonville with a score by Herman Severin Løvenskjold.
Originally nicknamed 'Trainspotting: The Ballet,' in "Highland Spring" Matthew Bourne brilliantly transports the fairyland of La Sylphide to modern day Glasgow. Scene one: the loos at the Highland Fling Social Club where in the Gents, our young hero, James stands in his kilt preening himself in the mirror, with an L plate on the back of his leather jacket. He's a young unemployed welder, engaged to the sweet-natured, rather conventional Effie and this is their celebratory Stag and Hen night.
Rather the worse for wear after a few too many beers and hallucinatory substances, he crashes into the urinal, unaware of a strange Fairy clambering over the wall, to gaze, enraptured at this handsome young man. In the Club, the party in in full swing – the guys and gals dressed in mini kilts, tartan trews, crop tops, dance with gay abandon and hip swinging moves. The choreography effortlessly seems to marry together a sense of punk rave rocking and rolling with the melodic rhythm of Løvenskjold's classic 19th century music.
The narrative kicks off in high spirits as the scenario shifts to a Council flat the night before the wedding. The couthie interior design is a send up of a Heilan Hame with tartan clad curtains, wallpaper and armchair. While it appears they are lost in a Brigadoon time warp, Effie and the fashionista girls are showing off their glittery short shorts from Zara to keep us firmly in modern mode and mood. Each quirky character is well portrayed through playful games and badly behaved boys.
In the movie, "Four Weddings and a Funeral", Carrie and Hamish were hitched in a Scottish baronial castle. Here too James and Effie's Reception turns into a crazy Ceilidh of exhilarating, exuberant arm-waving jigs and fast paced Gay Gordon and Eightsome-style reels. Through the open window enters an uninvited guest, The Sylph, in her silky gossamer dress, to find her beloved James lying on the chair. He is immediately bewitched by her mischievous smile, as she flutters and flirts about the room, powerless under her spell.
Sophie Martin embodies the role with exquisite fragility, morphing the cheeky, pixie personality of Peter Pan with the magic of Tinkerbelle. Christopher Harrison as the charming James appears dazed as if in a trance, oblivious to the real world, Effie and friends, as he chases after her like trying to catch a butterfly, but she is as flighty to hold on to as a dream.
In Act 2 takes us on a journey to a secret forest, a wasteland for an abandoned VW Beetle and rubbish bins with a backdrop of distant city tower blocks. In contrast to the joyously happy partying at the Wedding, this is the strange dark Gothic underworld of Les Sylphides, a troupe of black kohl eyed, male and female, shimmering ghosts: in dove grey kilts, the men are reminiscent of Bourne's all male version of Swan Lake.
James and his ethereal sprite pirouette in an embracing pas de deux while the ensemble is like a flock of migrating birds flying and fleeing with elegant, energetic bounding leaps. In this fantasy land, the lovers' tragic passionate drama unfolds in perfect harmony with the sweeping score.
Matthew Bourne is a wizard at reinventing the classics into modern masterpieces with his inimitable sense of satirical wit, rich imagination and theatrical vision. Topped and tailed with iconic Scottish Music Hall songs, this tartanised, Irn Bru-flavoured "Highland Fling" is as revolutionary perhaps as the premiere of La Sylphide in 1832.
It's sure to be a smash hit on Scottish Ballet's magical tour around the Highlands and Islands. 'Keep Calm and Ceilidh On' as they say!
Showtimes:
Festival Theatre, Edinburgh 10-14 April 2018
Clickimin Main Hall, Lerwick 21-22 April 2018
Pickaquoy Centre, Kirkwall 25 – 26 April 2018
Atlantis Leisure, Oban 29-30 April 2018
Lewis Sports Centre, Stornoway 3-4 May 2018