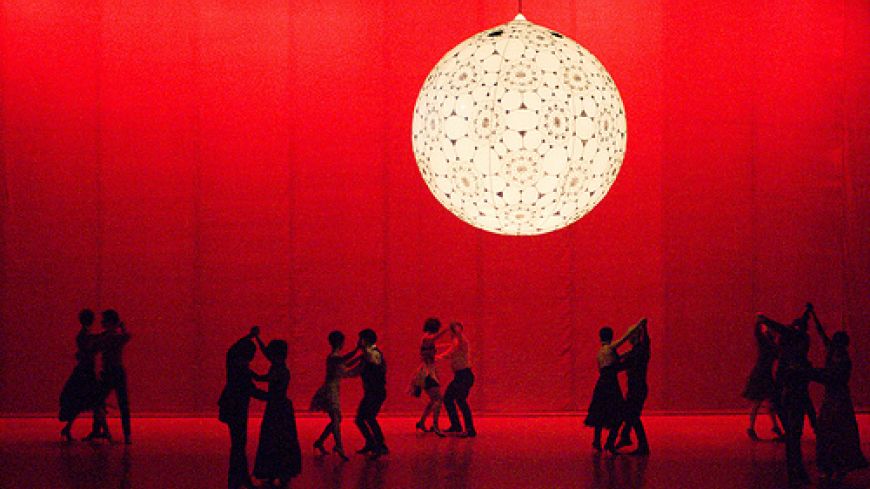 Company
Deborah Colker - Companhia de Danca
Production
Deborah Colker (choreography), Gringo Cardia (art direction and set design), Berna Ceppas (music)
Performers
The Companhia de Danca Dancers
The typical image of Rio de Janeiro is of sunshine and samba, Carnival and colour, football and fun. That essence of physical energy is at the heart of Brazilian choreographer Deborah Colker's award winning dance works to reflect on the wider picture of contemporary life, social issues and relationships.
The opening scene of "Cruel" features a giant globe hanging over the stage, a disco glitter ball representing the world perhaps. An ensemble of six young men, casually dressed, followed by eight fashionably-frocked women – black ball gowns, lacy cocktail dresses - parade and party, dancing in groups, solo and as couples. An atmospheric soundtrack fills the theatre, a seamless wave of pulsing techno beat, drum and bass riffs, a slow waltz. The music combines Dvorak, Morricone, Moondog, Aaron Funk and Vivaldi, with snippets of dialogue and lyrics about happiness and love.
The diversity of rhythm, from gentle strings to harsh tones, guides the eclectic movement and mood. Girls flirt, moving from boy to boy, as dance styles shift from a classic pas de deux, with the precision of a clockwork music box ballerina, to short, sharp jazzy numbers and bawdy burlesque.
The graceful dancers are also supple athletes throwing themselves around the stage, wrestling and fighting on and off a giant table.  The first act is just 45 minutes, but encapsulates a rich, dramatic journey from moments of sweet romance to a sense of fear and danger.
The second act brings a totally different scenario where a set of revolving mirrored doors creates an adventure playground for the dancers to show off their talent for acrobatics with poise and balance. Where this fits in with the underlying themes of love and loss, jealousy and despair of the earlier narrative, I am not at all sure.  We suddenly move from the beauty of contemporary dance to a bizarre gymnastic circus act.   No matter. The Edinburgh Festival Theatre audience cheered and whistled to applaud this dynamic dance company who express the freedom of movement with a blend of graceful sensuality and vivacious energy.
Tour dates:
21 - 22 May: Edinburgh Festival Theatre
22 - 23 June: Glasgow Theatre Royal
25 - 26 June: Aberdeen His Majesty's Theatre
Also visiting Newcastle, Nottingham and London.