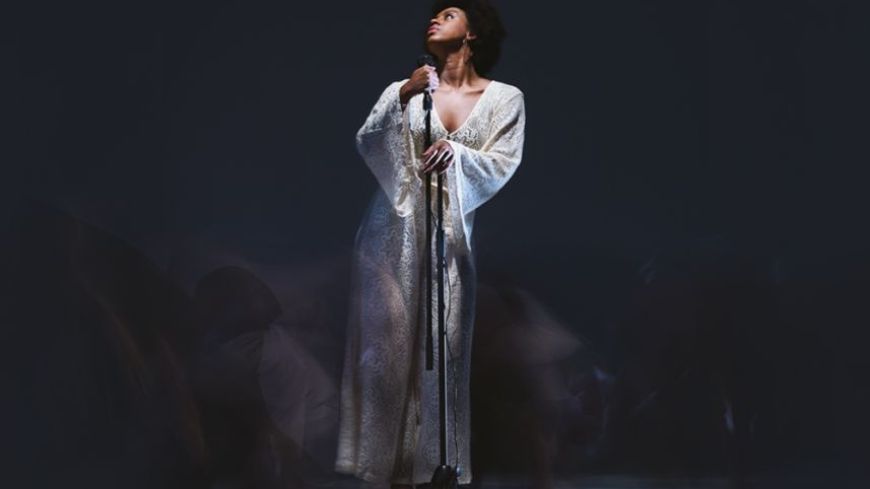 Production
Then or Now: William Tuckett (choreography), David Plater (lighting), Yukiko Tsukamoto (costumes), Adrienne Rich (poetry), Daniel Pioro / Heinrich Ignaz Franz von Biber (music soundtrack) .
Nina: By Whatever Means: Mthuthuzeli November (choreography), David Plater (lighting), Jessica Cabassa (costumes), Mandisi Dyantys, Mthuthuzeli November, Nina Simone (composers).
Performers
Then or Now: Dancers - Jose Alves, Isabela Coracy, Alexander Gadayiro, Taraja Hudson, Sakaka Ichikawa, Mthuthezeli November, Heilga Paris-Morales, Ebony Thomas. Violin: Daniel Pioro.
Nina: By Whatever Means: Isabela Coracy (Eunice Waymon/Nina Simone), Rosanna Lindsey/Helga Paris-Moralis (young Eunice), Taraja Hudson (Mary Kate Waymon), Sayaka Ichikawa (piano teacher), Alexander Fadayiro (Alexander Stroud). The ensemble (members of the congregation, patrons of jazz club and concert).
The Trinidadian-British dancer, Cassa Pancho founded Ballet Black in 2001 with the aim to create a platform for young, aspiring Black and Asian performers. Pioneers is a double bill of new and original works celebrating the life and legacy of two American artistes, the poet, Adrienne Rich and singer/song writer, Nina Simone.
Then Or Now blends the cool, classic choreography by Will Tucket with a soundtrack of poems by Adrienne Rich and 'Variations on a theme' by Heinrich Ignaz Franz von Biber's "Passacaglia" for solo violin. 
Rich explores such themes as sexual identity, feminism, social injustice and war reflecting on the joy of love and nature as well as a visionary anger at a changing world.
The score echoes the lyrical rhythm of the spoken words as the ensemble of eight dancers perform in soft shadow and with slow pace, their varied solos and duets responding to the emotional mood of the poetry.
'In those years, people will say, we lost track,
Of the meaning of we, of you, 
we found ourselves reduced to I.' 
Remembrance and loss is captured in elegantly classical steps, all elongated arms and fingers in perfect arabesque poses.  In a series of pas de deux, the women are lifted, swung around, upside down with swift acrobatic sweeping motion, highlighting the physical masculinity and dominance of the male dancers in contrast to the weaker sex. 
The narrative is rich in atmospheric imagery, describing a woodland, stars and moonlight in the night sky, the flourishing growth and decay in nature.  
'Wild pink lilies erupting, tasseled stalks of corn
in the Mexican gardens, corn and roses.
Shortening days, strawberry fields in ferment
with tossed-aside, bruised fruit.' 
Eloquently performed by Daniel Pioro, the sombre resonance of the violin strings, shifts from slow melodic sequences to strident chords evoking the passing of time, life and death.  A memorable scene features delicately graceful balletic steps en pointe by a trio of girls, as they flit and flutter, swoop and soar like birds through the air. 
Other notable ballets inspired by writers, Woolf Works ( Virginia Woolf) and Shutters Shut (Gertrude Stein), do not rely on the text to be audible, but allow the dancers to dramatise literary themes. In Then or Now, three actors read the poems in a rather dull, monotonal voice which often distracts from the exquisite movement and interrupts the ebb and flow of the soulful music.  The definition of ballet, after all, expresses a story without language. 
Nina Simone was fiercely ambitious, determined to find success as a classical pianist despite being a woman of colour.  Nina: By Whatever Means by Mthuthuzeli November, the South African dancer and choreographer, is described as a love letter to the musician and civil rights activist. 2023 is the twentieth anniversary of her death.   
Nina was 'young, gifted and black' (the title of her 1960s protest song) and taught to play the piano as a child specialising in classical music. As a dance drama, we see Eunice Waymon, a young girl sitting at the keyboard centre stage, before her life story is rapidly re-enacted:  from gospel singing in Church, she was introduced to jazz clubs where she found work as a singer and pianist.  Eunice transforms into Nina with a sensual, introspective and powerful performance by Isabela Coracy.  
With energetic rhythm, synchronised, syncopated foot-tapping routines illustrate the colourful cultural music scene in Philadelphia and New York.  With a minimalist stage set to depict her apartment, we witness the volatile, cruel behaviour of her husband Andrew  in an intimate duet of threatening confrontation. 
Nina becomes involved in civil rights movement and placards are paraded in a demonstration to fight for black people to live without fear or segregation in an equal society.  
To a recording of Sinnerman, (Nina's reimagining of a Scottish folk song), Isabela Coracy stands proudly at the microphone in a glamorous, white silk gown. But then a haunting group of grey shrouded, hooded figures like silent monks pirouette around her, perhaps the demons infiltrating her mind, as she appears lost in a fog of deep despair.  
November has certainly devised this ballet with passion and commitment to tell Nina's story but unfortunately chooses to concentrate on the dark days of her mental breakdown with exaggerated, often unsubtle theatricality.   
Through her unique fusion of gospel/blues/jazz/folk music and song, paired with slick, sassy choreography, this could have been a glorious celebration and tribute to the legacy of the High Priestess of Soul. 
Showtimes: 
28 – 29 June, 2023 
Ticket prices: from £18.50
UK tour. www.balletblack.co.uk