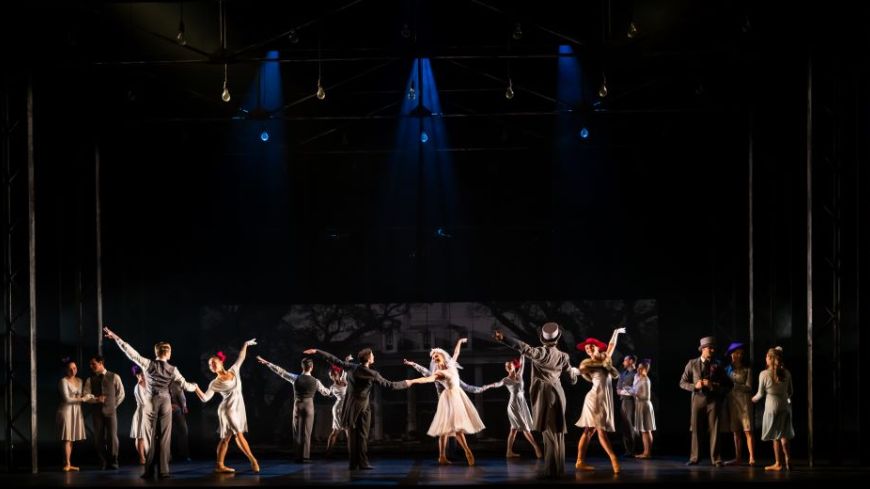 Production
Tennessee Williams (original play), Nancy Meckler, (director), Annabelle Lopez Ochon (choreography), Nancy Meckler & Annabelle Lopez Ochon (scenario), Peter Salem (music and sound), Nicola Turner (design), Tim Mitchell (lighting).
Performers
Marge Hendrick (Blanche), Ryoichi Hirano (Stanley), Bethany Kingsley-Garner (Stella), Jerome Barnes (Mitch), Javier Andreu (Alan), Aaron Venegas (Jeff, Alan's lover). The Dancers of Scottish Ballet. Scottish Ballet Orchestra, conducted by Robert Baxter.
'I suppose I have found it easier to identify with the characters who verge upon hysteria, who were frightened of life. But these seemingly fragile people are the strong people really.'  Tennessee Williams
When 'A Streetcar Named Desire' premiered on Broadway in 1947, the New York Times described it as 'a brilliant, implacable play about the disintegration of a woman.'  Commemorating the 75th year of the Pulitzer Prize winning drama, Scottish Ballet revives its internationally-renowned, painterly masterpiece for a major Scottish tour.
Recurring themes in Tennessee Williams' plays are alcoholism, bereavement, repressed sexuality, isolation and escape, closely linked to his own personal experiences, all of which are explored and graphically portrayed through the vulnerable characters in 'Streetcar.'
Set in the 1940s, this is an intimate portrait of a Southern belle, Blanche DuBois whom we first observe in a flashback scene, dressed in virginal white lace for her marriage to Alan; party guests in fascinators and fur, top hats and tails, twirl in graceful waltzes against the façade of her family's grand Mississippi mansion. But when Alan is seen embracing a young man, revealing his Wildean secret of a love that dare not speak its name, this moment of infidelity leads to a tragic outcome.
After her sister Stella leaves home, Blanche's carefree life of wealth and privilege crumbles around her, creatively evoked in the lego-like building bricks of the stunning set design. Haunted by an image of Alan, she moves into a hotel seeking emotional comfort through alcohol and gentlemen callers.  With a bright neon light outside, she's sits on the bed, a sad, solitary figure akin to Hopper's painting, 'Hotel Room.'
With the clang of a streetcar bell, she arrives to stay with her sister in New Orleans, the hustle and bustle of the city neatly choreographed around her suitcase and tram seats with jazzy, jaunty rhythm. But Stella's husband Stanley is a bullying, brutal brute of a man, insensitive to this bruised and broken-hearted woman; her only crutch is a strong drink, sneaking a swig from hidden bottles and knocking back the cocktails at a nightclub to calm her shattered nerves.    
The superlative score by Peter Salem is at once symphonic and filmic, capturing the vintage period with sassy style:  strident saxophone, raunchy jazz, sultry swing, big band blues, solo piano, with a subtle hint of Bernstein, Gershwin and Glass. And as the dramatic tension rises to a terrifying crescendo, chilling chords, Hitchcock-style, add a menacing mood.    
The Ella/Frankie classic, "It's Only a Paper Moon" is played on the radio as Stella dances seductively with Stanley's friend, Mitch.
"Say, it's only a paper moon
Sailing over a cardboard sea
But it wouldn't be make-believe
If you believed in me …"
The intensity of Stanley and Stella's rocky relationship is illustrated in a passionate pas de deux as Bethany Kingsley-Garner is almost thrown around like a rag doll by her domineering husband. Effective lighting denotes both the steamy heat outside and the Kowalskis' dark, claustrophobic apartment where a bare bulb is a symbolic motif - Williams describes Blanche like a fragile moth, fluttering fearfully around in the shadows.  
In a breathtaking performance, Marge Hendrick captures Blanche's inner torment through a composed stillness, wide eyes and sensual movement, lost in a dream world. As memories plague her mind, she escapes into a romantic fantasy as if she is silently shrieking the iconic words, " I don't want realism. I want magic!"
The dramatic punch, lyrical language and emotional poignancy of Tennessee Williams' play is seamlessly translated into just 100 minutes of contemporary dance.  The artistic blend of theatricality, choreography and film score music – like a movie, drama and ballet in one – is vividly and vivaciously performed by Scottish Ballet with imaginative, poetic, magical vision.   
Show times:
Glasgow, Theatre Royal, 13 – 15 April, 2023
Inverness, Eden Court, 21-22 April, 2023                                         
Aberdeen, His Majesty's Theatre, 27-29 April, 2023            
Edinburgh, Festival Theatre, 3 – 6 May, 2023  
https://www.capitaltheatres.com/whats-on/all-shows/scottish-ballet-a-streetcar-named-desire/2100/#schedules
        
Kirkwall, St Magnus Festival, 22-23 June, 2023
Stornoway, An Lanntair at Lewis Sports Centre, 29-30 June 2023
 
For dates, times and booking information:
https://www.scottishballet.co.uk/event/a-streetcar-named-desire