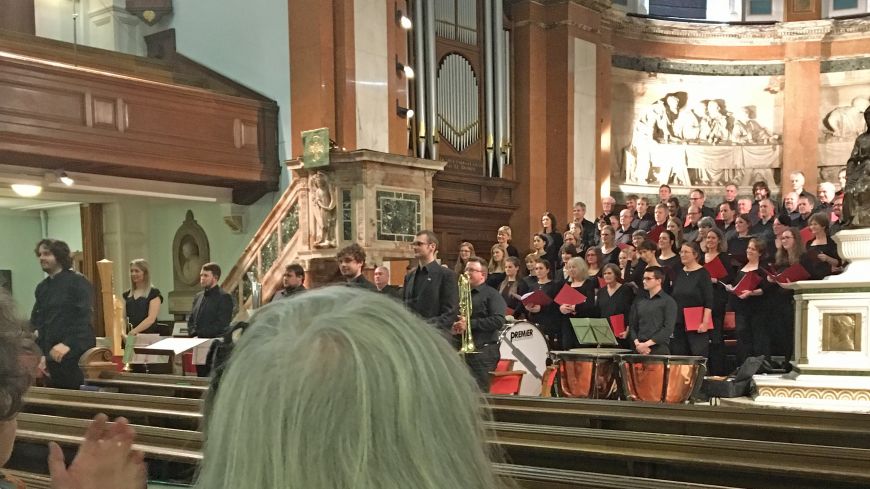 Company
The Edinburgh Singers
Production
Ralph Vaughan Williams, O Clap Your hands; Benjamin Britten, Fanfare for St Edmundsbury; Ēriks Ešenvalds, Trinity Te Deum; Ēriks Ešenvalds, Who can sail without the wind; Ēriks Ešenvalds, The earthly rose; James MacMillan, Tu es Petrus; Leonard Salzedo, Divertimento; John Rutter - Gloria.

Performers
Alistair Digges (conductor), Andrew Forbes (organ), The Edinburgh Singers

This was the first concert of the 65th season for The Edinburgh Singers and Vaughan Williams' O Clap Your Hands made for a strong and joyous start. Throughout the exciting concert the singers, just over fifty of them, were accompanied at different points by the massive church organ at St Cuthbert's played by Andrew Forbes, and by Calum Macleod's harp, three trumpeters, three trombones, a tuba and three percussion players.
It seemed that each work began with a trumpet and trombone fanfare. Benjamin Britten's Fanfare for St Edmundsbury was three separate fanfares - each of a different nature and the fourth and final a composition of all three.
A joyful introduction by their popular musical director, Alistair Digges, included a short introduction to the three works we were about to hear from Ēriks Ešenvalds. He was born in Latvia in 1977 and much more recently was Fellow Commoner in Creative Arts at Trinity College, Cambridge. A drum roll introduced his Trinity Te Deum. A fascinating work for it started in traditional Anglican style up and until Thou are the everlasting Son of the Father when first the organ, then the percussion and then the harp took over. When the singing resumed it was gently folksy. Just before the final Holy, Holy, Holy we heard the deep organ accompanied by drum. I loved it.
It was the harp that began Ešenvalds' Who Can Sail Without the Wind? and the solo parts were memorable. Ešenvalds' The Earthly Rose was a song taken from his oratorio City Songs, first performed in 2013. I enjoyed hearing the harp.
James MacMillan's Tu es Petrus began with trumpets and trombones. It was written to be played as Pope Benedict XVI was walking into Westminster Cathedral in 2010. The organ added a certain gravitas to the singing, which was in Latin. Impressive, and I'm sure the Pope will have thought so.
After the interval we heard three trumpeters from different stations in the church gallery play Salzedo's Divertimento. One by one and then all three together to finish. Once they were back downstairs with the other instrumentalists, and in front of the singers, Alistair Digges conducted John Rutter's magnificent Gloria.
This was a loud concert and sensibly the first three pews had been blocked off. I made the mistake of sitting fairly far forward and thinking a better setting would have been in a spacious cathedral. But not withstanding, it was a very fine evening.
Performance: Saturday 28th October 2017 at 7.30pm.