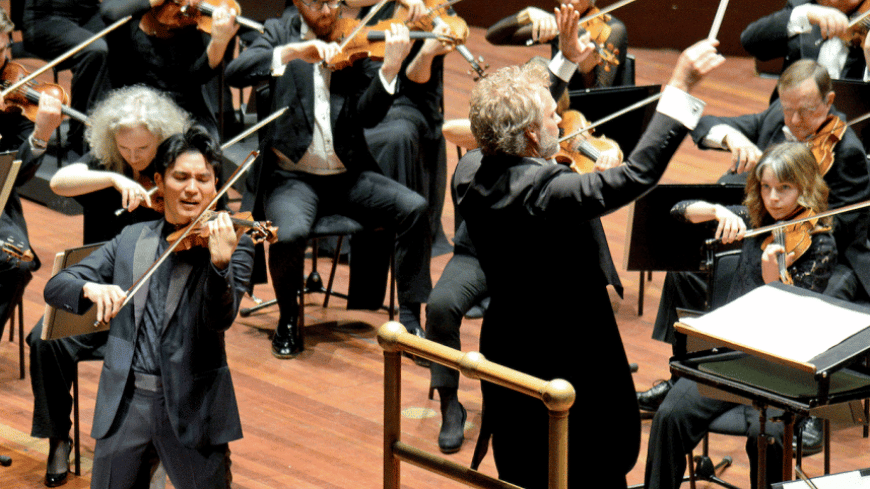 Company
Royal Scottish National Orchestra
Production
Lotta Wennäkoski, Om fotspar och ljus (Of Footprints and Light); Sibelius, Violin Concerto; Dvorák, Symphony No 6.

Performers
Thomas Søndergård (conductor), Ray Chen (violin)

The concert began cheerfully with the Scottish premiere of a Finnish composition. Lotta Wennäkoski, born in 1970, took as her inspiration for Of Footprints and Light from a scene from Ida Moberg's unfinished opera Light of Asia where the young prince sings to his faithful servant in the palace garden. With every possible percussion instrument involved, it was enlightening.
Sibelius' only Violin Concerto requires a great deal from the soloist, indeed Sibelius himself a violin player had to simplify the first version. But 34 year old Ray Chen was more than capable of rising to the challenge. It was Jascha Heifetz who first championed the Concerto, and what better to learn that Ray Chen was playing the Dolphin Stradivarius violin that once belonged to Heifetz and now on loan to him. After much applause he explained and played his encore - Paganini's Caprice No 21.
Poor Peter Dykes hardly got a word in at the start of the pre concert talk. But as it developed he gained some control. Ray Chen was his guest for much of the talk and full of confidence and enthusiasm he was. We learned a lot and more. More was his intriguing social media start-up Tonic designed to motivate musicians and learners around the world to practise their craft together. After Ray Chen left, helpfully Peter Dykes gave us a brief run down of the rest of the evening's programme.
Peter Dykes, in telling us about Dvorák's Sixth Symphony, had asked for a hands up and found most of his audience knew Dvorák's New World Symphony but far fewer the Sixth Symphony. Under Thomas Søndergård's distinguished baton it was for me equally enjoyable - except that the fire alarms sounded telling us to get out of the Usher Hall - just before the finale and so we weren't able to show our considerable appreciation. All credit to Thomas Søndergård for dropping his baton and accepting the inevitable gracefully.
Event: Friday 3rd November 2023 at 7.30pm