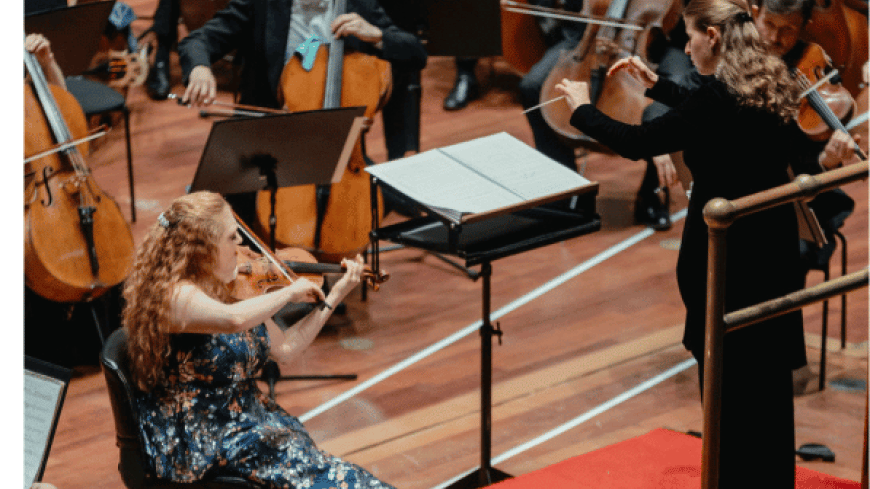 Company
Royal Scottish National Orchestra
Production
Copland, Appalachian Spring; Price, Violin Concerto No 2; Sibelius, Symphony No 1
Performers
Kristiina Poska (conductor), Rachel Barton Pine (violin)

This thought provoking concert began with the suite fom Aaron Copland's Appalachian Spring, the ballet set in the Pennsylvanian Hills. The emotions of a young farmer and his bride took us from the peace of the countryside to the frenzied anxieties of a life living together. A worthy opener, and it did not take long to realise this was not dissimilar to American film music.
We stayed in the United States for Florence Price's Violin Concerto No 2, first performed in Chicago in 1964. But earlier, in 1933, Florence Price had become the first African American woman to have composed a symphony performed by a major American orchestra. We were honoured to welcome Rachel Barton Pine, a follow American, as she arrived on her electric wheelchair, violin in hand to give us a memorable performance.The audience loved it, and this being the season of  Halloween, she gave us a short introduction to the Mephisto Waltz from Liszt as her encore, and fun it was.
At the pre-concert talk, violin player Ursula Heidecker Allen had been joined by the evening's conductor, Kristiina Poska enjoying her first experience of the Royal Scottish National Orchestra. She is Estonian and the evening's symphony from Sibelius, from neighbouring Finland, was her choice. They discussed how such a small country produces great orchestra conductors. 
After the interval we heard Sibelius' First Symphony in the knowledge that when first perfomed in 1898 many in Finland saw it a rallying cry against Russian repression - but this had not been Sibelius' original intention. But Sibelius came round to accepting what his fellow countrymen desired. 
A very fine concert with outstanding soloist and conductor.
Event: Friday 27th October 2023 at 7.30pm