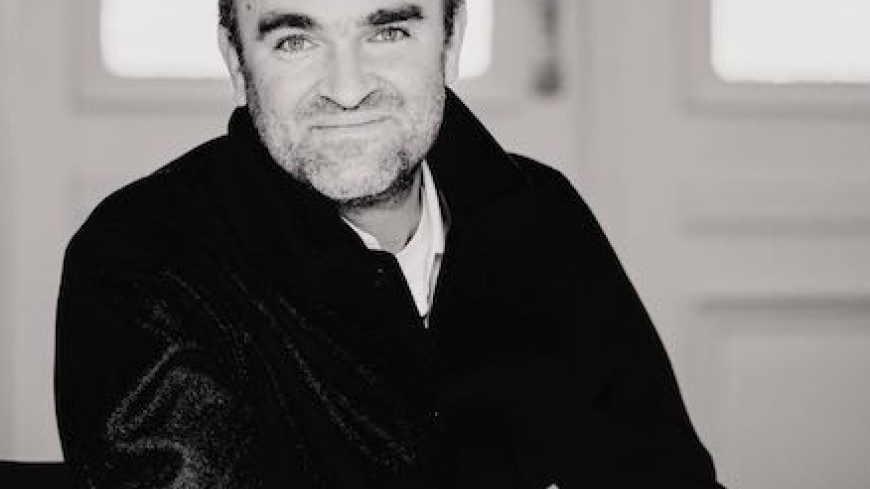 Company
Royal Scottish National Orchestra
Production
Mozart, Symphony No 40; Jörg Widmann, Armonia; Mozart, Adagio for Glass Harmonica in C major K365; Mozart, Symphony No 41 Jupiter K551

Performers
Jörg Widmann (conductor), Christa Schönfeldinger (glass harmonica)

In standing to introduce the concert from amongst the violin players, Ursula Heidecker Allen asked us to put our hand up if we had heard a glass harmonica play. Very few did, and even fewer when she asked the same question at the earlier pre-concert talk. Popular from its invention in 1761 for no more than fifty or sixty years, music was composed for it. We were about to hear Mozart's Adagio for Glass Harmonica in C major. In recent years the instrument has enjoyed a revival. Jörg Widmann, the concert's German conductor, composed his Armonica for its first performance in 2007, which he was to conduct for us.
With Ursula Heidecker Allen at his side, Jörg Widmann dominated the pre-concert talk with a fascinating and fairly technical rundown of his music and what he looks for when preparing an orchestra for a concert. If anything was lacking it was more information on glass harmonicas. 
The concert began with a crisp and succinct rendition of Mozart's penultimate symphony, Number 40, before many additional players with a multitude of instruments came on stage for Widmann's Armonica. In the centre, not far from the accordion, was Christa Schönfeldinger at her glass harmonica. It seemed to me that Widmann was taking the Orchestra on a sound world journey and back again. Intriguing and complicated but certainly not uncomfortable.
After the interval, Vienna-born Christa Schönfeldinger came to her glass harmonica with a bowl of water in hand for the short Mozart Adagio. Delightful it was, but slightly underwhelming and spoilt in its final moments by an unfortunate noisy crash in the audience. 
This fine concert concluded with Mozart's final symphony, No 41, Jupiter.  What will I remember? In addition to the glass harmonica will be the memory of seeing Jörg Widmann using his podium floor to the full - and many a time jumping with both feet in the air.
Event: Friday 2nd June 2023 at 7.30pm