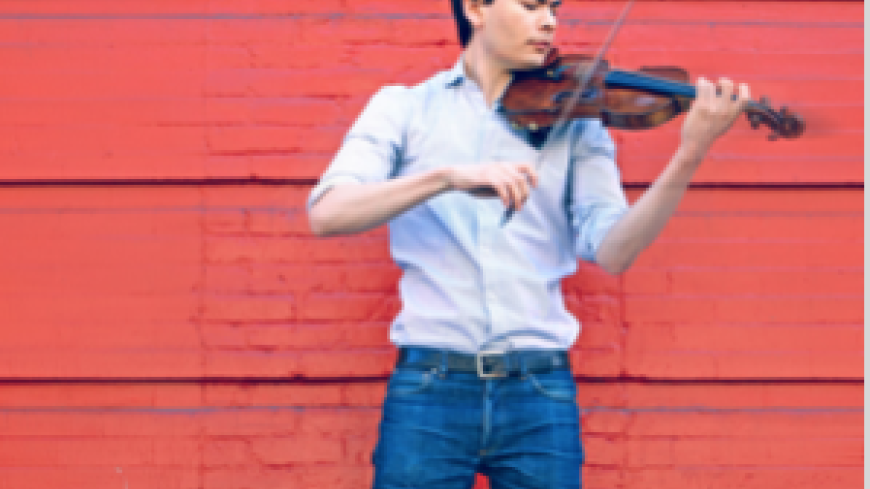 Company
Royal Scottish National Orchestra
Production
Stravinsky, Fireworks; Britten, Violin Concerto; David Fennessy, The Riot Act (World Premiere); Stravinsky, The Rite of Spring.

Performers
Thomas Søndergård (conductor), Stefan Jackiw (violin), Mark le Brocq (tenor)

Familiar Stravinsky works opened and closed the first concert of the RSNO's season at the Usher Hall. In the middle a dazzling violin concerto and a really loud commemoration of Glasgow's Battle of George Square in 1919. Before we saw the conductor, the Orchestra's Leader Maya Iwabuchi introduced the concert and told us how she has been awestruck years ago by her violin teacher in London who was able to tackle the Britten Violin Concerto.
When asked by Ursula Heidecker Allen, American violinist Stefan Jackiw told us at the pre-concert talk that many consider the three parts of  Benjamin Britten's Violin Concerto to represent the peace before the Spanish Civil War, the war itself and then the aftermath. Britten, a pacifist, heard its first performance in New York in 1940. We learned that this was Stefan Jackiw's first public performance of the work which he had started to learn many months ago - at Christmastide. The Orchestra left him to it many a time and it was exciting to watch, really exciting. In front of him was a foot pedal to his seldom watched iPad. He introduced his much deserved and calming J S Bach Largo encore with the same clear charming confidence he had shown at the pre-concert talk.
The Covid pandemic delayed the world premiere of David Fennessy's The Riot Act which otherwise would have been celebrated closer to the centenary of the riots in Glasgow in 1919. On stage with microphone, David Fennessy explained that the Riot Act of 1714 required a proclamation be read by a law officer to disperse a crowd on penalty of even a death sentence to those disobeying. It was crucial that the proclamation be read in full. His short work was expectedly loud and with four whistlers in the choir seats and the drums at full roll it wasn't surprising the players had been issued with ear plugs. Tenor Mark le Brocq came on to try to read the proclamation in full; he almost succeeded.  We saw Thomas Søndergård, the conductor, taking ear plugs out at the end.
The full Orchestra gave us The Rite of Spring to conclude a really interesting concert.
Event: Friday 30th September 2022 at 7.30 pm