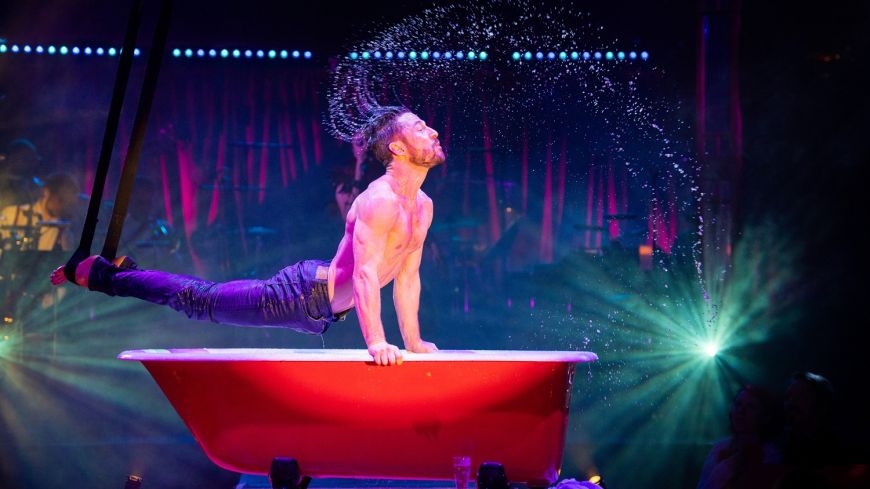 Performers
Bernie Dieter, Heather Holliday, Stephen Williams, Mosh, Paul Zenon, Florian Brooks, Dannie Bourne and the La Clique Palais Orkestra and Kelly Wolfgramm
The open space outside the Sheraton Hotel once again becomes home to the famous Spiegeltent where the international cabaret La Clique returns with La Clique Noël – Part Deux.
Enter its magical portals and for two hours you can forget the worries of the world.
In a cocoon of hot boppin' music from the fabulous Dannie Bourne and the La Clique Palais Orkestra with gallus singer Kelly Wolfgramm, they accompany the five incredible acts of magic, circus and burlesque, all hosted in impish, intimate style by the wonderful Bernie Dieter.
Be at once anxious and astounded at the feats of saucy sword-swallower and fire-eater Heather Holliday; hold your breath as super fit aerialist Stephen Williams cheekily swings above his water filled bath; be dazzled by beautiful burlesque at its best from Mosh who looks more like Jessica Rabbit than seems humanly possible; laugh at jokes and incredible before- your- very- eyes tricks from hilarious magician Paul Zenon and be bowled over by the suave skills of Gentleman Juggler Florian Brooks.
What's not to love?
La Clique Noël – Part Deux is a wickedly transporting celebration of Yuletide for consenting adults.