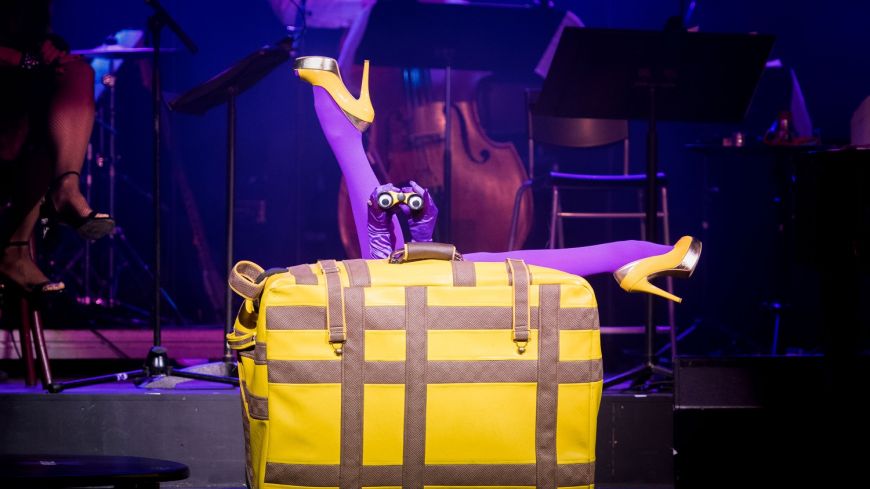 Company
David Bates, Spiegeltent International Productions and Underbelly
Production
David Bates (director), Kieran Prendergast (lighting designer)
Performers
Scotty Grabel, Leah Shelton, Heather Holliday, Bernie Dieter, Craig Reid, Tim Kriegler, Johnny Rey and Vicki Butterfly (performers)
Dannnie Bourne, Kelly Wolfgramm, Marty Hayley, Mark Elton, Eamon McNeils, Stuart Semple (La Clique Palais Orchestra)

It's a long time since the epithets 'douce' and 'dour' have been applied to Edinburgh. The Hallowe'en lanterns have barely been doused and St Andrew has yet to be toasted but already the Capital's old centre is decked out like a kiss-me-quick hat on an old duchess and is all geared up for the Festive Season.
If all that brightness makes you yearn for quieter times and feel a bit 'Bah Humbug', don't go down the road of the Reverend Murdo McMinn in the Absolutely Radio Show and let 'the red mist descend.' Instead, make your way to Festival Square and be transported by the magical other worldly space that is the Spiegeltent for the mega festive treat of La Clique Noël.
Since its birth in Edinburgh in 2004, the circus cabaret phenomenon that is La Clique has trotted the world where it has picked up a series of prestigious awards and acclaim like a magnet collecting iron shavings. This year it returns home with a joyously subversive, blues busting Christmas show.
And what a show! The birling, beautiful extravaganza called La Clique Noël is sexy and saucy, glitzy and glittery, naughty and very nice. The small circular centre stage, that channels the traditional circus ring, hosts a cornucopia of jaw dropping burlesque talent all accompanied by the hot and irresistible foot-stomping music from the fantastic 6- piece band that forms La Clique Palais Orchestra fronted by glamorous singer Kelly Wolfgramm and led by Dannie Bourne who toured with Chuck Berry back in the day.
The deliciously wicked Mistress of Ceremonies extraordinaire, Bernie Dieter, warms up the audience, getting up close and personal with some in bravura style and doing it all 'in these shoes'. The exciting varied programme means there is barely a moment to draw breath between the array of truly awesome talent that give a humbling awareness of the human body's capacity.
First up is the gorgeous Vicki Butterfly tantalising with her illuminated cape of many colours, then the young and graceful Tim Kriegler from Germany amazes with his balletic and breath catching aerial skills. Australian Leah Shelton performs three very different acts that involve inventiveness, contortion, comedy and close- up magic that astounds. Just where does that wee red hankie go??
Watch (if you dare) the eye watering sword swallowing and fire eating skills of astounding New Yorker Heather Holliday, be amazed at the daring of Cuban pole artist Johnny Rey and enjoy a hefty whack of local talent (well he is Scottish!) to the international cast with Inverness lad, Craig Reid who must be the reigning king of the hula hoop in his vintage circus strong man costume and twirly moustache.
Gallus Scotty Grabel as the giant blue rabbit tottering in towering glass mules, who looks as though he can't quite believe his luck, creates so much silliness and bare faced cheek that he is loved and laughed with whenever he appears.
With all that and super - efficient and helpful front of house staff - oh, come let us adore La Clique Noël!
Runs til 6 January 2018 age recommend 16+