Image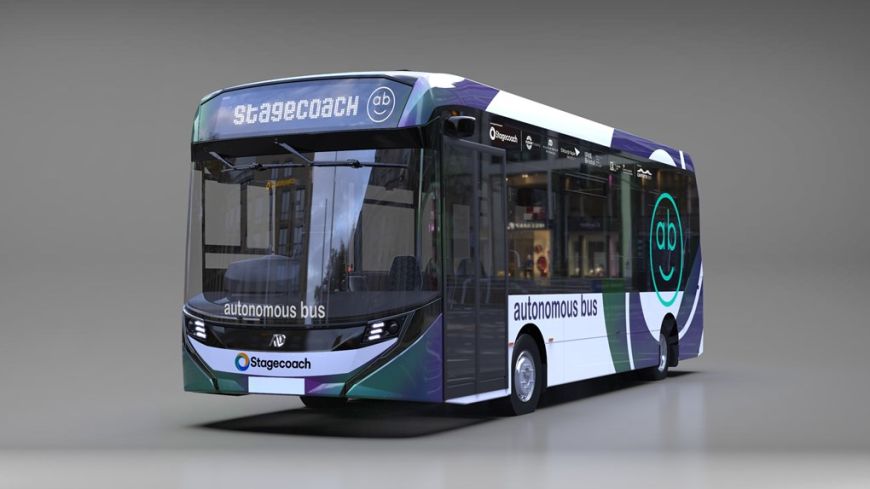 Edinburgh bus passengers will be boarding the world's first fully sized, self-driving bus from Spring of this year, with plans just announced to add an electric bus on a longer, more complex route as part of the project's second phase.
CAVForth is an autonomous bus service starting this Spring, initially on a 14-mile route from Edinburgh Park transport hub, across the Forth bridge, to Ferrytoll Park & Ride in Fife. The fleet of five Alexander Dennis Enviro200AV, full sized diesel buses, will negotiate mixed traffic, and travel at speeds of up to 50mph. The 43-seater buses will carry up to 10,000 fare-paying passengers per week.
CAVForth (CAV stands for Connected and Autonomous Vehicles) is a partnership between automated technology provider and project lead Fusion Processing Ltd, bus operator Stagecoach, bus manufacturer Alexander Dennis, government agency Transport Scotland, Edinburgh Napier University, and Bristol Robotics Lab.
Last week, the UK Government's Centre for Connected and Autonomous Vehicles (CCAV) announced that the Scottish autonomous service was one of seven successful projects to win additional UK government funding for self-driving transport technology.
Under the £10.4 million expanded project, CAVForth2, the Edinburgh to Fife automated bus route will have an additional five-mile section added, to Dunfermline city centre. The additional route features more complexity, with busy category A and B roads and city centre traffic.
Larbert-based Alexander Dennis will also be providing an electric Enviro100AEV bus for CAVForth2, which will operate alongside the five existing autonomous diesel Enviro200AV buses from the original CAVForth project.
AB1 makes test voyage with volunteer passengers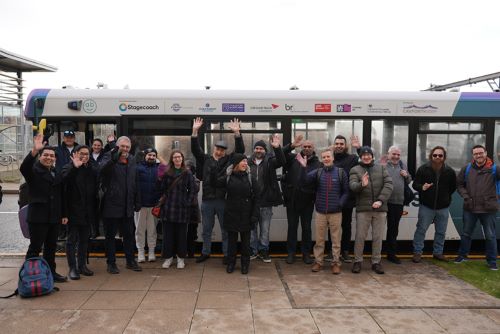 Last month (20th January), 22 volunteer bus riders completed a test run on Stagecoach's first autonomous bus AB1.
Among those on AB1's first passenger test ride was Fleur, who joined the passenger feedback panel through a forum for young people.
"This is something I never thought I would be involved with. I've really enjoyed having the opportunity to share my opinions and bring my thoughts forward - and it's brilliant to see it come through and become this actual thing from a few drawings!"
"It was quite exciting, the thought of getting on for the first time, I wasn't worried at all about it - you wouldn't know the difference between this and a normal bus from the driving."
AB1's 2023 Spring schedule will operate a full Monday to Sunday timetable, running up to every 20 minutes. The AB1 buses have a distinct livery, so should be recognisable as part of the automated service when up and running.
Safety drivers & Captains
Stagecoach says on its web site that the automated bus driving system is safer than having a human driver at the wheel.
"With the ability to see 360°, react faster and see further in bad weather, all while being risk-averse and not getting tired or distracted, the technology is designed to be safer than even the most experienced human drivers."
Nevertheless, the pilot service will also continue to be staffed by an experienced Stagecoach bus driver, who will monitor the autonomous system. The "safety driver" will also be joined by a human Captain who will walk through the bus offering information, assistance and reassurance to passengers.
It's expected that the buses will be used by both commuters and people looking to experience the pioneering automated service. Edinburgh Park has both a rail station and tram station, providing good transport links with Edinburgh city centre.
The CAVForth project is an SAE Level 4 project, meaning that it is considered fully autonomous, but only when driving in a limited geographic area known as the "operational design domain" (ODD).
SAE Level 4 is significant step toward the eventual goal of fully autonomous vehicles or SAE Level 5, where vehicles can safely go anywhere autonomously a manual driver can go without manual backup.
Self-driving features that have appeared in new models of cars, like Tesla's autopilot, are rated by the industry as SAE Level 2 and 3, because they require a human driver to be attentive and ready to take control.
The CAVForth service has two mechanisms for the onboard computers to control the steering, brakes and throttle, as well as manual driving controls.
Benefits of autonomous driving
Automated driving offers potential advantages over manually driven buses with fuel savings of up to 20% and reduced brake and tire wear. Fusion Processing claims it will map the automated drive system to accurately match the best manual driver, optimising acceleration so it is smooth and efficient. Its CAVStar technology interrogates the traffic lights and adjusts the vehicle's speed to ensure they arrive on green, further reducing tire and brake wear from braking and accelerating.
Using data from cameras, LiDAR and Radar, together with artificial intelligence processing, it can optimise the journey for changing traffic and weather conditions.
As well as reducing bus operating costs, Fusion Processing says passengers should experience a smoother journey. Less wear on brakes and tyres also will mean a corresponding reduction in particulate emissions - a major source of pollution from EVs. Dust from brakes and tyres will be included in EU emissions regulations for the first time as part of the Proposals for Euro 7 which come into force from 2025.
According to the CCAV, by 2035, 40% of new UK car sales are forecasted to have self-driving capabilities, with a total market value for connected and automated mobility worth £41.7 billion to the UK. This could create nearly 40,000 skilled jobs in CAV technology.