Image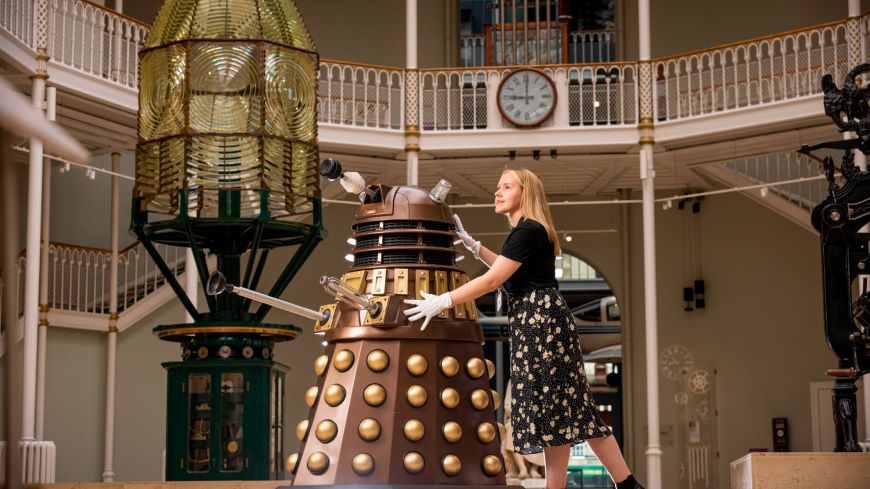 The countdown has begun to an Edinburgh exhibition featuring British television's most famous time-traveller. "Doctor Who Worlds of Wonder" was well received when it had its world premiere at National Museums Liverpool's World Museum earlier this year. The exhibition has a second airing when it opens at the National Museum of Scotland on 9th December running til 1st May 2023.
The show caters to fans of Doctor Who, with many props from the series, while exploring the science behind the long-running show. 
Produced by leading experiential design experts Sarner International under license from BBC Studios, visitors will find the TARDIS and the early TARDIS console as they pass through the exhibition's eight zones, as well as come face to face with the Doctor's old foes like the Cybermen, Weeping Angels and Daleks.
Director and author Mark Gatiss - writer of several episodes of Doctor Who - narrates the exhibition through video .
Since it started in 1963, Doctor Who has developed strong Scottish connections. Three Scots have played the role of The Doctor: Sylvester McCoy, David Tennant and Peter Capaldi (the Seventh, Tenth and Twelfth Doctors respectively) with a fourth, Ncuti Gatwa, recently announced as the new Doctor. 
Other Scottish cast members have included Companions Karen Gillan and Neve McIntosh as well as Michelle Gomez as Missy (The Master), with Alan Cumming having also appeared recently as King James VI & I. Another Scot, Steven Moffat, was showrunner from 2008 to 2017. 
Tickets
Tickets for Doctor Who Worlds of Wonder can be booked online.
National Museums Scotland Members go free.
Book in advance to save, general admission:
Adult £12-16.50
Over 60s £11-15.50
Student, Unemployed, Disabled, Young Scot £10-14.50
Child 5–15 £8-12.50
Under 5s Free 
10% off family bookings*
Discounts available for groups of 10 or more
*10% off when you buy up to three Child 5–15 ticket alongside up to any two Adult, Over 60s, Student, Unemployed, Disabled, Young Scot tickets, with a maximum of five tickets in total. Cannot be used in conjunction with National Museums Scotland Member tickets or any other discount or promotional offer.