Image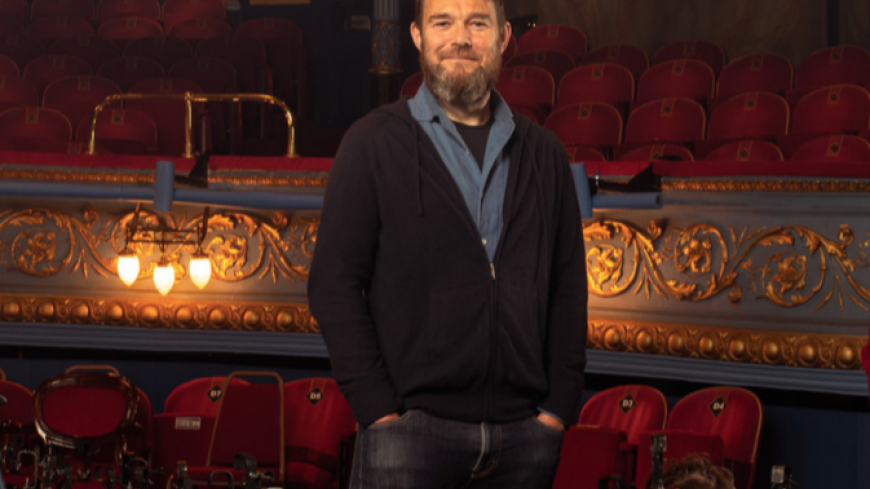 'Theatre is ephemeral. It can be documented, recorded and witnessed more than once - but never truly repeated. Theatre is a unique, shared experience between strangers. It is created by a particular group of people, in a particular place, at a very particular moment in time, and then never again. Theatre is alive'.  David Greig, Artistic Director
The February – June 2023 season at the Royal Lyceum Theatre presents a a well curated collection of classic drama, - from Shakespeare and Tolstoy to Robert Louis Stevenson - reimagined with a fresh modern style of storytelling. Also two new plays on themes of mental illness and the political uprising of the Arab Spring.
Here are the highlights:
Macbeth (an undoing) – World Premiere
Written and directed by Zinnie Harris.
This revamped version (after Shakespeare) focusses on the key character of Lady Macbeth in this bloodthirsty and bewitching classic. When her husband returns victorious from the battlefield with a prophecy that he is to become King of Scotland, Lady Macbeth will stop at nothing to make their darkest ambitions a reality.  
"Lady Macbeth's storyline has always intrigued me - who is this woman, and why does she go from terrifying strength to being broken and sleepwalking so suddenly? Having adapted  other iconic female characters such as Clytemnestra, the Duchess of Malfi, Nora and Miss Julie, I've had my sights on Lady Macbeth for a while…!" Zinnie Harris
Sentimental, feminine emotions of the weaker sex are ignored, as she takes on the role as a dangerous femme fatale -
 'Come, you spirits, that tend on mortal thoughts, unsex me here, And fill me from the crown to the toe top-full of direst cruelty! Make thick my blood.'
This is described as a thrilling new interpretation in which she takes centre stage with murderous intent. The war is over, but the battle for the throne has only just begun.
Perhaps a more appropriate title for the play would be 'Lady Macbeth'!
Dates: 4-25 February 2023
Pay What You Can preview: 7 February*
 
Kidnapped
Adapted by Isobel McArthur with Michael John McCarthy, based on the novel by Robert Louis Stevenson.
This National Theatre of Scotland touring production is a colourful adaptation of Robert Louis Stevenson's swashbuckling tale of pirates, Jacobites and (mis)adventure.
19-year-old Davie has never left home, never been kissed and never fired a gun. Armed with nothing but a hand-drawn map, he heads off across the Lowlands and Highlands of Scotland.   Set after the 1745 Jacobite Rebellion, the story of Davie Balfour and Alan Breck Stewart is told as a rom-com adventure.   With an ingenious twist, Robert Louis Stevenson's American wife, Fanny, also appears as a spirit guide, just as she cared for the health and wellbeing of RLS. 
The music - performed live – features well-loved songs, Americana, late 90s love songs, art rock, protest anthems, 80s synth-pop and Gaelic folk songs.
Dates: 11-22 April 2023
Pay What You Can preview: 11 April*
 
Anna Karenina – World Premiere
By Lesley Hart after Leo Tolstoy. Directed by Polina Kalinina
 "Love robs you of your sanity
mauls your heart
will probably kill you
But without love
there is no point in living"
When her brother's affair is discovered, Anna Karenina crosses the country by train to help save his marriage – the last thing they all need is a family scandal. But on her arrival at the station, a charged encounter with a dazzling young cavalry officer sends Anna on a course of action that could destroy her own marriage and tear her life apart.
Working in collaboration with the Russian director Polina Kalinina, Lesley Hart has immersed herself in studying Tolstoy's romantic novel to bring the tragic 19th century heroine to vivid, vibrant life from page to 21st century stage.   
 " Polina and I were keen to find an authentic voice for the play, something gutsy, witty, sexy, gritty, rooted in Tolstoy's original and true to me.   We did a lot of work directly from the Russian text, with Polina sending me off-the-page translations as voice notes and me working from the transcripts. It's been utterly exhilarating to bring my own voice as a Scottish playwright to Anna Karenina, and hopefully untap the kind of raw energy that can sometimes get lost in translation".  Lesley Hart
Dates: 13 May-3 June 2023
Pay What You Can preview: 15, 16 May*
You Bury Me
By Ahlam. Directed by Katie Posner 
This is the Scottish premiere of the winner of the Women's Prize for Playwriting 2020. 
 "Only Cairo, eh? Only Cairo will push you to your absolute limits and then suddenly… you're in love. You're in love and you're entangled and stuck. How does this city do that?"
Following a staged reading at the 2021 Edinburgh International Festival, this production a timely story about young people discovering themselves in a time of huge political upheaval.  Coming of age in the aftermath of the Arab Spring, six young Egyptians navigate friendship, loss and forbidden love in the city that made them.
Dates: 7-18 March 2023
Pay What You Can preview: 7 March*
 
Castle Lennox
by Linda McLean with music by Michael John McCarthy
Performed by the Lung Ha Theatre Company ensemble.
When Annis, a young girl with autism, finds herself incarcerated in Lennox Castle Hospital, her first impulse is to try and escape the brutal regime. However, as she gets to know her fellow patients, they introduce her to another world of colour and song, an alternative reality to the daily dose of pills and punishments.
Dates: 30 March – 1 April 2023
 
After two difficult years with theatres closed and left in the dark, it's time to experience live drama again.  The Royal Lyceum offers a warm and inviting ambience for imaginative and inspiring theatrical entertainment for all. 
'These are big, exciting stories. Stories told with music and drama ..from vivid reinterpretations of classics to new writing that exposes stark truths about our changing world - this is a season for everyone. A season for people who love theatre; people who think they might like it but have never tried it; people who think theatre is dry and dusty - we invite you all to come and take your seat.'  David Greig, Artistic Director
*This season the Royal Lyceum continues their Pay What You Can Preview scheme, allowing more people to come to the theatre no matter their income. 'A theatre that is open and available to everyone is a living theatre - one that continues to grow alongside its community'.