Image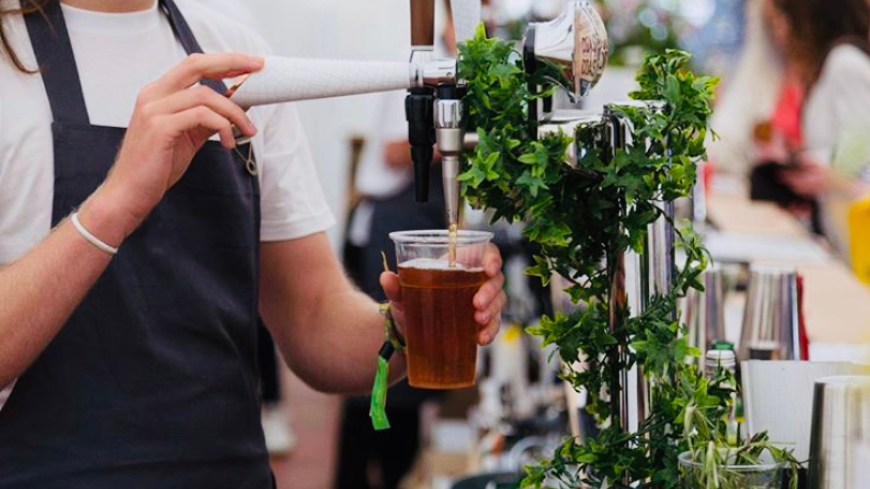 Holyrood Distillery's Courtyard Bar, which was a fantastic success last summer, will open again on Monday 26th April on the day when Scottish hospitality can welcome thirsty and hungry folk for a welcome drink or meal out.  
Opened in 2019, Holyrood Distillery is the first single malt whisky distillery in Edinburgh for almost 100 years, after Andrew Usher's Distillery closed in 1925.
Located on St. Leonard's Lane, beside the Queen's Park, Newington, the patio area outside the distillery will be transformed into a spacious, safe outdoor bar and bistro.  This year, the well-designed Courtyard will be the place to be and be seen, whether rain or shine, due to the creation of a sheltered area with heaters.
Service will initially be table-service only, with contactless orders via an online app. Tables will seat a maximum of 6 people, with an overall capacity of up to 120. 
The opening of the Courtyard Bar also gives the great opportunity to launch the Holyrood Distillery's new HolyXXXX Gin, crafted with just one botanical and two other unusual ingredients for a very distinctive flavour.
In order to support local independent breweries, the Bar will serve Draught pints such as Pilot Leith Lager, Barneys Sherbet Sour Ale and Braw Tropical from Cross Borders.  Beers in a can include Stewarts' Session IPA, Hoppy Botanist from Campervan and Citra Pale Ale by Newbarns. 
Perfect summer time tipples for all tastes - Prosecco, White and Red wines, Thistly Cross Ciders and Crabbies Alcoholic Ginger Beer (for the grown ups only).  Soft Drinks too.
As well as HolyXXXX, choose other gins from the Electric Spirit and Port of Leith Distilleries.  Whisky lovers can sample Sanaig from Kilchoman, Nc'Nean's Organic Single Malt and Dream to Dram, from Kingsbarn   Plus a range of daily Gin and Whisky-based cocktails to jazz up your picnic party in the Courtyard. 
Holyrood Distillery has partnered with Hickory, the award-winning Edinburgh catering and event management company. The tempting menu is all about tasty Alfresco pub-grub – gourmet sandwiches, such as Nacho Libre (Beef patty, guac, salsa, nachos, cheddar, jalapenos), and the Epic Veg (Herb & spinach falafel, cashew feta, hummus, garlic 'mayo', Hickory kraut, on a khobez wrap); Snacks, Salads and loads of Fries.  An ice-cream tricycle will supply the refreshing desserts. 
The Holyrood Distillery Courtyard Bar will be a safe space for families and friends to socialise - children will be welcome until 7pm.  The Bar opens daily from 1pm to 8pm in the first week, and then from Thursdays to Saturdays, 1pm to 9pm; Sundays 12pm-6pm.
 "We are absolutely delighted to be able to reopen our Courtyard as a sunny, safe and social space.  After a massively challenging year for everyone, and a particularly tough time for the hospitality industry, the distillery team will be very emotional to see people back here again, enjoying the space, sipping our new gin, and supporting the other small distillers and brewers we are showcasing".   Debs Newman, Holyrood Distillery's Brand Home Manager.
Visit the Holyrood Distillery Courtyard Bar to celebrate the escape from lockdown with great Scottish food and drink, as we spring merrily into Summer.
Table Reservations are recommended:  
https://www.holyrooddistillery.co.uk/courtyard-bar/
Place your order on line as well as with an 'at table' App.
www.holyrooddistillery.hungrrr.co.uk
Location:  Holyrood Distillery, 19 St Leonard's Lane, Edinburgh EH8 9SH.
Telephone: 0131 285 8977
N.B. Holyrood Distillery asks all visitors to adhere to government guidance and onsite direction.