Image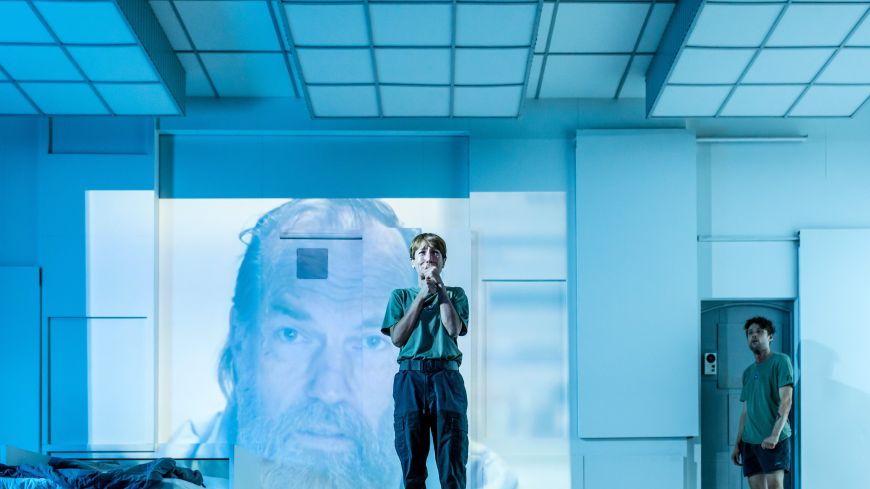 Despite 2020 being the darkest year for theatre since the 17th century, the 18th annual Critics' Awards for Theatre in Scotland (CATS) has "remained aware of the tremendous year of work," comments CATS co-convenor and Scotsman theatre critic Joyce McMillan. Though the awards are announced at a time when performing in front of a live audience is virtually impossible, Scottish theatre has kept the art form alive through virtual performances, innovative public interventions and sheer will and heart. 
This year, and for the first time, Best Design was awarded jointly; Shona Reppe's Atlantis Banal: Beneath the Surface and Solaris (Royal Lyceum Edinburgh, the Malthouse Theatre, Melbourne and the Lyric Hammersmith) both received the honour. Each production won their own separate additional awards in kind, with Atlantis Banal: Beneath the Surface (created with Vélo Théâtre, France and produced by Edinburgh's Catherine Wheels) picking up Best Production for Children and Young People and Solaris scooping Best Technical Award. 
"It's always lovely for a theatre's work to be recognised but, after a summer as difficult this one, there is a particular pride at Lyceum productions being recognised like this," professes David Greig, Artistic Director of The Royal Lyceum Theatre. "Solaris is a play about loneliness, but it could only be made because of the dedicated, patient, collaborative work of theatre teams working together. More of that in 2021 please! Planet permitting, of course."
Reppe dedicated her awards to "theatre makers everywhere," remarking, "Keep your heads above water chums – keep doggy paddling through this COVID tsunami and I'll see you on the shore as soon as possible. I'm the one in the flowery cap clinging to a rock." 
The Best Female Performance Award went to Anna Russell-Martin for Anais Hendricks in The Panopticon, a National Theatre of Scotland production staged at Edinburgh's Traverse Theatre.
"This is a tremendously difficult time for everyone in theatre, both for those running our theatres, and for the huge range of freelance workers – from actors and writers to designers and musicians – who create much of what we see on stage. And paradoxically, the theatres who had been most successful in building up ticket sales, and other earned income from audiences, have been the ones who have suffered most severely, as those income streams collapsed to zero, from one week to the next," says judge Joyce McMillan.
The CATS judging panel for 2020 comprised Mary Brennan (The Herald), Anna Burnside (Daily Record), Neil Cooper (The Herald), Michael Cox (Across the Arts), Thom Dibdin (The Stage and AllEdinburghTheatre.com), Joyce McMillan (The Scotsman), David Pollock (freelance arts journalist) and Mark Fisher (The Guardian).
"From small-scale solo shows to major international co-productions, Scottish theatre punches above its weight," says Fisher. "On every level, theatre-makers made the job of the CATS judges a pleasure and delight, making the current closure of the theatres all the more poignant. We can't wait to see such great talents back on stage where they belong."
FULL LIST OF NOMINATIONS AND WINNERS:
Best Female Performance, sponsored by STV:
WINNER: Anna Russell-Martin (Anais Hendricks), The Panopticon, National Theatre of Scotland
Nicole Cooper (Hamlet), Hamlet, Bard in the Botanics
Kirsty Stuart (Duchess), The Duchess (of Malfi), Royal Lyceum Theatre Edinburgh and Citizens Theatre
Kirsty Stuart (Grace), Faith Healer, Pitlochry Festival Theatre
Best Male Performance:
WINNER: Tom McGovern (Thomas Barclay), The Signalman, A Play, a Pie and a Pint in association with the Traverse Theatre
George Costigan (Francis Hardy), Faith Healer, Pitlochry Festival Theatre
Barrie Hunter (Jim McLean), Smile, Dundee Rep Ensemble
James McArdle (Peter Gynt) Peter Gynt, Edinburgh International Festival and National Theatre of Great Britain
Best Ensemble, sponsored by Equity:
WINNER: Thank You Very Much, Manchester International Festival and National Theatre of Scotland
How Not To Drown, ThickSkin and Traverse Theatre Company, co-produced with Tron Theatre and Lawrence Batley Theatre
The Importance of Being Earnest, Perth Theatre
Tay Bridge, Dundee Rep Ensemble
Best Director:
WINNER: Elizabeth Newman, Faith Healer, Pitlochry Festival Theatre
Ken Alexander, The Signalman, A Play, a Pie and a Pint in association with the Traverse Theatre
Matthew Lenton, The Metamorphosis, Vanishing Point, Tron Theatre and Emilia Romagna Teatro Fondazione
Matthew Luton, Solaris, Royal Lyceum Theatre Edinburgh, Malthouse Theatre and the Lyric Hammersmith Theatre
Best Design:
JOINT WINNER: Shona Reppe, Atlantis Banal: Beneath The Surface, created with Vélo Théâtre, France, produced by Catherine Wheels
JOINT WINNER: Hyemi Shin (set and costume), Paul Jackson (lighting), Tov Belling and Katie Milwright (cinematography), Toby Angwin (visual effects), Solaris, Royal Lyceum Theatre Edinburgh, Malthouse Theatre and the Lyric Hammersmith Theatre
Kenneth MacLeod (set and costume) and Simon Wilkinson (lighting), The Metamorphosis, Vanishing Point, Tron Theatre and Emilia Romagna Teatro Fondazione
Rachana Jadhav, Total Immediate Collective Imminent Terrestrial Salvation, National Theatre of Scotland in association with the Royal Court Theatre, Teatro de Bairro Alto, Lisbon and Attenborough Centre for the Creative Arts
Best Music and Sound, sponsored by the Scottish Drama Training Network:
WINNER: Matthias Hermann (sound designer and composer), Thank You Very Much, Manchester International Festival and National Theatre of Scotland
Rob Hiley (musical director and arranger) and Chloe Dougan (sound designer), Blonde Bombshells of 1943, Pitlochry Festival Theatre
Biff Smith (songs, lyrics and music), The Dark Carnival: Unplugged, Vanishing Point
Carla J Easton (songs and music) and Fiona Johnston (sound design and club mix), Them!, National Theatre of Scotland
Best Technical Presentation, sponsored by BECTU:
WINNER: Solaris, Royal Lyceum Theatre Edinburgh, Malthouse Theatre and the Lyric Hammersmith Theatre
The Afflicted, Groupwork in association with ThickSkin and support from Tramway
Atlantis Banal: Beneath The Surface, Shona Reppe, created with Vélo Théâtre, France, produced by Catherine Wheels
The Steamie, Neil Laidlaw Productions
Best Production for Children and Young People:
WINNER: Atlantis Banal: Beneath the Surface, Shona Reppe, created with Vélo Théâtre, France, produced by Catherine Wheels
The Secret Garden, Red Bridge Arts in association with Platform
Sound Symphony, Ellie Griffiths, Independent Arts Projects in association with Capital Theatres
This Girl Laughs, This Girl Cries, This Girl Does Nothing, Imaginate and Stellar Quines with support from MacRobert Arts Centre
Best New Play, sponsored by Nick Hern Books:
WINNER: Peter Arnott, The Signalman, A Play, a Pie and a Pint in association with the Traverse Theatre
Shona Reppe, Atlantis Banal: Beneath the Surface, Shona Reppe, created with Vélo Théâtre, France, produced by Catherine Wheels
Mara Menzies, Blood and Gold, Independent Arts Projects
Zinnie Harris after John Webster, The Duchess (of Malfi), Royal Lyceum Theatre Edinburgh and Citizens Theatre
Best Production:
WINNER: The Signalman, Peter Arnott, A Play, a Pie and a Pint in association with the Traverse Theatre
Faith Healer, Pitlochry Festival Theatre
The Metamorphosis, Vanishing Point, Tron Theatre and Emilia Romagna Teatro Fondazione
Solaris, Royal Lyceum Theatre Edinburgh, Malthouse Theatre and the Lyric Hammersmith Theatre
Thank You Very Much, Manchester International Festival and National Theatre of Scotland
Photo credit: (l-r) Hugo Weaving, Polly Frame & Keegan Joyce in Solaris (2019) by Mihaela Bodlovic