Image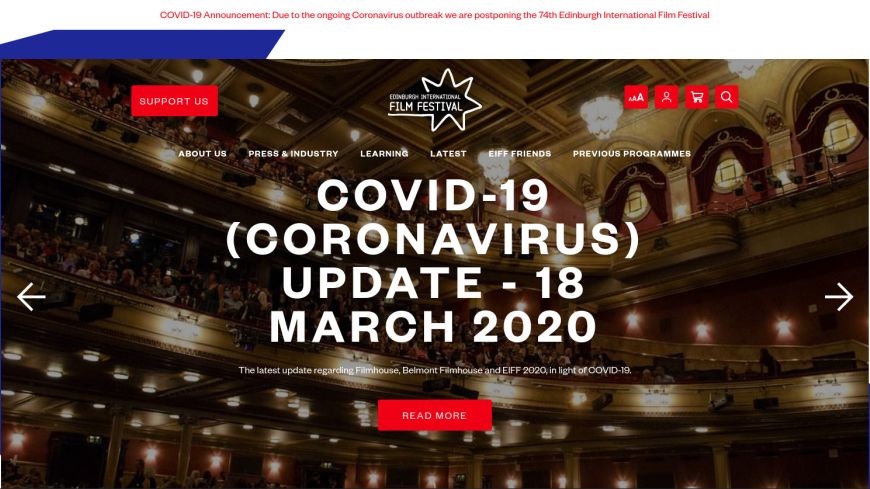 The Edinburgh International Film Festival, due to take place from 17th to 28th June, has been postponed. The announcement comes as cinemas across Scotland, the UK and Ireland announced closures today as part of unprecedented measures to prevent the spread of Covid-19.
The move follows the recent decision by Edinburgh's theatres to go dark. The Scottish and UK Governments are expected to close schools and nurseries to pupils at the end of this week.
In a statement, the EIFF said it was looking at which elements of the Festival can be delivered later in the year.
"It is with huge regret that we have taken the necessary decision to both close the Filmhouse in Edinburgh and the Belmont Filmhouse in Aberdeen for the foreseeable future, as well as postpone Edinburgh International Film Festival 2020," said Ken Hay, the CEO of EIFF, as well as Filmhouse, and Belmont Filmhouse in Aberdeen.
"Both Filmhouse and Belmont Filmhouse provide unique windows on the world for their local communities, however the health and wellbeing of our staff, filmmaker guests and audiences has to be the first consideration," said Hay.
"As the longest running film festival in the world we are keen to continue even through these hard times, and we are looking at which elements of it may be delivered later in the year. We will keep you informed as plans develop."
"For now, we would like to thank our funders, sponsors, partners, staff, donors, patrons, filmmakers, sales agents, distributors, members and audiences for their loyalty, support and understanding in these unprecedented times."
Tickets purchased online for future screenings will be automatically refunded or converted into a charitable donation.
For tickets purchased at the Box Office, refunds will be available to customers when we re-open.
Memberships will be frozen until operations resume, but patrons can continue membership payments as a way of showing support.