Image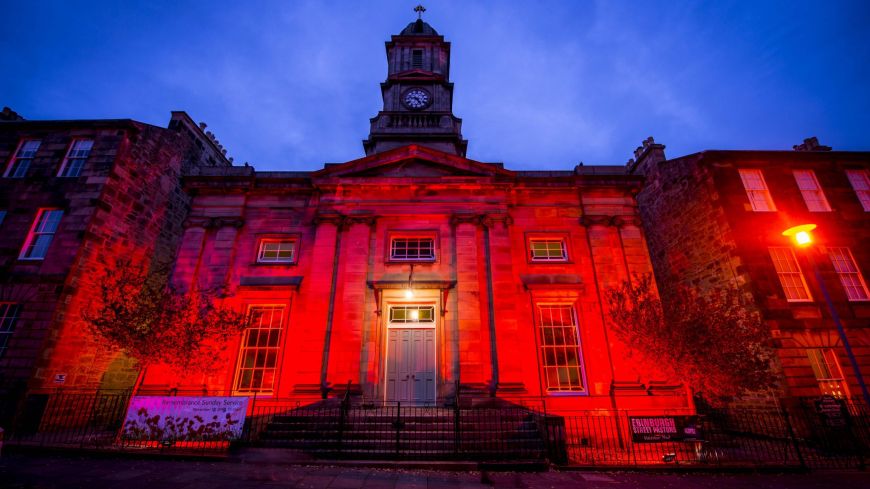 More than 120 buildings and landmarks across Scotland are lit up red this weekend to remember those who have been lost to war.
The "Light Up Red" campaign is in support of the Scottish Poppy Appeal, which helps veterans in need and is held as Remembrance Sunday takes place.
Most buildings will be lighting up from now until Armistice Day, on 11th November. A full list of locations across Scotland, and details on timings can be found on PoppyScotland.
People have been sharing pictures of local landmarks lit up red on social media:
? Our control tower is turning red tonight as part of @PoppyScotland's #ScottishPoppyAppeal. As a former RAF base, we pay this mark of respect to our history and the tower will remain red until Remembrance Day. #LightUpRed pic.twitter.com/zQW2KiHAe7

— Edinburgh Airport (@EDI_Airport) November 1, 2019
We're thrilled to light up the King's Theatre red again this year to support @poppyscotland's #LightUpRed campaign as a way to say 'Thank You' to those who served in the war.

The King's will be lit red until Monday, 11 November. #ScottishPoppyAppeal #BehindThemAlways pic.twitter.com/7ggBZi6pa7

— Capital Theatres, Edinburgh (@captheatres) November 8, 2019
We're proud to remember the 810 Watsonians who made the ultimate sacrifice during conflicts of the 20th century. That's why we #LightUpRed @poppyscotland pic.twitter.com/lDyrxaR8x4

— George Watson's College (@GWC_News) November 8, 2019
We are supporting the @poppyscotland campaign and lighting Rosslyn Chapel red in advance of #RemembranceSunday #LightUpRed pic.twitter.com/pENjpKRzPV

— Rosslyn Chapel (@Rosslynchapel) November 5, 2019
Gordon Michie, Head of Fundraising at Poppyscotland, said: "It is incredible to witness so many buildings, up and down the country, glowing red in tribute to Scotland's Armed Forces community past and present. It is a visual spectacle symbolising that when it comes to the country's Service personnel, we are behind them. Always."