Image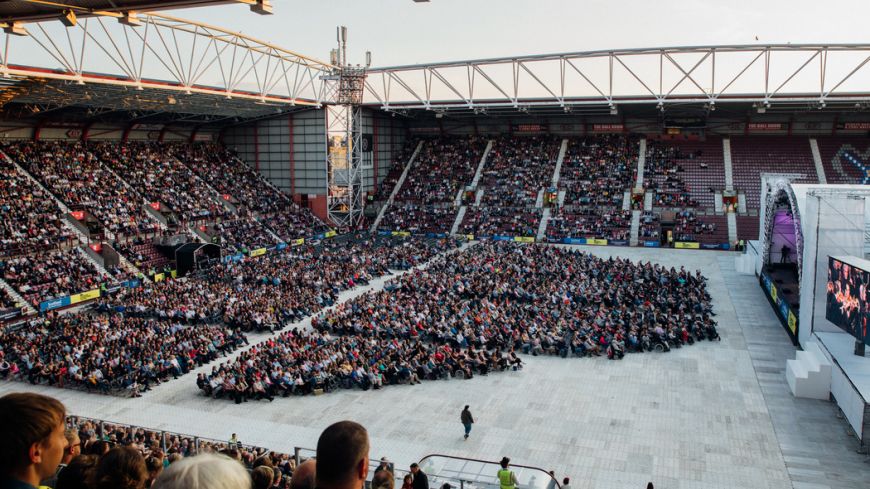 An audience of 15,000 gathered at Tynecastle Park, home to Hearts football team, for the Edinburgh International Festival's opening concert tonight: the Los Angeles Philharmonic Orchestra playing music from Hollywood's Golden Age.
Led by renowned conductor Gustavo Dudamel the family-friendly programme included tracks from classic films – such as Vertigo, Casablanca, and The Pink Panther, as well as much-loved John Williams soundtracks from the Harry Potter series, Jurassic Park, Star Wars, Jaws and E.T..
Many in the audience turned up in costume, with appearances by Darth Vader, Princess Leia and a squad of stormtroopers, an array of Harry Potters, Black Panther, the shark from Jaws and women's football team from Bend It Like Beckham.
Over 2,500 people came to the event through the International Festival's engagement programmes with schools and communities from across Edinburgh and the Festival estimates that 70% of the audience were attending a classical music concert for the first time.
"We very much hope that it has been a night they will never forget," said Fergus Linehan, Edinburgh International Festival Director. Bringing new audiences to classical music was a major objective for the International Festival in holding this year's Opening Event, and was deemed a success.
"It was terrific to see so many families and young people here from all over Edinburgh, many from Tynecastle itself," said Linehan.
Gustavo Dudamel, Music and Artistic Director of the LA Philharmonic said: "The Edinburgh International Festival, this great symbol of Scotland, has been such an important part of my musical life. I first visited this beautiful country with the Gothenburg Symphony Orchestra, and then with the Simón Bolívar Orchestra, and now it's an honour and privilege to bring my beloved LA Phil to be a part of these three opening concerts, playing music from John Williams to John Adams to Mahler, and showcasing the amazing flexibility of this orchestra. I'm so proud to also be joined by some of the incredible young musicians of YOLA (Youth Orchestra Los Angeles), and to lead them in rehearsal alongside the players of Big Noise Raploch. These two El Sistema-inspired music programs offer a profound example of our shared values, and a powerful vision of hope for the future of our humanity."
Working with Tynecastle's Big Hearts and Tynecastle High School as well as local primary schools, the International Festival's Learning and Engagement Team spread the word publicised the concert in a series of summer events. Over 2,500 tickets were distributed among the various schools and community groups.
The LA Phil celebrates 100 years in 2019 with a world tour which so far has taken in Seoul and Tokyo, travelled to Edinburgh for these performances and then in November completes its journey with performances in London, Mexico City and New York.
It continues its Edinburgh residency with two concerts at the Usher Hall - Mahler's Symphony No 2 Resurrection and the European premiere of John Adams's new piano concerto for the pyrotechnic Yuja Wang, Must the Devil have all the Best Tunes?