Image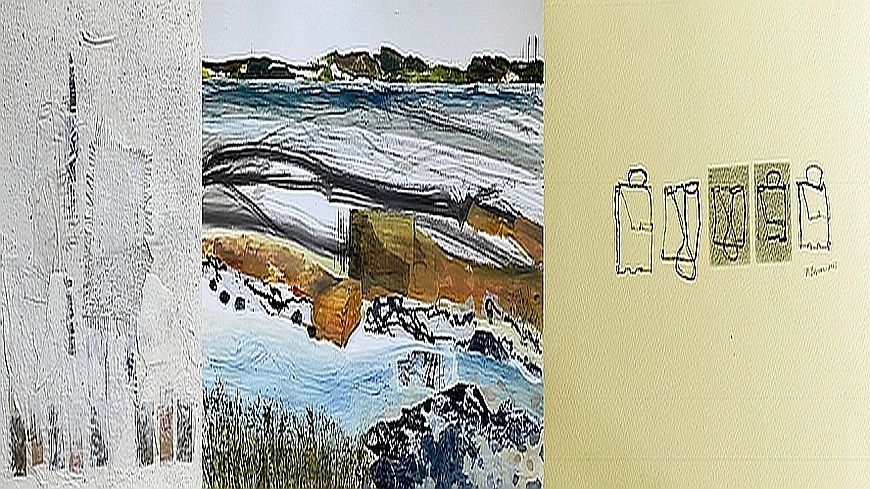 Production
Trevor Davies, Marion Barron, Ruth Thomas
This is the tenth year of the Paperwork exhibition of artwork on paper - acrylic paintings, ink, pencil & pastel drawings and collage - by a trio of artists who complement each other through their cool, creative concept of line, shape, pattern and composition.   
Trevor Davies enjoys experimenting across several genres, inspired by found objects, stained wood, newspaper cuttings, 'something old, worn, used, discarded, a sense of mystery'. His figurative studies are often impressionistic such as Finding Orange, which appears (especially in real life in the gallery), to depict a deconstructed silhouette of a woman with a sense of mystery by the scraps of text, 'contact your local pharmacy, clinics are now available.' 
Such delicate detail in the finely crafted White Collage 1  (illustrated above) with precisely placed scraps of paper, coloured card and frayed woven material with a multi-layered, plastered effect. It's reminiscent of a wall on which torn, peeled pieces of posters from previous plays or operas still linger like literary and musical ghosts.   
Marion Barron has long been fascinated by modern architecture such as the stark Brutalist aestheticism, deconstructing the realism to the basic geometric form. Terracotta and Grey is not just a simple design of rectangular blocks but also an optical illusion between the horizontal and sloping lines with such a tactile, textured surface and soft colour palette. 
Choices, in contrast, are almost representational images of handbags, satchels or briefcases, rather reminiscent of Andy Warhol's early sketches of shoes, just concentrating on the outline shape, with curled, draping handles. (see image above).  This ink and pencil drawing is delightfully, decoratively charming with a light-hearted sense of humour. (women love bags!). 
Australian artist, Ruth Thomas is constantly captivated by the seashore, both in Scotland and her homeland, 'Nature's calligraphy: the myriad of lines on windswept beaches, the delicate structures of rocks and shells.' There is indeed calligraphic design in Wild Storm with wet, dripping dribbles of ink and paint to form a criss-crossing pattern of a beach scattered with pebbles and seaweed: a magical mosaic which flows with translucent water and soft sunlight.
Vividly atmospheric too is Hidden Histories which evokes a tranquil, curving coastline with a patchwork of machair grass, rockpools and golden sand, looking over a stretch of azure water to the distant haze of hills beyond. (Centre illustration above) 
Through their individual concept of painterly precision and decorative design, themes of nature, humanity, environment and heritage are captured with an evocative sense of time and place.   This is just a snapshot of the wide ranging showcase by these three distinctive artists, who share an aesthetic sense of elegance of style and a mood of calm serenity.  
Showtimes: 
18 – 28 August, 2023: 10:00-17:30 
Free entry