Image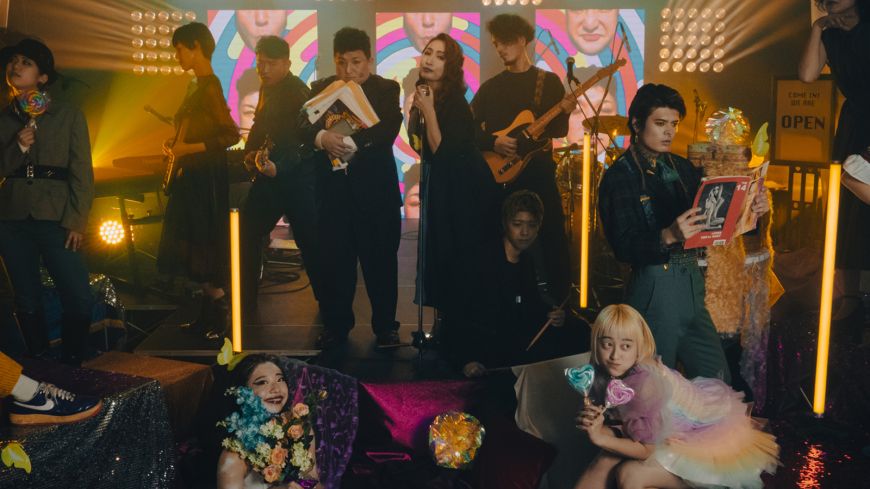 Company
Maru Batsu Sankaku (Japan)
Production
Yamato (Directed and Choreographed)
Yu Nimiyao (Cinematography)
Masashige Lida (Production Design)
Chikako Suzuki [daVinchi] (Set Design)
Noriyuki Mori (Lighting Design)
Nozomated Records (Music)
Mizuki Yasuda, Tomomi Emori (Set Decorator)
Shuhei Kai (Stylist)
Bassy [Number Seven] (Hair Stylist)
KahoRi [Makeup]
Ayaka Nagakari [Assistant Cinematographer]
Noriko Kasai (Assistant Stylist)
Hiromi Kubota [Manohara Co] and Hiroko Sato [Paralleldrive] (Production)
Eri Nakane (International Coordinator)
Akihiro Iizuka (Mix Engineer)
Moe Kazuma (Mastering Engineer)
Akifumi Yokota (Sound Recording)
Mari Tachibana (Publicity Design)
Mitsuo Otsuka (Photographer)
Hironori ikura, Hiroko Ikura, Yuki Miyazaki (Lighting Crew)
Yumi Fujii, Sue Kim (Sue's Special Effects Makeup), Catherine Hassall (CfAT) (Production Crew)
Performers
Itsuro Suwa, Aya Terasoma, Mai Kagimoto, Kotori Sasago, Katsuki Kakinohana, Ikki, Tamaki Suzuki, Mikarin, Motoi Sano, Miyako, Yui Seki (Performers)
Haruna Minato [vocals], Ogaching [bass], Sho [guitar], Shiori Sugaya [keyboard], Ryo Arayama [drums] (Musicians)
Somewhere in the hinterland that rests between music videos and story telling, this piece of work quietly sits. The introduction is both enigmatic and intriguing. 'A sweaty man runs to a building with a paper full of ideas. This building is a place for those who are lost in life as bartenders, hotel clerks, waiters, performers and more. We have the time and skills to do it, but when and where can we do it? Bathrooms, bar counters, sofas, anywhere can be a great stage. We can all perform together with people living overseas! Always keep on moving. Light a candle with hope. Its flame reaches people and spreads from person to person. Now a new life begins…' 
The first thing that struck me about this online performance was the beautiful tonal colour range which delicately changes throughout the production but never veers too far away to be jarring. The whole production has a cross cultural feel and if anything, it has echoes of the 1930's Germany night club vibe, the sort the authorities would visit at night and try to shut down during the day.
The Japanese salary man who seems at the centre of this strange and unnerving world flits from setting to setting and his senses are assaulted and manipulated at every point. We are never very sure if the man is lost or at home, frightened or enjoying the experience which makes watching the story unfold even more interesting. 
The video prompts questions to which answers are never forthcoming, it's an urban fairy tale with a cast of strange characters and unexplained incidents and events. It's a very short piece but it packs a punch into its concentrated form. Going above and beyond just the 'standard Music Video' this has the edge of something novel and creative, an attempt at circus and horror show. Within the genre this is a good piece of work and as it's free doubly worth your time to watch. 
Delivered Online
Available anytime.
Suitability: 8+
Tickets: £Free