Image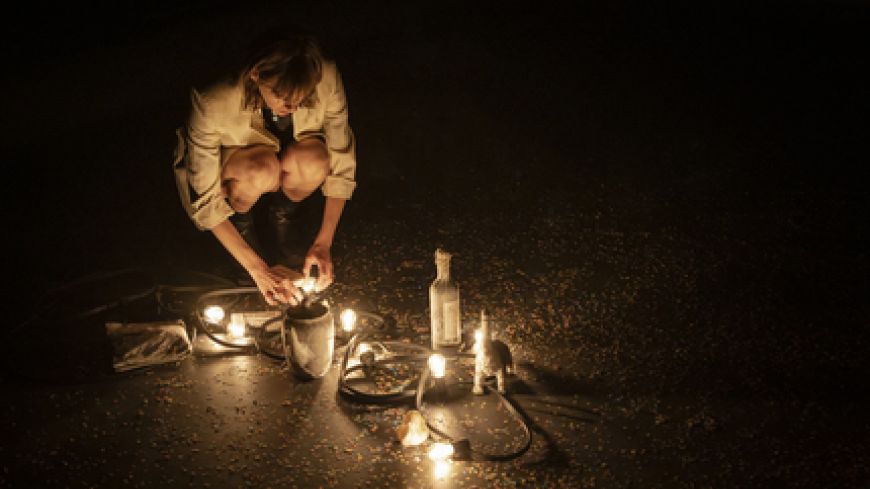 Production
Alexander Devriendt (director), Joris Blanckaert (music), Element (Katrien Baetsle en Eline Willemarck) (costume design), Charlotte Goethals (costume design), Sarah Feyen (light design and technicians creation), Lucas Van de Voorde (technicians creation), Pepijn Mesure (technicians creation), Jeroen Wuyts (technicians tour), Nick Dekeyser (technicians tour), Tuur Decoene (technicians tour), Sam Declercq (set building), Angelo Tijssens (props), Nick Mattan (graphics), Remi Cosijn (research / assistant), Dries Segers (photography), Ans Brys (photography)

Performers
Karolien De Bleser, Charlotte De Bruyne, Josse De Pauw, Julia Ghysels, Aurélie Lannoy, Pien Louw, Luca Persan, David Roos, Angelo Tijssens, Chris Thys, Ayoub Sadik, Somalia Williamson, Prince K. Appiah, Sophie-Anna Veelenturf
Funeral is another theatrical experience like none other from the company Ontroerend Goed, the Belgian tour de force that routinely brings innovative, enveloping, genre-disrupting work like past Fringe wonders The Smile Off Your Face, £¥€$ (LIES), Every Word Was Once An Animal and Are we not drawn onward to new erA. It's little surprise that this newest work has won the company their eighth Fringe First award. 
In a collective sharing of pure humanity, this interactive promenade piece of rituals, togetherness and memory marking begins in the lobby of Zoo Venue where we as a group learn a melancholic tune that we are told we'd revisit at the end of the performance. 
We enter the space, greet each other then retreat into ourselves in the dark as we share heaviness, both literally and figuratively. Speaking on the company ethos, director Alexander Devriendt has shared that they invite "the audience to become an uncontrollable part of the performance" and that is categorically true in Funeral. Names of loved ones, logs to assemble a fire, confetti, these all become significant offerings the audience is integral to bringing to this performance. 
In speaking about what, as an audience member, Devriendt has sought of himself as a director he calls out, "Challenge me. Provoke me. Make me question what I believe in. Don't preach if I'm already converted…Make it matter that I'm there, that I'm present, that audience members and I experience something together with you." 
In the revealing and healing reflections on endings, grief, grieving, and connection in a time of dangerous levels of disconnection, Funeral answers that call in a transformative and truly beautiful way. 
3-27 Aug 2023 at 10:00,11:20
Suitability: 14+ (Guideline)
Run ended - read more here