Image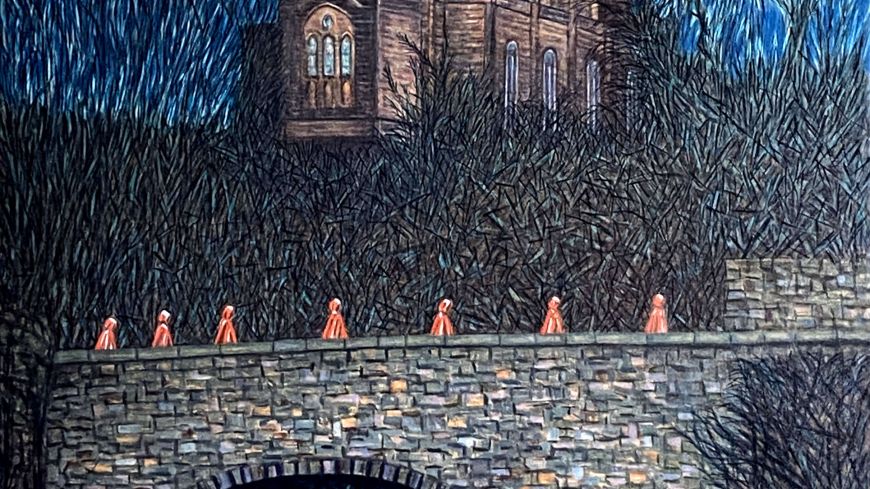 Production
Davy Macdonald, artist
Davy Macdonald is a most original artist, never one to commit to a single genre but keen to explore Scottish historical themes through figurative scenes as well as, in total contrast, vibrant and vivacious Abstract paintings. 
This Festival exhibition presents a new project illustrating the cultural heritage of 'The Dene' the deep valley through which The Water of Leith flows past the Dean Village. This was formerly a busy industrial site for milling, dyeing and distilling with remnants of the original mills and workers' houses still preserved. Dating back to the 5th century, the Dene was on the route used by pilgrims walking to Queens Ferry and on to St Andrews.  A stunning image shows seven red cloaked Dene Pilgrims in silent procession over ancient bridge at Bells Brae with the Holy Trinity church looming above in the moonlight. (illustrated above).
Other paintings depict the dark, supernatural tales of death through industrial accidents and suicide in this ancient riverside village. However, today, one can enjoy a lovely tranquil walk along the Water of Leith from Stockbridge to Dean Village and the National Galleries of Modern Art. 
Here too are evocative paintings to capture the cultural golfing heritage of St. Andrews in nostalgic mood, reminiscent of vintage 1930s railway travel posters. Fashionable women golfers in plaid skirts, red sweaters and white tassled shoes, enjoy Tee Time around the Old Course - the backdrop of sand dunes and the famous Swilken bridge depicted with meticulous detail. For anyone with a passion for the sport will appreciate these charming, iconic paintings of the world's mecca for golf.  
Macdonald also relishes the freedom of non-realistic expression to depict a sense of rhythm and energy in a series of large scale abstract paintings.  The Space Between is a joyous explosion of colour, dominated by a rich mustard yellow with a mesmerising maze of black curving lines, like twigs splashed with red spots like buds of flowers. Some of the curling shapes are akin to musical notation, quavers and a triple clef, creating a lyrical rhythm in its improvised pattern. 
'I am fascinated by the power of nature such as skies, seas, atoms and galaxies all in constant change.  My current approach is to work with both hands simultaneously with willow charcoal sticks, brushes or palette knives .. a duet, comparable to a pianist or drummer, both hands working independently yet together creating balance'. Davy Macdonald
With reference to The Dene theme, here's a bright azure blue abstract painting to denote the Water of Leith, with an extraordinary sense of light reflected on the water and a dazzling swirl of what could be a shoal of minnows.  There's a real hint of David Hockney's Splash series of blue swimming pools in the translucent fluidity of the water. 
A monochrome illustration entitled Creative Sparks 1 certainly captures the idea of a flash of sparks which at first sight, may appear to be an ad hoc jazzy jumble of calligraphic marks, dots, dashes, symbols. But study it carefully and like an optional illusion, there appears to be the outline of a few faces with a quick flick of grey charcoal for eyes, nose and mouth.   
The exhibition also includes work from a previous Heritage series, Herring Lassies, superlative portraits of the hardworking fisherwomen in Newhaven; their bandaged fingers were the result of shucking oysters, gutting and salting the herring, as they stand outside in all weathers with a basket of shellfish beside the harbour wall. These are very popular paintings and while many of the originals are sold, limited editions prints are available. 
Once again, this is a richly imaginative and inspiring collection of narrative landscapes, soulful portraits and abstract expressionistic paintings bursting with colour, pattern and musical rhythm.  Over the past decade or so, Davy Macdonald has developed his own very distinctive aesthetic, criss-crossing genres with surreal and sensual, dramatic and dreamlike vision. 
Showtimes: 
19 – 28 August,2023: 10:00 – 18:00 daily. 
Free entry